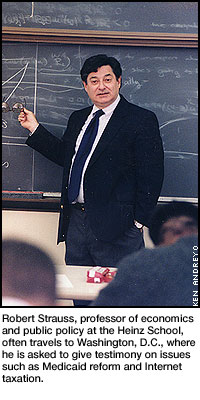 Despite the daily evidence that the year-long economic deterioration has intensified since the Sept. 11 attacks on the World Trade Center and the Pentagon, economist Robert Strauss predicts that "what has transpired so far will ripple away."
Strauss, a professor of economics and public policy at the Heinz School, said common sense should tell us that the country is upset, and that consumer and business spending plans have been disrupted.
"It's not clear to me that those spending plans have been eliminated," he said. "The timing of what we want to do has been altered by our being shocked, dumbfounded and angry. But we still have a $10 trillion- a-year economy."
Strauss should know.
In 1972, Strauss received the Treasury Department's gold medal for public service and several presidential pens from former U.S. presidents Gerald Ford and Richard Nixon. He travels regularly to Washington, D.C., where congressional leaders frequently ask him to give testimony on such matters as Medicaid reform and Internet taxation issues.
Throughout his wanderings in the nation's capital, Strauss has become adept at analyzing the complex web of professional and business lobbyists working to promote a variety of individual agendas. One area that concerns him today is the airline industry challenge.
"While I think one can make a case that there are some national security issues involved in keeping the airlines afloat, I am concerned that other industries falling on hard times may very well begin coming to Washington, D.C., with outstretched arms," Strauss said.
One of his more memorable experiences with the nation's economy came when he served as a member of the Joint Tax Committee. He was responsible for making sure that New York City did not go bankrupt by monitoring loan guarantees of the city's pension fund trusts.
In the current economic climate, Strauss expressed little surprise for the recent Federal Reserve Board actions cutting the benchmark interest rate by half a percentage point on Oct. 3, the lowest level in 39 years. He said the action by the federal government was intended to encourage economic activity by reducing borrowing costs.
Banks immediately began cutting their prime lending rate from 6 to 5.5 percent, a step that will translate into lower rates on some home equity, automobile, credit card and small business loans.
Chriss Swaney
(10/19/01)