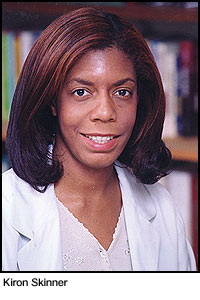 Kiron Skinner, an assistant professor of history, political science and public policy, is in the national spotlight again.
Just months after "Reagan: In His Own Hand," a book she co-edited, became an international bestseller, she has been appointed to the United States' Defense Policy Board by Secretary of Defense Donald Rumsfeld.
The Defense Policy Board, an independent group made up largely of private sector national security experts, advises the Secretary of Defense, the Deputy Secretary and the Under Secretary for Policy on defense policy issues. Richard N. Perle, a top Pentagon official under former President Ronald Reagan, is the board's chairman.
Rumsfeld said the Defense Department "would benefit greatly" from Skinner's expertise. "We are assembling a distinguished group of experts across the range of national security issues we face and your participation would add great value," he said in his invitation to Skinner.
Skinner, who joined the Carnegie Mellon faculty in 1999, specializes in the study of American foreign policy, international relations theory and international security. She became interested in the role of U.S. strategy and the ending of the Cold War while conducting research for former Secretary of State George P. Shultz's memoir and assisting Stanford University Professor Condoleezza Rice with research on a diplomatic history of German unification. Rice is now National Security Adviser to President George W. Bush.
Other members of the Defense Policy Board include Shultz, former U.S. Ambassador to Japan and former Speaker of the House of Representatives Thomas Foley, former Speaker of the House of Representatives Newt Gingrich, former Secretary of State Henry Kissinger and former Central Intelligence Agency Director Jim Woolsey.
This fall, Simon & Schuster will publish two new works about former President Reagan edited by Skinner and former Reagan policy advisers Martin and Annelise Anderson. They are "Stories in His Own Hand: Everyday Wisdom of Ronald Reagan" and "Reagan in His Own Voice," an audio book of Reagan's radio commentaries from the late 1970s.
"To many people, Reagan was an enigma," Skinner and her co-authors said in the introductory notes for "Stories in His own Hand." "He did not seem to work hard. He seemed never to question himself or his policies. Yet his presidency was one of the most significant in the twentieth century. And his standing with the American people continues to rise.
"The man and his political career cannot be explained entirely by his political philosophy or his specific policies. These stories fill a crucial gap," they said.
"Reagan: In His Own Hand" includes hundreds of handwritten radio commentaries, essays, speeches and letters by President Reagan in the 1970s. It is now being published in paperback and being translated for French editions.
In addition to teaching at Carnegie Mellon, Skinner is a research fellow at the Hoover Institution at Stanford University. She is also a fellow of the Council on Foreign Relations. Skinner earned her doctor's degree at Harvard University in 1994.
Teresa Sokol Thomas
(10/19/01)