The Terascale Computing System (TCS), the most powerful system in the world committed to unclassified research, has been installed on schedule at the Westinghouse Energy Center in Monroeville.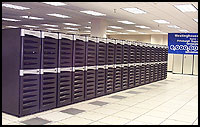 Developed and implemented by the Pittsburgh Supercomputing Center (PSC) in collaboration with Compaq Computer Corporation, the TCS provides computational capability to scientists and engineers nationwide. The system, funded by a $45 million grant from the National Science Foundation (NSF), will be used in many areas of research that have wide social impact, including earthquake modeling, storm-scale weather forecasting, global climate change and protein genomics, modeling that's integral to the development of new drug therapies.
Terascale means computational power beyond a "teraflop"-a trillion calcula- tions per second. With peak capability of six teraflops, the new system is now by far the most powerful available as an open resource for researchers attacking a wide range of problems.
The TCS (www.psc.edu/publicinfo/terascale/bigiron.html) is a joint project of Carnegie Mellon, the University of Pittsburgh and Westinghouse Electric Company.
"The TCS system at the Pittsburgh Supercomputing Center continues a history of National Science Foundation support for high-performance computing," said Robert Borchers, director of the NSF's Division of Advanced Computational Infrastructure and Research. "Through the NSF's Partnerships for Advanced Computational Infrastructure (PACI) program, this system will increase long-term, fundamental research across all science and engineering disciplines."
"In scale alone, the TCS pushes beyond where open-resource supercomputing technology has been before or would have gone without the NSF PACI program," said PSC scientific directors Michael Levine and Ralph Roskies in a joint statement.
"Compaq committed themselves to the success of the TCS and worked side-by-side with us to make it available on schedule.
"With storage capacity that's 100,000 times that of most PCs and with 10 million times the communications capability, this system brings significant new research capability to bear on many important problems. While the immediate, direct beneficiaries will be academic scientists, the benefits will flow to the country as a whole, in practical ways we can't forecast," they said.
The TCS represents an unprecedented synthesis of "off-the-shelf" components integrated with an advanced interconnect-from Quadrics Supercomputers World-and other technologies to provide a very large-scale system for scientific computing.
The TCS comprises 3,000 Compaq Alpha EV68 microprocessors, housed in 750 four-processor AlphaServer systems running Tru64 UNIX. The latest evolution of the widely used Alpha microchip technology, the EV68 has peak floating-point capability of two gigaflops (two billion calculations per second).
Total TCS floor space is roughly that of a basketball court. It uses 14 miles of high-bandwidth interconnect cable to maintain communication among its 3,000 processors. Another seven miles of serial, copper cable and a mile of fiber-optic cable provide for data handling.
Along with six teraflops of processing power, the TCS features 3.0 terabytes of memory, high-bandwidth, low-latency interconnections and remarkable capabilities for large-scale data handling, including the ability to write the entire memory to disk in under 40 seconds. This extremely short system-write time, developed through PSC systems and software engineering, is critical to efficient checkpointing, needed to preserve research data in the event of component failure.
Preparation for the TCS began in October 2000 with installation of a 256-processor prototype system. An on-site team of Compaq, PSC and Westinghouse engineers and technicians-supported by expert teams at Compaq locations in the U.S., Bristol, England and Galway, Ireland-worked aggressively to meet the Oct. 1 installation date.
"PSC's success in deploying this unprecedented, very large-scale system right on time is a fine achievement," said Carnegie Mellon President Jared L. Cohon. "This is another important chapter in the center's outstanding record of providing the nation's scientists with the most advanced computational tools. This world-class computing system reflects Pittsburgh's international leadership in technology development and is a key component of our region's technology future."
The TCS will now go through a period of "friendly user" testing, and by early 2002 it will become available to researchers nationwide through the peer-review process of the NSF PACI program.
Mike Schneider
(10/19/01)