VDM Masterclass Season 3 Registration is Open!!

VDM Masterclasses require

paid pre-registration

. $22 USD per class. 

You will receive a Zoom link to the class about 48 hours in advance of the class.

We will send a recording to

all

masterclass registrants. You may participate live or watch the recording later (or both!).

The recording link expires after 30 days. 
Registration for Masterclasses season 3 is now open. Recordings of earlier Masterclasses areavailable for purchase HERE (with a new 30 day expiration).

Each class will last 90 minutes. 60-75 minutes of teaching followed by questions and discussion. All classes are taught in English.
Discount
Register for 2 or more masterclasses and save 15%
Use promo code "dalcroze2" for 2 masterclasses

Use promo code "dalcroze3" for 3 masterclasses

If you are signing up for more than 3 masterclasses and want to use the promo codes, the GoFundMe Registration page requires you to make separate transactions in groups of 2 or 3. For example, to buy 5 masterclass tickets and get the discount, select 2 tickets and use "dalcroze2", then make a second order to select the remaining 3 and use "dalcroze3." 🤪🤪
Questions? 
Check out our Frequently Asked Questions here. 
Need a scholarship?
If you are in need of financial assistance to attend the masterclass series, we will be happy to help as much as we can. Please fill out this very short scholarship request form:





If you have any questions, please email us at virtualdalcroze@gmail.com.
=======================
=======================
Masterclass #10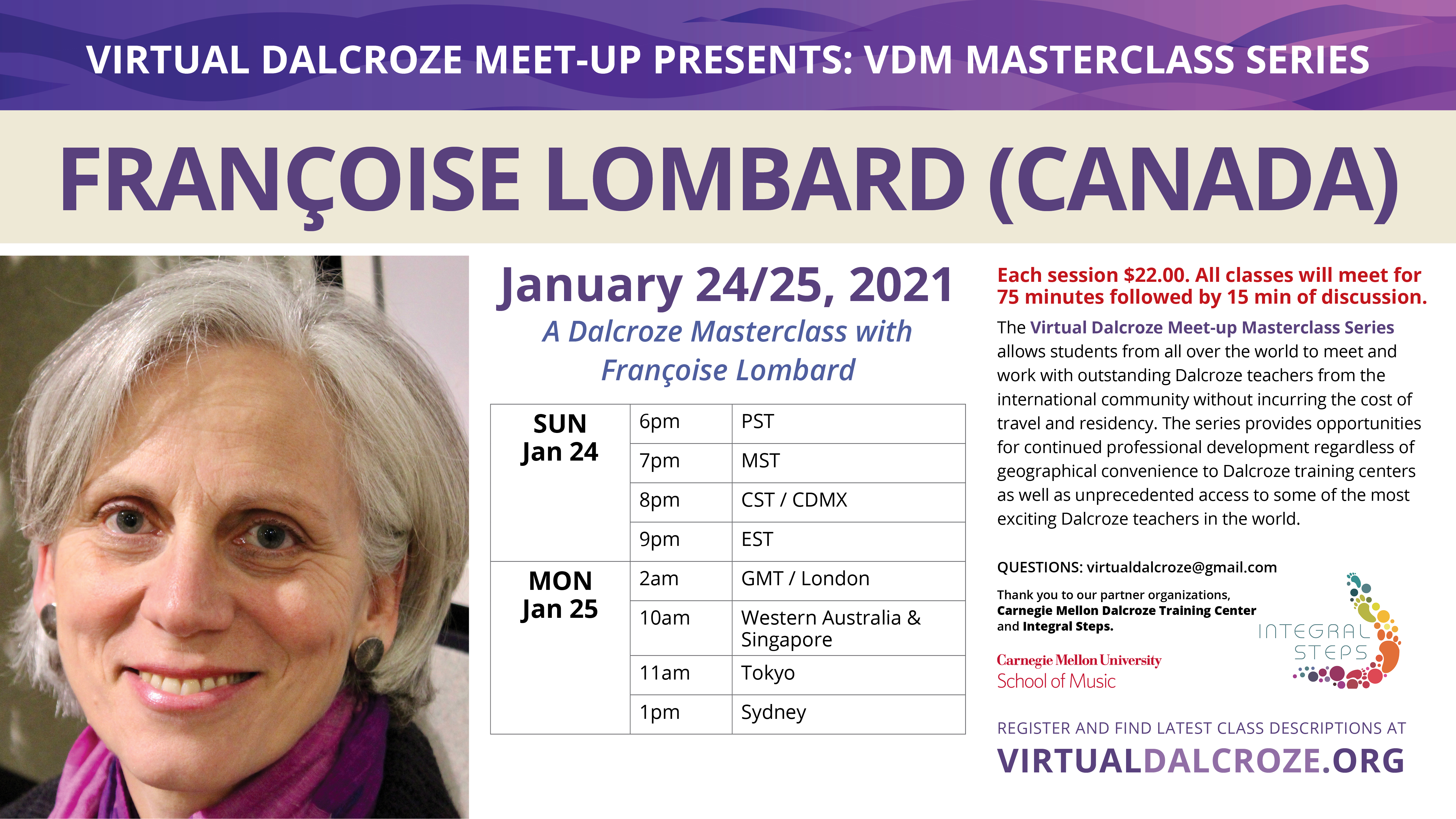 January 24/25, 2021 with Françoise Lombard (CANADA)
"Music and Grounding"
A Dalcroze lesson focused on inner listening, sensations and integration of learning.
The class will be based on the same ideas as Françoise wrote about in the following article,THE INNER LISTENING BASE OF ALL PEDAGOGIES:
https://francoise-lombard.com/articles/2019_lerythme_en.pdf 
Françoise Lombard is a musician and a teacher of both Eurhythmics and the 'Art of Listening'.
Having gained the Diplôme of the Institut Jaques-Dalcroze and graduated from the Geneva Conservatoire (piano, solfège, harmony), she began to train teachers of Eurhythmics in Bienne (Switzerland).
She then undertook training in the 'Art of Listening' (the method of François Louche), which she now teaches to artists, teachers and therapists in Europe and Quebec. She is member of the Dalcroze Canada professional training team and guest teacher at various Dalcroze centers.   
Together with the singer, composer and video director Michel Comeau, Françoise Lombard signed the creation of 3 CDs:
«resonance»(osteophonic voices a cappella),
«Flip and Me»(book-cd for children to be released in 2021) 
«lullabies» (piano/voices without words)
She recently created an Audio Library "music and movement" on the pedagogical principles of Dalcroze. This educational material, composed of piano improvisations focused on various elements that make up the musical language, is aimed at music teachers of all backgrounds and at professional Dalcroze students on their path of improvisation. The first two of a series of ten volumes are now available.
Françoise Lombard lives in Montreal and divides her professional life between Eurhythmics, 'Art of Listening' and composition.
www.francoise-lombard.com 
http://www.stareyes-music-education.com
Masterclass #11
February 20/21, 2021 with 
Fabian Bautz 
(SWITZERLAND)
"

Structure and Proportion in Eurhythmics

"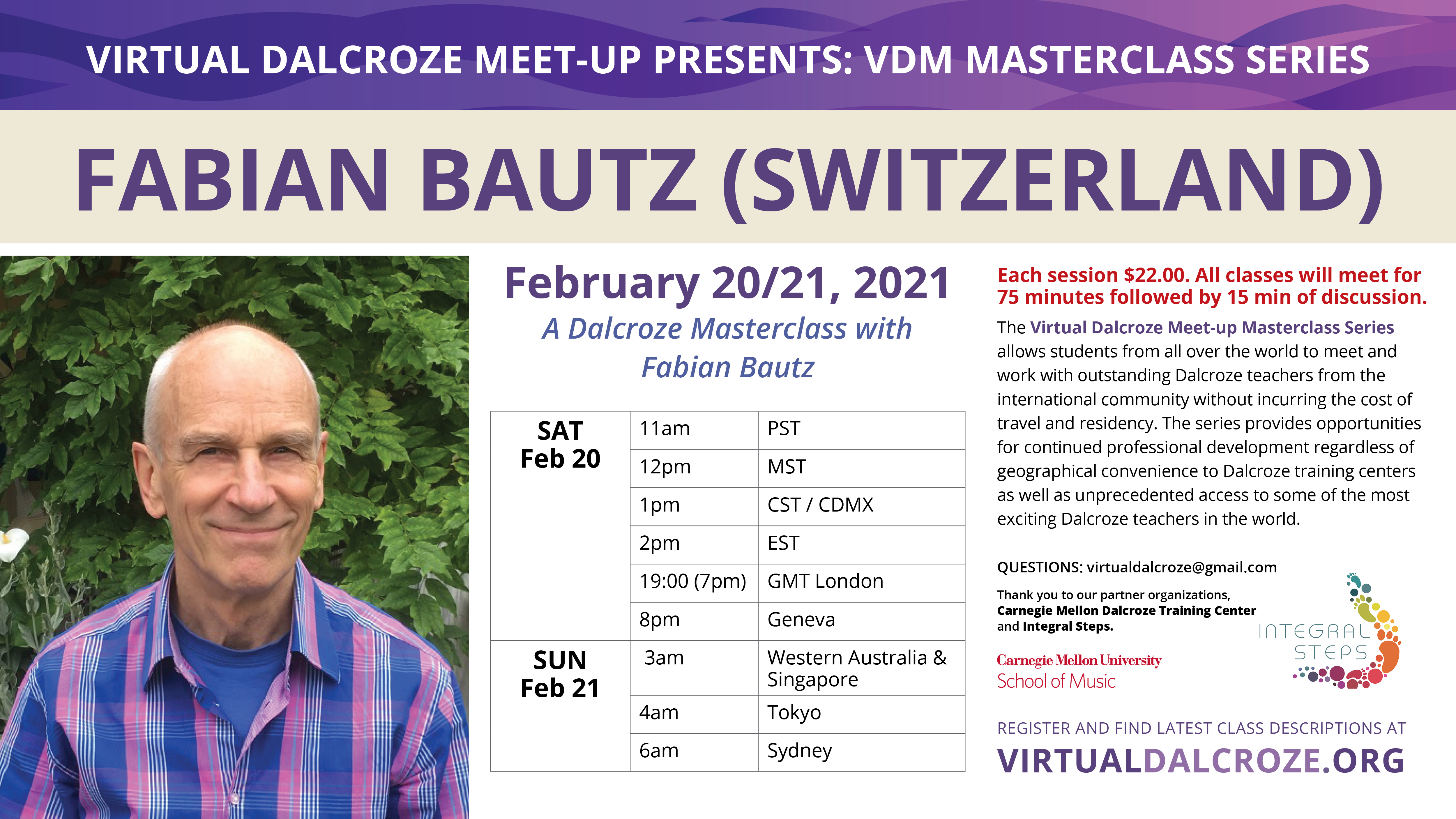 The long-standing tradition of using syllables—in dance as well as in percussion—is an organic tool that facilitates both our physical and intellectual grasp of structure and proportion in Eurhythmics. In this workshop Fabian Bautz will present examples to practice multi-layered coordination and independence in our movements. The all-embracing incorporation of complex and polyrhythmic structures in music has to occur throughout our whole body. In its absence our artistic and pedagogic performance lacks full confidence and conviction; how can it be otherwise, for if we are engaging only a part of ourselves, then we are partially absent as opposed to fully present.
Fabian Bautz holds Diplomas in eurythmics and musical education from the Conservatory in Munich, and one in TaKeTiNa Rhythm Teaching. Since 1989, he is a guest teacher and lecturer at Universities, congresses, and institutions in Europe and the United States.
Based in Switzerland, until 2019 Fabian taught graduate level eurhythmics at the Lucerne University of Music, mentored eurythmic teachers for the Zurich Conservatory of Music, and was teaching eurhythmics for young children. He has taught improvisation at the Formation Continue of IJD in Geneva, and eurhythmics at the Zurich University of Theater and Music. Since 2007 a member of the board of FIER (International Federation of Eurhythmics Teachers) he is its current president since 2019.
Masterclass #12
March 21/22, 2021 with 
Greg Ristow
 (USA)
"Suspension & Resolution"
Few things are more exhilarating than the journey a consonant note makes as it becomes a dissonant suspension and resolves. Through body work, eurhythmics, plastique and improvisation we'll dive into the world of musical suspensions. We'll use our own bodies in conversation with physical objects, prepare a plastique on Pergolesi's Stabat Mater, and vocally improvise suspensions following rules drawn from Handel's figured bass treatise.
Gregory Ristow directs the Oberlin College Choir and Musical Union and teaches courses in vocal chamber music and conducting. He has conducted with the Indianapolis Chamber Orchestra, Houston's Foundation for Modern Music, the Voices chamber choir in Rochester, N.Y., as artistic director of Encore Vocal Arts in Indianapolis, and as assistant conductor of the Gregory Kunde Chorale in Rochester. He has sung with the Houston Chamber Choir and Houston's Mercury Baroque, and has been called a performer with "star quality" who was "striking whenever he appeared on stage" (Indianapolis Examiner).
In addition to his work as a choral conductor, Ristow is in demand as a teacher of Dalcroze eurhythmics, a method of teaching music through movement. He served as instructor of eurhythmics at the Eastman School of Music (2009-11) and between 2004 and 2011 frequently directed the Eastman Summer Dalcroze Institute, an intensive program for teachers looking to incorporate Dalcroze eurhythmics techniques in their teaching. He served on the faculty of the Eastman Summer Choral Conducting Institute, where he taught eurhythmics-based movement classes for conductors and classes on using eurhythmics in choral rehearsals.
Ristow earned a Doctor of Musical Arts in Conducting at the Eastman School of Music, where he taught undergraduate and graduate conducting and was assistant conductor of the Eastman Chorale and the Eastman-Rochester Chorus. While at Eastman, Ristow received the TA Award for excellence in teaching and the Edward Curtis Peck Award for excellence in teaching by a graduate student. He earned a bachelor's degree in music education at Oberlin Conservatory, master's degrees in conducting and music theory pedagogy at the Eastman School of Music, a Dalcroze certificate at the Juilliard School (studying with Robert Abramson), and a Dalcroze license at the Longy School of Music (studying with Anne Farber and Lisa Parker). He has studied piano with Lydia Frumkin, harpsichord with William Porter, and voice with mezzo-soprano Kathryn Cowdrick.
In addition to his role at Oberlin, Ristow conducts the Interlochen Singers and teaches eurhythmics at the Interlochen Arts Camp. Previously, he served as director of choirs at the DePauw University School of Music (2011-15), the Rochester Institute of Technology (2009-11), and at Lone Star College-Montgomery (2004-09), where he received the 2008 Faculty Excellence Award.
Masterclass #13
April 17/18, 2021 with 
Iramar Rodrigues 
(SWITZERLAND)
"
Dalcroze Eurhythmics (in times of pandemic) - A journey of music, the body, and movement exploring the theme of complementary rhythms and their variations.
"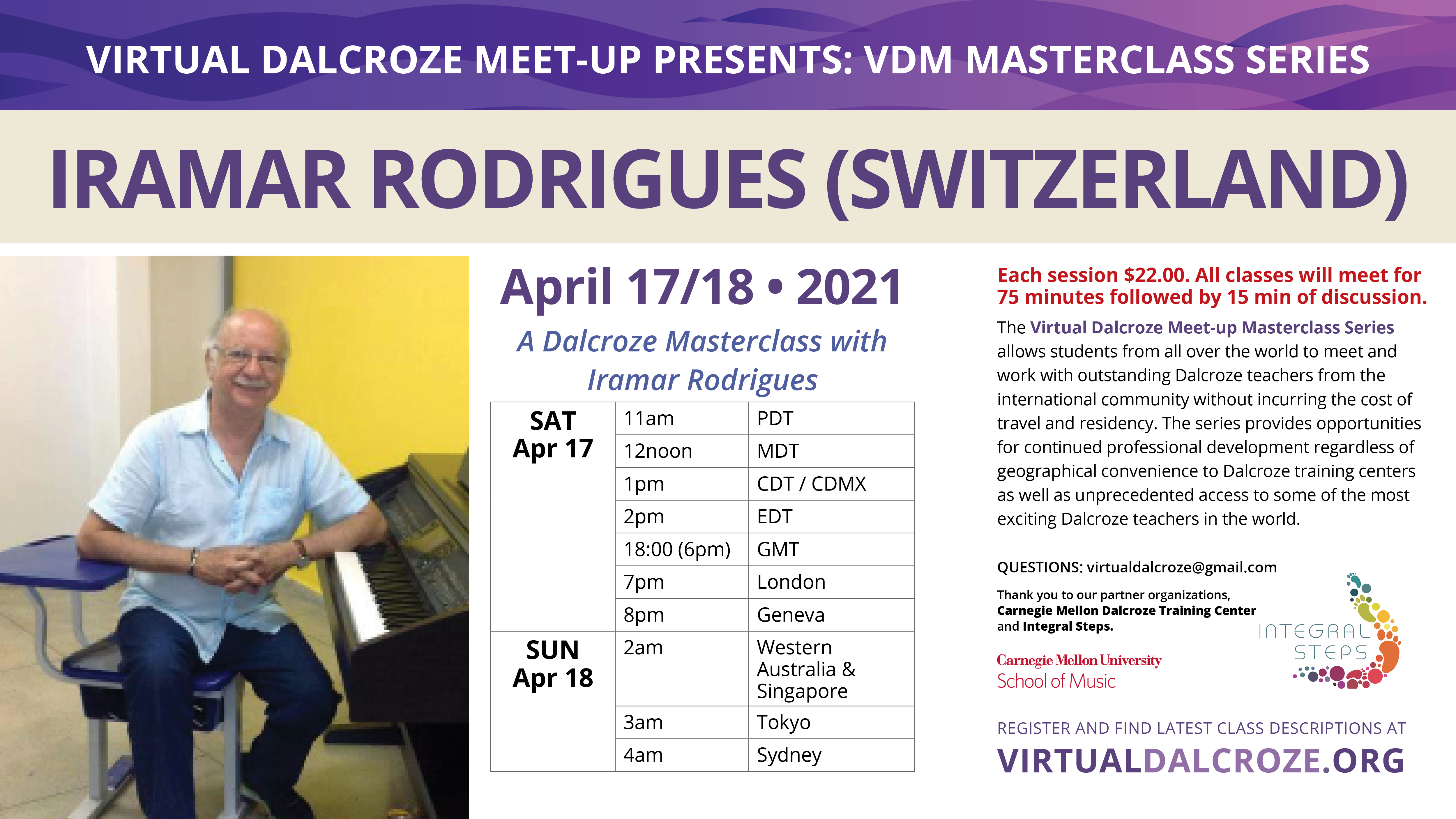 Iramar Eustachio Rodrigues earned the Diplome Superior of Piano in Brazil (1964), the Diplome of specialist in Music Education (1969 ), at the University of the Arts, Chili. He earned his Master's Degree at Dalcroze Intitut in Geneva, with the authorization to transmit and disseminate the Dalcroze Methodology, Solfeggio, Improvisation and Pedagogy in the world and was Awarded the pedagogy prize from the Dalcroze Institut of Geneva (1975). He also holds a harpsichord diplome from the Conservatory of Geneva. From 1976 to 1986 he was vice president of FIER (Federation of Dalcroze Rhytmique Teachers). He continues teaching as a Collaborating Teacher in the certificate formation programs in Chili, Barcelona, Italy, France, and Switzerland and is currently a Professor in the Seniors Courses at Dalcroze Institut of Geneva.