The next VDM Masterclass Registration is Open!!

We are very excited to feature Lauren Hodgson (USA), Ruth Alperson (USA), and Dawn Pratson (USA) in VDM Masterclass Series 8!
note: The masterclass with Anetta Pasternak (POLAND) has been postponed to a future VDM Series. We look forward to featuring Anetta at a later date. 

We are THRILLED to announce that we have launched a new registration platform!  You are able to search for masterclasses and short courses by topics as well as overall categories.  Check it out and register for upcoming and past events at integralsteps.org/vdm.
Masterclass #24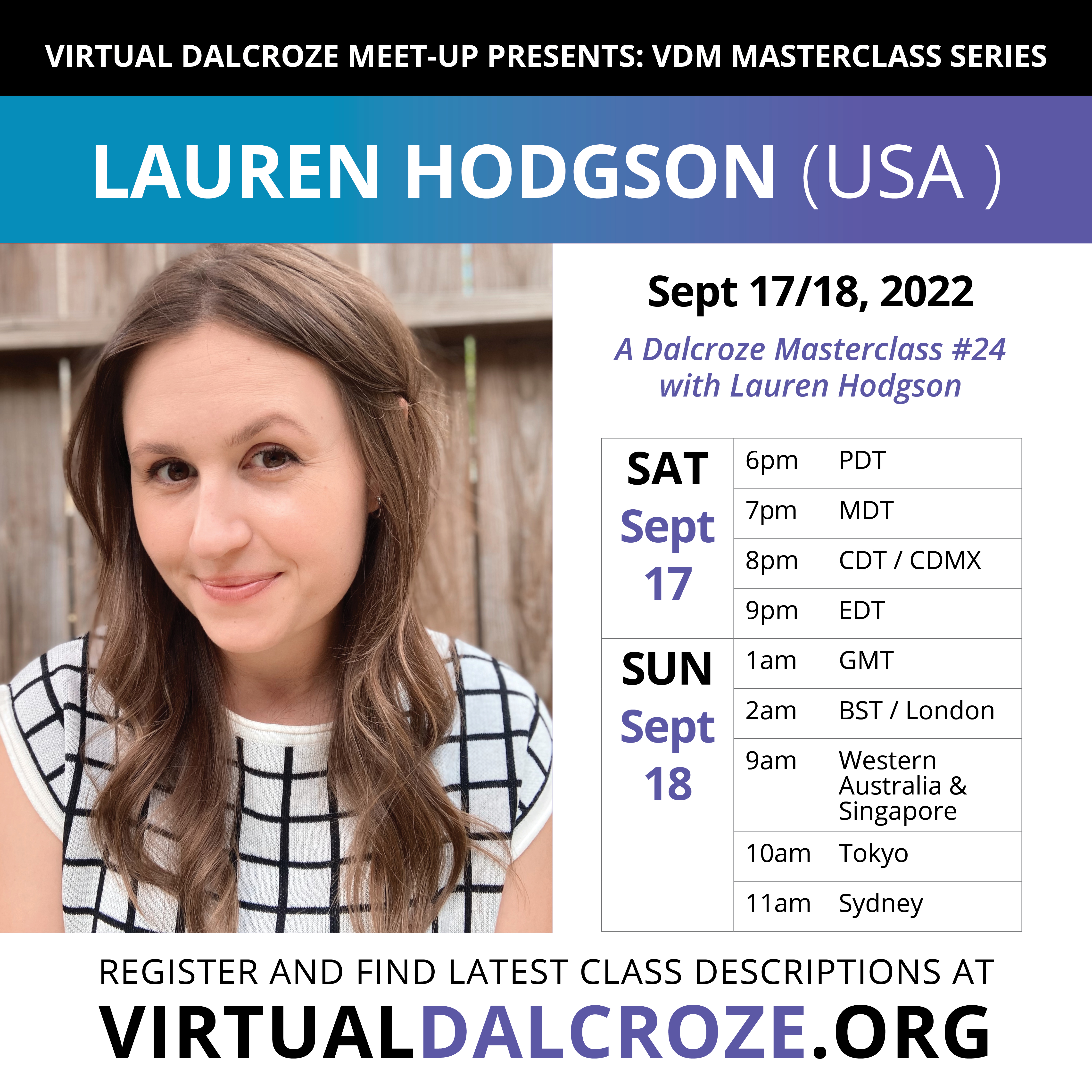 "Teacher Talk: A Dalcroze Pedagogy Session"

Shared musical experiences in the Dalcroze practice are inherently personal and deeply rooted in the connections between music, the mind, and the body. One of the pillars of fostering motivation and building trust among the teacher and students is the language used in creating and shaping musical experiences. In this workshop, we will investigate and practice methods for implementing focused and intentional instructions and feedback that informs, inspires, and ultimately, intrinsically motivates. 
Lauren Hodgson, lecturer in Dalcroze Eurhythmics at Baldwin Wallace University Conservatory of Music and BW Community Art School faculty member, is a pianist, teacher, and clinician with an interest in joyful, holistic, and experiential music learning. 
She teaches pre-college students at the BW Conservatory Summer Institute and future Dalcroze educators at the Dalcroze School of the Rockies Dalcroze Academy during the summer, where she has taught courses in eurhythmics, pedagogy, solfège, and piano improvisation. Lauren has recently presented at the NAfME National Conference, the Ohio Music Educators Association National Conference, and the International Conference of Dalcroze Studies, in addition to teaching. She is the Secretary of the Dalcroze Society of America and chairs the DSA's National Events Committee. She also co-hosts the podcast "The New Dalcrozian," which reaches listeners internationally.
She received a B.M. in Piano from Baldwin Wallace University and an M.A. in Music Education from Case Western Reserve University, where she was a recipient of the Eva L. Pancoast Fellowship. She is also a Dalcroze License holder from the Dalcroze School of the Rockies.
Virtual Dance with Dawn: Series 3 - Creative Movement and Somatics Applications 
A six-week short course with Dawn Pratson
This is the third series of a weekly, 80-minute long, Dalcroze-inspired movement class to develop and maintain functional, expressive and musical fitness. Principles of grounding, alignment, efficiency of movement, spatial intention, rhythm and phrasing, among other concepts, will be addressed through guided activities and improvisation.
New in Series 3: We will explore the meaning and practice of somatics, with a little history. Dawn will also share an activity each week which teachers can immediately apply in their classroom.
"We see light etched by shadows, feel joy emerging from sorrow; the present hovers between the past and the future. Between all these opposites, there is a sense of movement that renews the clarity of each experience." Irmgard Bartenieff, with Dori Lewis, from Body Movement: Coping with the Environment.
Learn more and register at integralsteps.org/virtualdance.
Masterclass #25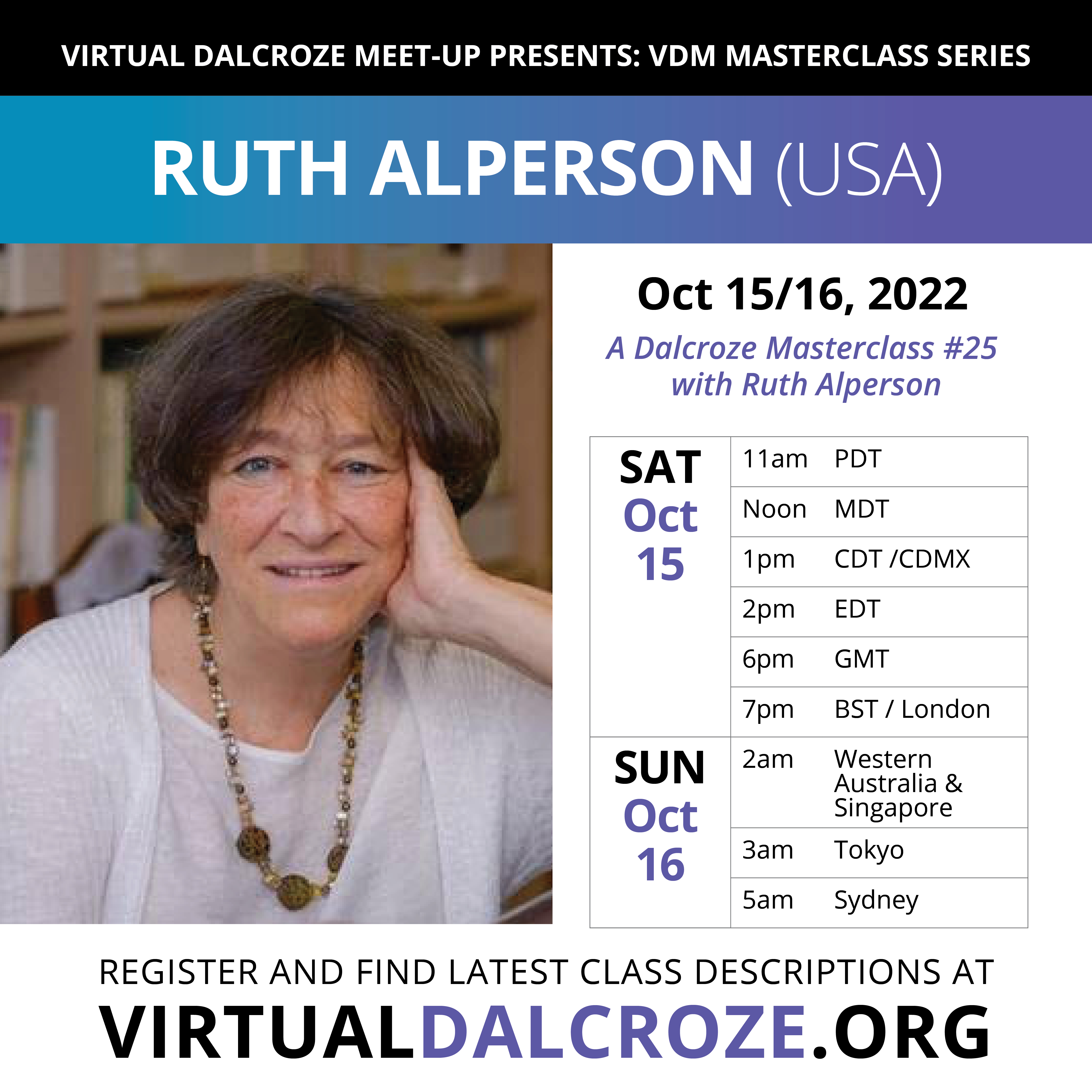 "A Dalcroze Masterclass with Ruth Alperson!"

Ruth Alperson, PhD, Diplôme Supérieur, has a B.A. in Music from Oberlin College, where she was introduced to eurhythmics by Prof. Inda Howland.  Ruth studied for two years at the Dalcroze School of Music in New York City, directed by Dr. Hilda Schuster; she earned the Dalcroze Licentiate from the Dalcroze Teachers Training Course, run by Elizabeth Vanderspar in London, England.  The following year, Ruth attended the Institut Jaques-Dalcroze, where she was awarded the Diplôme Supérieur.  Ruth earned a Ph.D. from New York University in Arts & Humanities.  Ruth is on the faculty of the Dalcroze Program at the Diller-Quaile School of Music, in New York City.  She is a member of the Scientific Committee of the International Conference of Dalcroze Studies (ICDS) and is a member of the Board of Trustees of the Dalcroze Society of America. 
Masterclass #26 

note: The masterclass with Anetta Pasternak (POLAND) has been postponed to a future VDM Series. We look forward to featuring Anetta at a later date.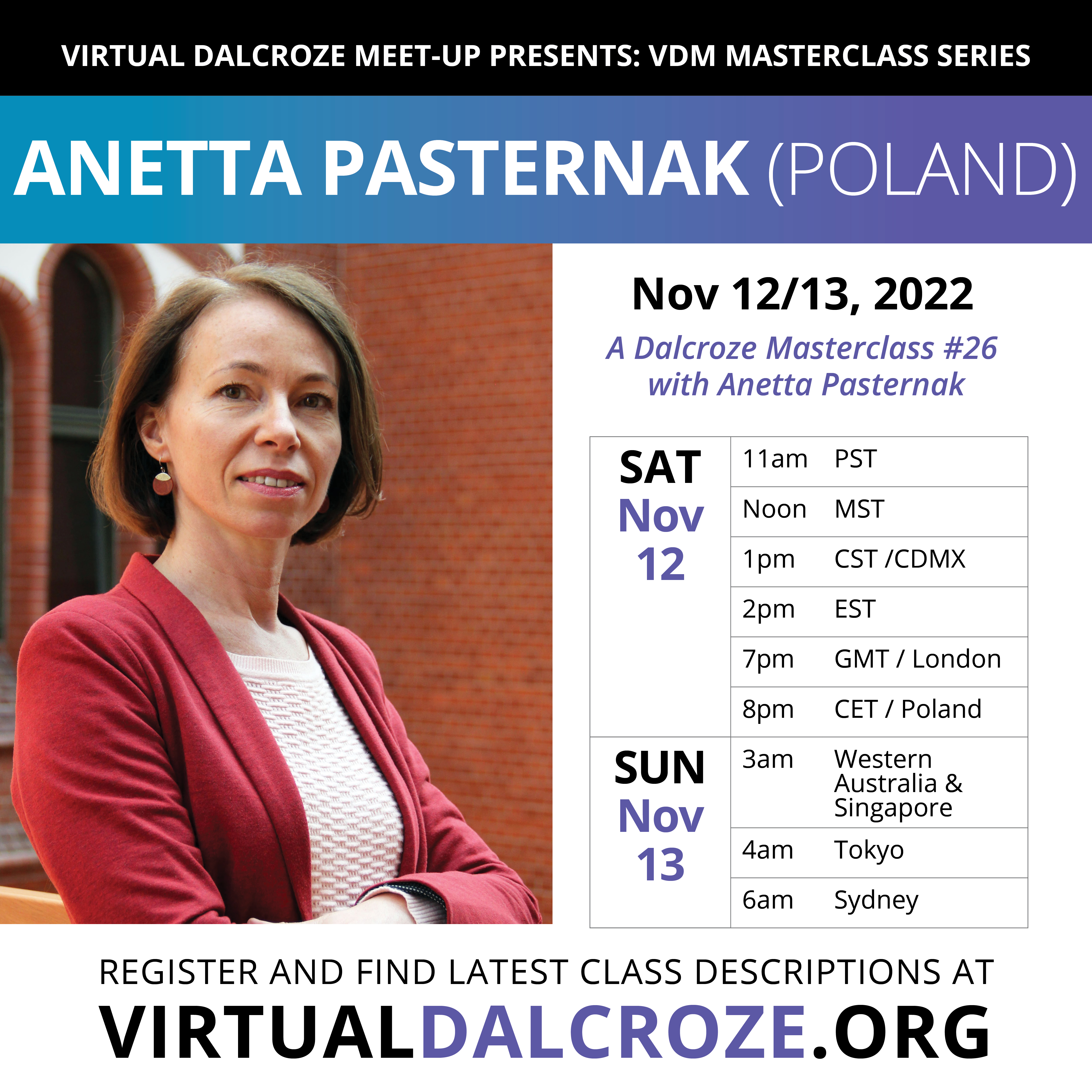 "A Dalcroze Masterclass with Anetta Pasternak!"

Anetta Pasternak, PhD hab, MA in Eurhythmics, works as a professor oin the Department of Composition, Conducting, Theory and Music Education at the Karol Szymanowski Academy of Music, Katowice, Poland and specializes in Eurhythmics. Her assignments involve also teaching at Dance Theater Actor Specialty, Postgraduate Music Therapy and Art Therapy courses. As its artistic director, she promotes the Theatre of Rhythm Katalog. She specializes in the interpretation of 20th and 21st century music (Plastique Animée) and is particularly interested in the therapeutic aspect of Eurhythmics.
VDM Masterclasses require

paid pre-registration

. $22 USD per class. 

You will receive a Zoom link to the class about 48 hours in advance of the class.

We will send a recording to

all

masterclass registrants. You may participate live or watch the recording later (or both!).

The recording link expires after 30 days. 
Recordings of earlier Masterclasses are available for purchase HERE (with a new 30 day expiration).

Each class will last 90 minutes. 60-75 minutes of teaching followed by questions and discussion. All classes are taught in English.

Contribute to the VDM Scholarship Fund!
We welcome donations to the VDM Scholarship Fund. When you sign up for masterclasses, consider adding a $10 contribution or covering an entire masterclass registration fee with a $22 contribution.
Of course we always welcome larger and smaller gifts as well! 

Due to registration platform changes beyond our control, we are not able to offer discounts for purchasing one or more masterclasses this season. If you need financial assistance, please request a scholarship. Full and partial scholarships are available.

Questions? 
Check out our Frequently Asked Questions here. 
Need a scholarship?
If you are in need of financial assistance to attend the masterclass series, we will be happy to help as much as we can. Please fill out this very short scholarship request form:





If you have any questions, please email us at virtualdalcroze@gmail.com.
=======================

=======================