VDM Masterclass Season 4 Registration is Open!!

VDM Masterclasses require

paid pre-registration

. $22 USD per class. 

You will receive a Zoom link to the class about 48 hours in advance of the class.

We will send a recording to

all

masterclass registrants. You may participate live or watch the recording later (or both!).

The recording link expires after 30 days. 
Registration for Masterclasses season 4 is now open. Recordings of earlier Masterclasses areavailable for purchase HERE (with a new 30 day expiration).

Each class will last 90 minutes. 60-75 minutes of teaching followed by questions and discussion. All classes are taught in English.

Contribute to the VDM Scholarship Fund!
We welcome donations to the VDM Scholarship Fund. When you sign up for masterclasses, consider adding a $10 contribution or covering an entire masterclass registration fee with a $22 contribution.
Of course we always welcome larger and smaller gifts as well! To choose your own amount, scroll down to the bottom of the ticket column and make an additional donation here: 


Due to registration platform changes beyond our control, we are not able to offer discounts for purchasing one or more masterclasses this season. If you need financial assistance, please request a scholarship. Full and partial scholarships are available.


Questions? 
Check out our Frequently Asked Questions here. 
Need a scholarship?
If you are in need of financial assistance to attend the masterclass series, we will be happy to help as much as we can. Please fill out this very short scholarship request form:





If you have any questions, please email us at virtualdalcroze@gmail.com.
=======================

=======================
Masterclass #14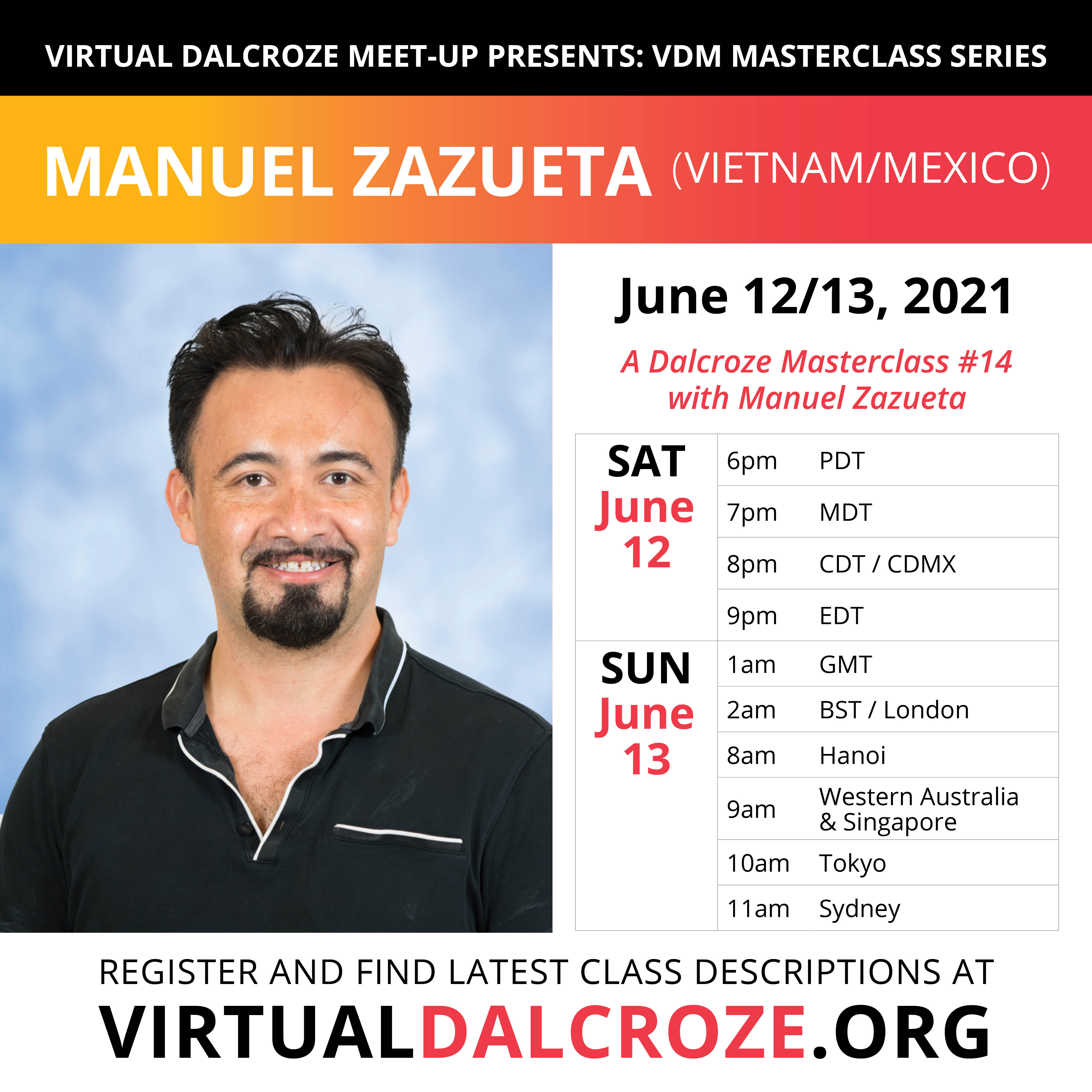 Manuel Zazueta holds the license d'enseignment from the Jaques-Dalcroze Institute in Geneva since 2008. He also studied composition and management of cultural projects at the University of Guadalajara. Since his return to México in 2008 he has devoted himself to make Dalcroze known in the country and Latin America. He has collaborated with institutions such as the Faculty of Music of the UNAM, Conservatorio de las Rosas and Escuela Superior de Música, among other Universities and music schools in Mexico. In America he has also worked with the University of Colombia and Puerto Rico, The Dalcroze School of the Rockies in the United States and the Francophone School Council in Canada. He currently resides in Asia, where he collaborates with the International School of Vietnam in Hanoi. His teacher training programs, courses and workshops are delivered through Cielito Arte, an enterprise dedicated to the spread of Dalcroze and art education in general.
Masterclass #15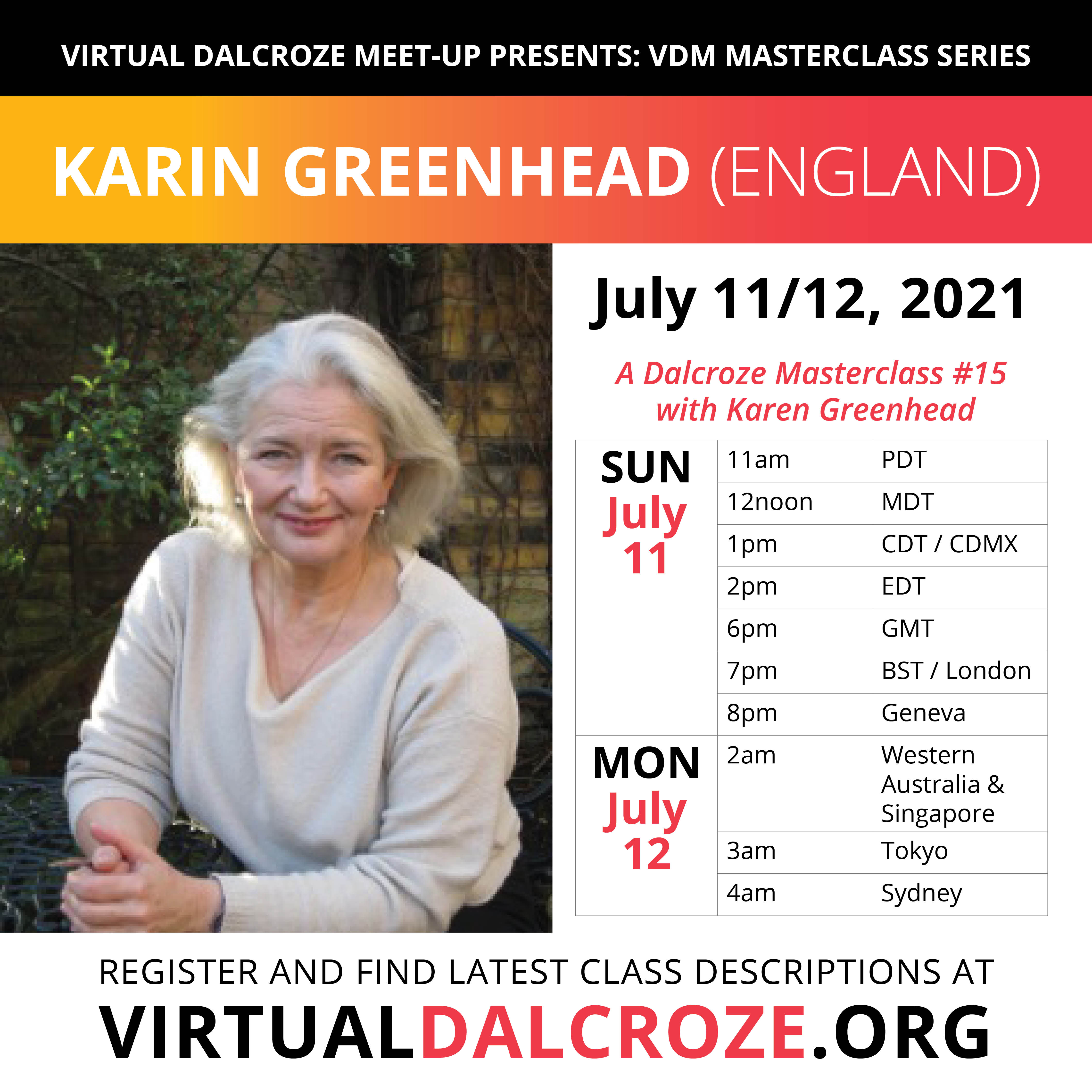 "A masterclass on 'Follow' exercises in Dalcroze Eurhythmics"
In this class we will look at some classic "Follow" exercises: what they are and why they are at the core of Dalcroze training at all levels from beginner to advanced and from child to experienced adult.  Beginning with some simple exercises we will work through a variety of examples, looking at why we do them in certain ways, what enables the exercise to work well, and the pedagogical dimensions for teachers. As these exercises rely on the teacher's improvisation, there may be opportunities for attendees with pianos (and for certain exercises, other instruments) to try playing for the class as well.
Karin Greenhead works regularly with professional musicians, dancers and those training to teach Dalcroze Eurhythmics in the UK and very widely internationally. Based on her training at the Royal College of Music, London, the Institut Jaques-Dalcroze, Geneva and her experience as a performer and teacher, she developed dynamic rehearsal techniques for improving musical interpretation and performance. She is a member of the scientific committee for the International Conference in Dalcroze Studies (ICDS) and was a keynote presenter for ICDS3, Québec, 2017. As a member of the Collège de l'Institut Jaques-Dalcroze, Geneva, Switzerland and Co-Director of Studies for the Dalcroze Eurhythmics International Examination Board (DEIEB), she has been much involved in curriculum development and assessment. In addition to presenting at conferences she has authored and co-authored articles and book chapters in a range of academic and instructional publications. Her doctoral thesis "Dynamic Rehearsal and Dalcroze Eurhythmics: A phenomenological investigation into participants' experiences and their implications for the practice, teaching and learning of music and musical performance" is available at the British Library.
Masterclass #16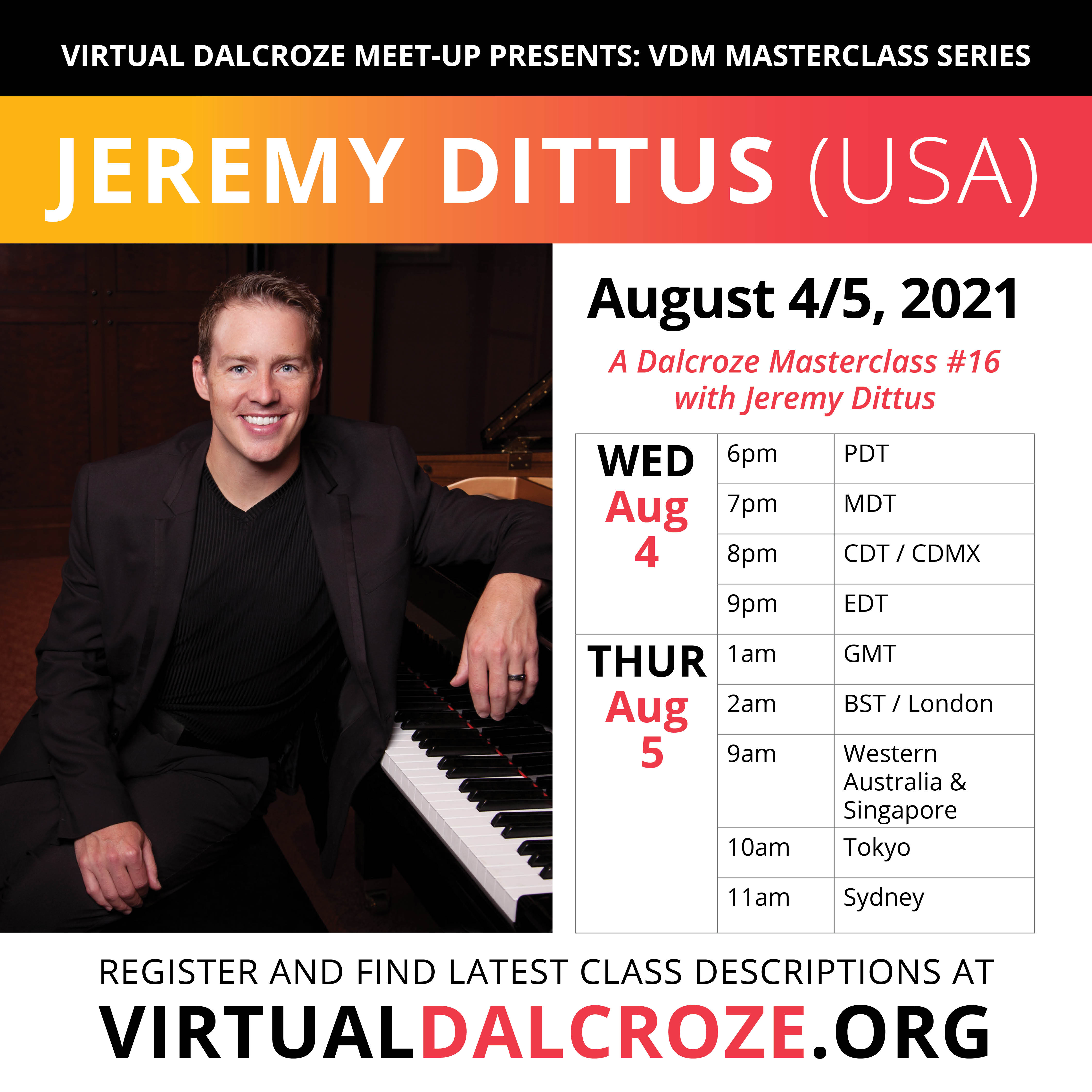 Jeremy Dittus enjoys a career as a pianist, theorist, and Dalcroze Education specialist. An avid recitalist, he has performed solo and chamber programs and presented Dalcroze masterclasses throughout the United States, Europe, South America, and South East Asia. He currently directs the Dalcroze School of the Rockies Dalcroze Academy teacher-training center at Metropolitan State University of Denver, where he serves on the faculty. He also serves on the faculty of Hope College in Holland, Michigan where he teaches Dalcroze Eurhythmics for undergraduate music majors. A former Lecturer in piano, theory, and solfège at the Baldwin-Wallace Conservatory in Cleveland, he also has taught undergraduate solfège, piano, and composition courses at the University of Colorado at Boulder as well as eurhythmics and solfège at l'Institut Jaques-Dalcroze in Geneva, Switzerland, Colorado State University in Fort Collins, Colorado, and in Shanghai, China at the Shanghai Conservatory of Music. He currently serves on le Collège de l'Institut Jaques-Dalcroze (an organization that supports and protects Dalcroze Education around the world).
Dr. Dittus is the founder and director of the Dalcroze School of the Rockies in Denver, Colorado, one of the few authorized Dalcroze training centers in the United States. The DSR offers Dalcroze Education classes (Eurhythmics and Rhythmic-Solfège) for children (pre-kindergarten through high school), adult enrichment classes, and full-time study toward the Dalcroze Certificate/License (eurhythmics, solfège, improvisation, pedagogy, and plastique animée). Additionally, he has presented Dalcroze workshops at home and abroad including the Congrès International Jaques-Dalcroze, International Conference of Dalcroze Studies, El Festival Internacional Suzuki de Perú, World Piano Conference, International Early Childhood Music and Movement Convention, Singapore International String Conference, l'Institut Jaques-Dalcroze Cours d'Été, Dalcroze Society of America National Conference, Suzuki Association of the Americas National Conference, American Orff-Schulwerk Association National Convention, National Flute Convention, Colorado Music Educators Association State Convention, Piano Celebration at Metropolitan State University in Denver, University of Louisville Piano Institute, the Shanghai Conservatory in addition to several summer music institutes, universities, and conservatories in North America, South America, Europe, and Asia. He serves on the state board for the Colorado Federation of Music Clubs and serves on the Dalcroze Society of America Board of Trustees. He recently has published books on Dalcroze Education: Embodying Music: A Textbook for Dalcroze Teacher Training toward the Dalcroze Certificate, Moving Sound: A Textbook for Dalcroze Teacher Training toward the Dalcroze License, and five books that correspond to the Rhythmic-Solfège youth program in place at the Dalcroze School of the Rockies.
In 2010, Dr. Dittus earned the Diplôme Supérieur, (a doctoral equivalent in Switzerland) from L'Institut Jaques-Dalcroze in conjunction with La Haute École de Musique de Genève and Le Conservatoire de Musique de Genève. While in Geneva, he received top honors including the 2009 Prix pour les qualities musicales exceptionnelles and the 2010 Prix pour les qualités artistiques et pédagogiques exceptionnelles. Before Switzerland, he had the honor of studying at the Longy School of Music for the Dalcroze Certificate and License. He completed a Doctor of Musical Arts in piano performance from the University of Colorado at Boulder; for the Master of Music, he studied piano performance and music theory at the Cincinnati College-Conservatory of Music. During his undergraduate work, he obtained a Bachelor of Music in piano performance and Bachelor of Science in chemistry. Former teachers include Lisa Parker, Anne Farber, Ruth Gianadda, Marie-Laure Bachmann, Sylvia del Bianco, Sylvie Morgenegg, Laurent Sourisse, Andrew Cooperstock, Michael Chertock, Frank Weinstock, and George Cherry.