The next VDM Masterclass Registration is Open!!

SIX-SESSION SHORT COURSE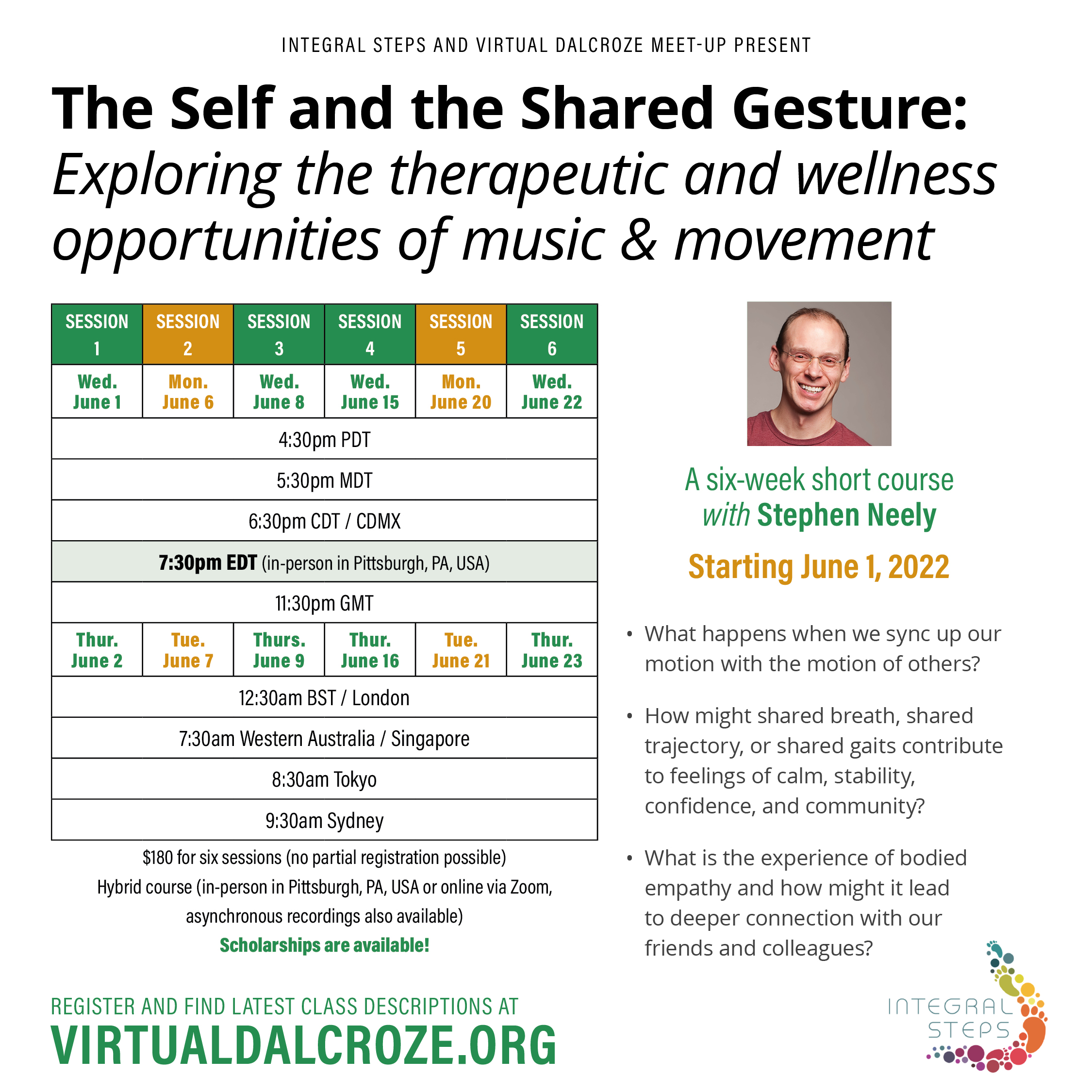 What happens when we sync up our motion with the motion of others? How might shared breath, shared trajectory, or shared gaits contribute to feelings of calm, stability, confidence, and community? What is the experience of bodied empathy and how might it lead to deeper connection with our friends and colleagues?
The Dalcroze Eurhythmics classroom, first recognized as a space for musicianship training, has yielded therapeutic benefits since the first explorations in 1903. We see these benefits even more clearly now after almost 120 years of practice and growth in the method.
In this 6-session short course, Stephen Neely will lead us through common Dalcrozian interactions with a focus connection, community, empathy, shared gesture, awareness of self, risk, intimacy, and vulnerability – lessons critical for advanced musicianship, but also central to a healthy and rewarding participation in our extra-musical worlds. 
Please join us for this hybrid course (in-person or over Zoom) to explore these and more ideas as we meet to explore the Self and the Shared Gesture through Dalcroze Eurhythmics.
The classes are open to everyone, prior music training is not required.  

The course will be offered in a hybrid format, with in-person teaching for those who can be in Pittsburgh, PA, USA and conjointly over Zoom for our national and international friends. Sessions will be recorded and sent to all participants, making possible both synchronous and asynchronous participation. 

6 sessions of 80 minutes each

June 1, 6, 8, 15, 20, 22, 2022

Time: 7:30-8:50 PM EDT

$180 USD for 6 sessions (no partial registration possible)

Scholarships available
Stephen Neely, PhD, Dalcroze License, is the Carnegie Mellon University Milton and Cynthia Friedman Assistant Professor of Music, co-founder and co-host of the Virtual Dalcroze Meet-up, and past President of the Dalcroze Society of America. 
Stephen is a teacher, conductor, theorist, and clinician who lectures and presents workshops in the fields of design, music, architecture, and pedagogy. He is a dynamic speaker–teacher–writer who enjoys traveling to present hands-on workshops and clinics in the US and around the globe focusing on the overlaps between music, design, the body, esthetics, performance, and experience. He is the Director of the Carnegie Mellon Marta Sanchez Dalcroze Training Center and Director of Graduate Studies at Carnegie Mellon School of Music. He teaches all of the Dalcroze Eurhythmics and Dalcroze Pedagogy courses for the Carnegie Mellon School of Music, having taught every BFA Music Performance and Composition major at CMU since 1999. He taught Dalcroze Eurhythmics and directed the Opera Workshop at Pittsburgh's High School for the Creative and Performing Arts for 23 years (1994–2018) and served as Chorusmaster for Opera Theater of Pittsburgh from 1999–2010, was featured as the Hangman in Leonardo Balada's early operas Hangman, Hangman and the world premiere of The Town of Greed for the Naxos label, and was a featured speaker at TEDxCMU 2012. 
Masterclass #23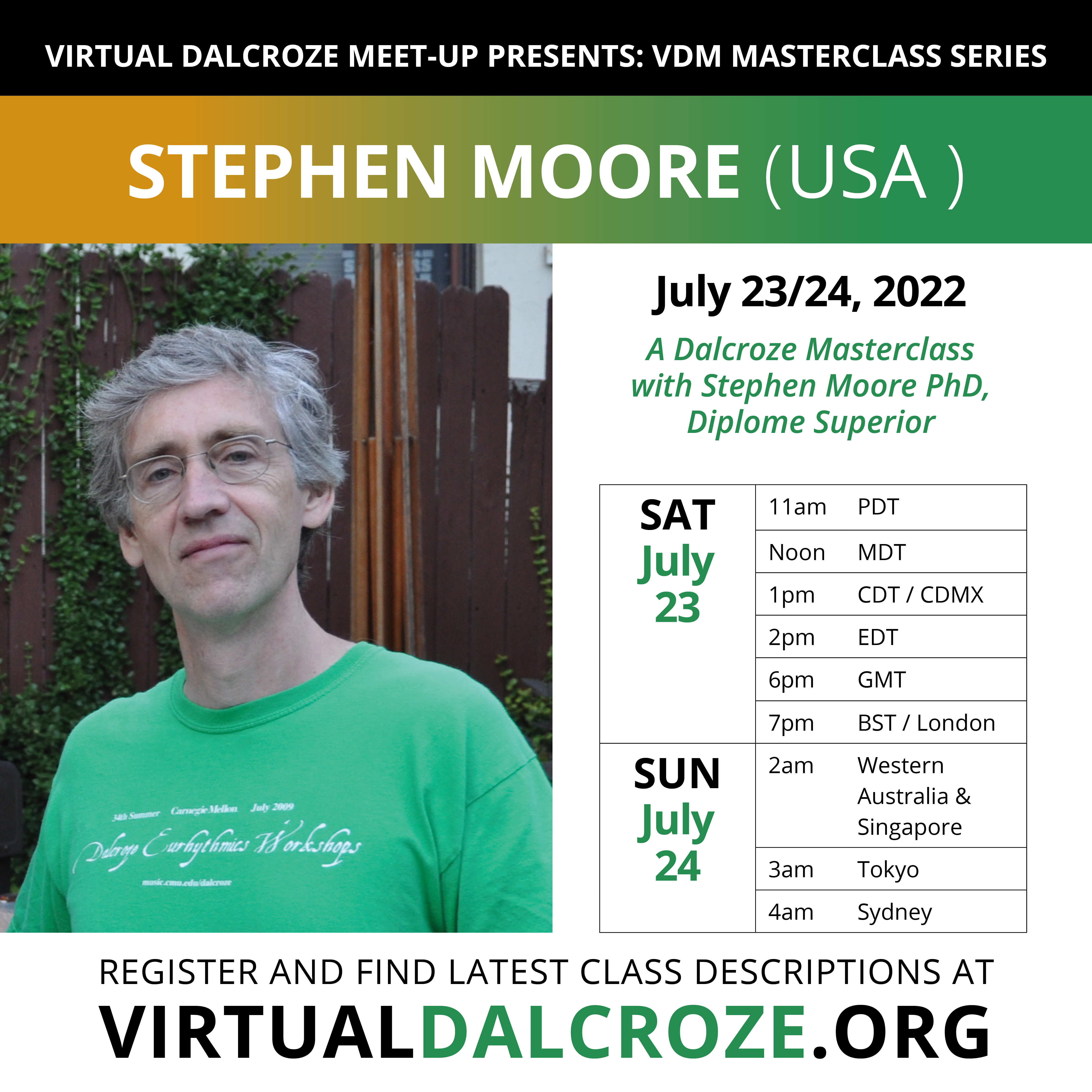 "Nuance …in 2/…in 3"
What does it mean to be "in 2" in terms of body, mind and spirit? 
What does it mean to be "in 3" in terms of body, mind and spirit? 
What happens when those "worlds" collide?
Dr. Stephen Moore, Dalcroze Diplôme Supérieur, Performance Specialist/Piano, Associate Professor of Music at California State University, Dominguez Hills, and former tenured Associate Professor of the Oberlin Conservatory. He has performed nationally and internationally in Tokyo, Taipei, Hsinchu, Graz, and Salzburg. Dr. Moore is a co-author with Dr. Julia Schnebly Black, of two books, The Rhythm Inside and Rhythm One-on-One, published by Alfred. He holds a Ph. D in Music Theory from Indiana University, MM in Piano from the Manhattan School of Music, and BM Education from the University of RI. His latest CD, The French Connection (2012), is a collection of French solo piano music. Dr. Moore has passed seven of eight examinations for the Diplome in Eurhythmics. He holds the Dalcroze Certificate from the Manhattan Dalcroze Institute and the License from Columbia University, Teacher's College. Since 1997, he has taught at the Marta Sanchez Summer Training Center (Carnegie Mellon University) and since 1993, at the Northwest Dalcroze Summer Training Center. Dr. Moore also offers a three-week intensive summer course in Dalcroze Eurhythmics for public school teachers at California State University, Dominguez Hills.
VDM Masterclasses require

paid pre-registration

. $22 USD per class. 

You will receive a Zoom link to the class about 48 hours in advance of the class.

We will send a recording to

all

masterclass registrants. You may participate live or watch the recording later (or both!).

The recording link expires after 30 days. 
Recordings of earlier Masterclasses are available for purchase HERE (with a new 30 day expiration).

Each class will last 90 minutes. 60-75 minutes of teaching followed by questions and discussion. All classes are taught in English.

Contribute to the VDM Scholarship Fund!
We welcome donations to the VDM Scholarship Fund. When you sign up for masterclasses, consider adding a $10 contribution or covering an entire masterclass registration fee with a $22 contribution.
Of course we always welcome larger and smaller gifts as well! To choose your own amount, scroll down to the bottom of the ticket column and make an additional donation here: 


Due to registration platform changes beyond our control, we are not able to offer discounts for purchasing one or more masterclasses this season. If you need financial assistance, please request a scholarship. Full and partial scholarships are available.

Questions? 
Check out our Frequently Asked Questions here. 
Need a scholarship?
If you are in need of financial assistance to attend the masterclass series, we will be happy to help as much as we can. Please fill out this very short scholarship request form:





If you have any questions, please email us at virtualdalcroze@gmail.com.
=======================

=======================