The next VDM Masterclass and Short Course Registration is Open!!

We are very excited to feature ANTHONY MOLINARO (USA) for the Fall 2023 VDM Short Course, and AARON BUTLER (USA), YI-RU MCALLISTER (TAIWAN), and BETHAN HABRON-JAMES (WALES) in VDM Masterclass Series 10!

Register for upcoming and past events at our REGISTRATION PAGE.
Game-ify the Curriculum with Anthony Molinaro! #Winning in the Elementary Classroom
Six 80-minute classes

Join us for an inspiring and transformative six-week online course led by Anthony Molinaro, a certified teacher of Dalcroze Eurhythmics with 17 years of experience in public school classrooms nationwide. Prepare to embark on a journey of exploration, innovation, and unparalleled student engagement.

Course Overview:
In this interactive course, educators will delve into the world of movement-oriented games, unlocking the hidden potential of experiential learning. By dissecting a diverse range of original games, participants will uncover the remarkable learning opportunities they offer. Anthony Molinaro will carefully guide you through the principles of Dalcroze Eurhythmics, enabling you to design and enhance your own games that captivate students' hearts and minds.

Discover the Power of Dalcroze Principles:
Drawing upon the core tenets of Dalcroze Eurhythmics, this course places joy and discovery at its very core. Anthony Molinaro has ingeniously developed a groundbreaking system for game design, enabling you to foster unparalleled student engagement, stimulate creativity, and promote flexibility—all while achieving remarkable outcomes aligned with standards-based teaching.

Course Highlights:
1. Uncover the learning potential: Analyze and explore a variety of movement-oriented games, examining their unique educational benefits and uncovering the untapped potential they offer within your classroom.

2. Dalcroze principles in action: Dive into the foundations of Dalcroze Eurhythmics and witness firsthand how these principles can revolutionize your teaching methodology, empowering you to create dynamic and transformative learning experiences.

3. Design your own engaging games: Learn the art of crafting captivating games that maximize student engagement and inspire a love for learning. Through Anthony Molinaro's expert guidance, you will unlock the keys to creating educational experiences that leave a lasting impact.

4. Foster creativity and flexibility: Embrace the boundless realm of creativity, encouraging your students to think outside the box, explore new possibilities, and adapt to different situations, all while meeting educational objectives.

5. Powerful results and standards-based teaching: Discover how incorporating Dalcroze principles into your game design can unlock powerful results and seamlessly align with standards-based teaching practices, ensuring your students thrive academically.

This course does not require prior background or experience with Dalcroze Eurhythmics.
Masterclass #30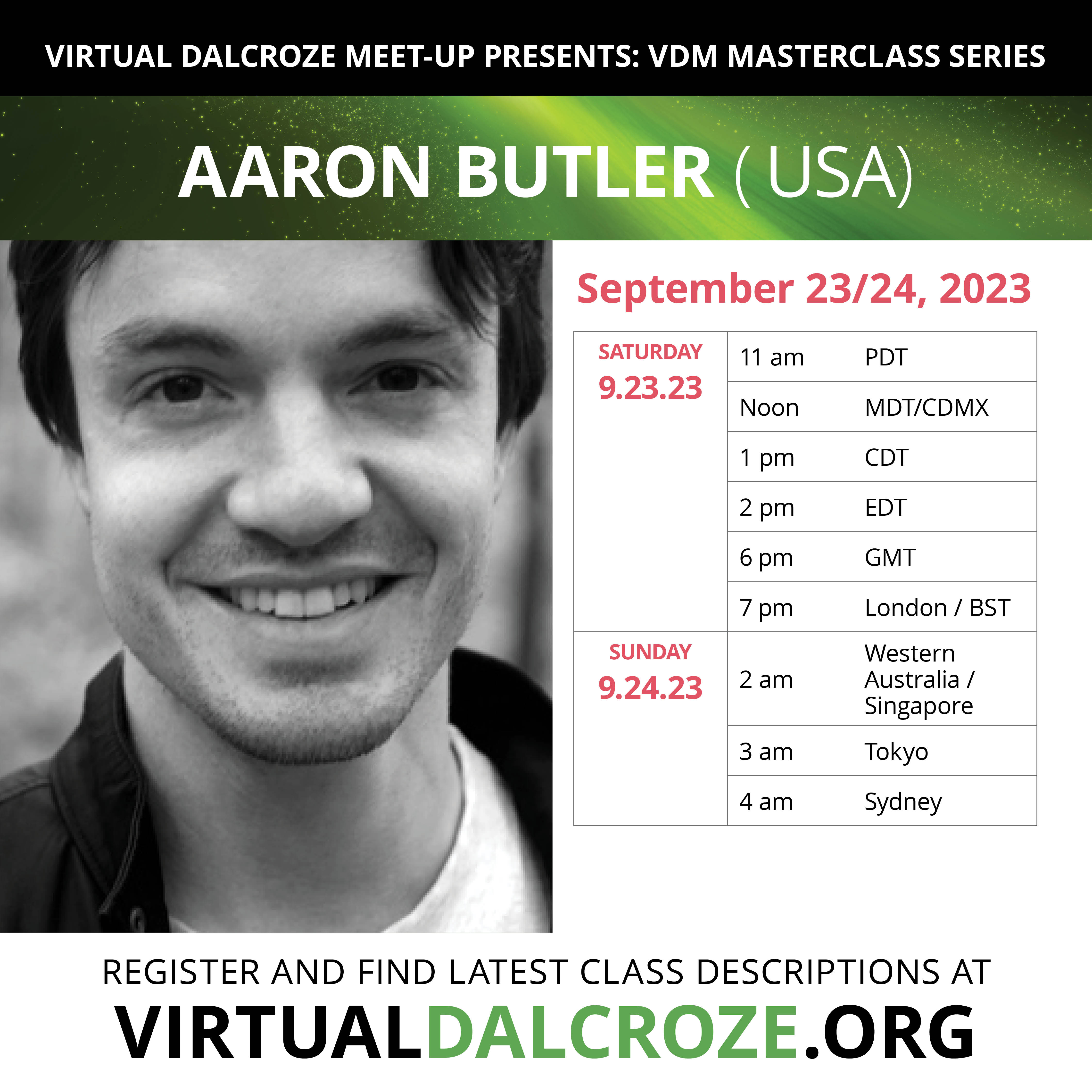 "A Masterclass with Aaron Butler!"

"Creativity Inspired by the Chinese Language"
Chinese is different from western languages in a number of ways. For example, each Chinese word is combined by different strokes with a specific order in a precise direction, which is comparable to a music score. The goal of this workshop is to use the different strokes and characters of the Chinese language as the starting point to inspire our imagination, in order to create the link between the language and the musical subject.
Yi-Ru McAllister graduated from Fu Jen Catholic University (BA) and the National Taiwan Normal University (MA), majoring in Music Composition and Theory. She had a strong interest in cross-field art collaboration, combining Performing Arts, Interdisciplinary Studies, Music Theater, and Cultural Industries. Her Master's thesis reflects her dedication and skill in these diverse aspects of the musical arts.

Continuing her education, Yi-Ru attended the Haute Ecole de Musique (HEM), where she earned an MA in Dalcroze Eurhythmics Pedagogy. While in Switzerland, she also trained at the renowned Institut Jaques-Dalcroze in Geneva, gaining comprehensive music education training that laid the foundation for her expertise. In 2016, Yi-Ru received recognition with the "Best Improvisation Prize" from the Emile Jaques-Dalcroze Foundation and the "Best Artistic Project Award" from the Aletheia Foundation, becoming the first Taiwanese teacher to achieve the highest diploma in Dalcroze (Diplôme Supérieur) in 2019.

Yi-Ru has extensive teaching experience, having contributed to the Institut Jaques-Dalcroze in Geneva from 2014 to 2019. She worked with diverse students of all ages, demonstrating adaptability and a strong commitment to music education. During her time in Switzerland, she also engaged in various artistic and teaching activities, showcasing her musical skills and sharing insights as a guest lecturer.

Upon returning to Taiwan in 2019, Yi-Ru took on various roles, including serving as a guest lecturer at renowned institutions such as the National Performing Arts Center and Weiwuying National Arts and Cultural Center. She also contributed to the teacher training program at the National Academy for Educational Research. Twice selected as an artist-in-residence at the esteemed Performance 36 Yung An Cultural Center, Yi-Ru provided capacity-building courses for art teachers in primary and secondary schools across Taiwan. While sharing her experiences in her hometown, Yi-Ru continues to collaborate internationally, regularly receiving invitations to serve as a lecturer and certification examination evaluator for esteemed Dalcroze teacher training institutes in various countries.
Masterclass #32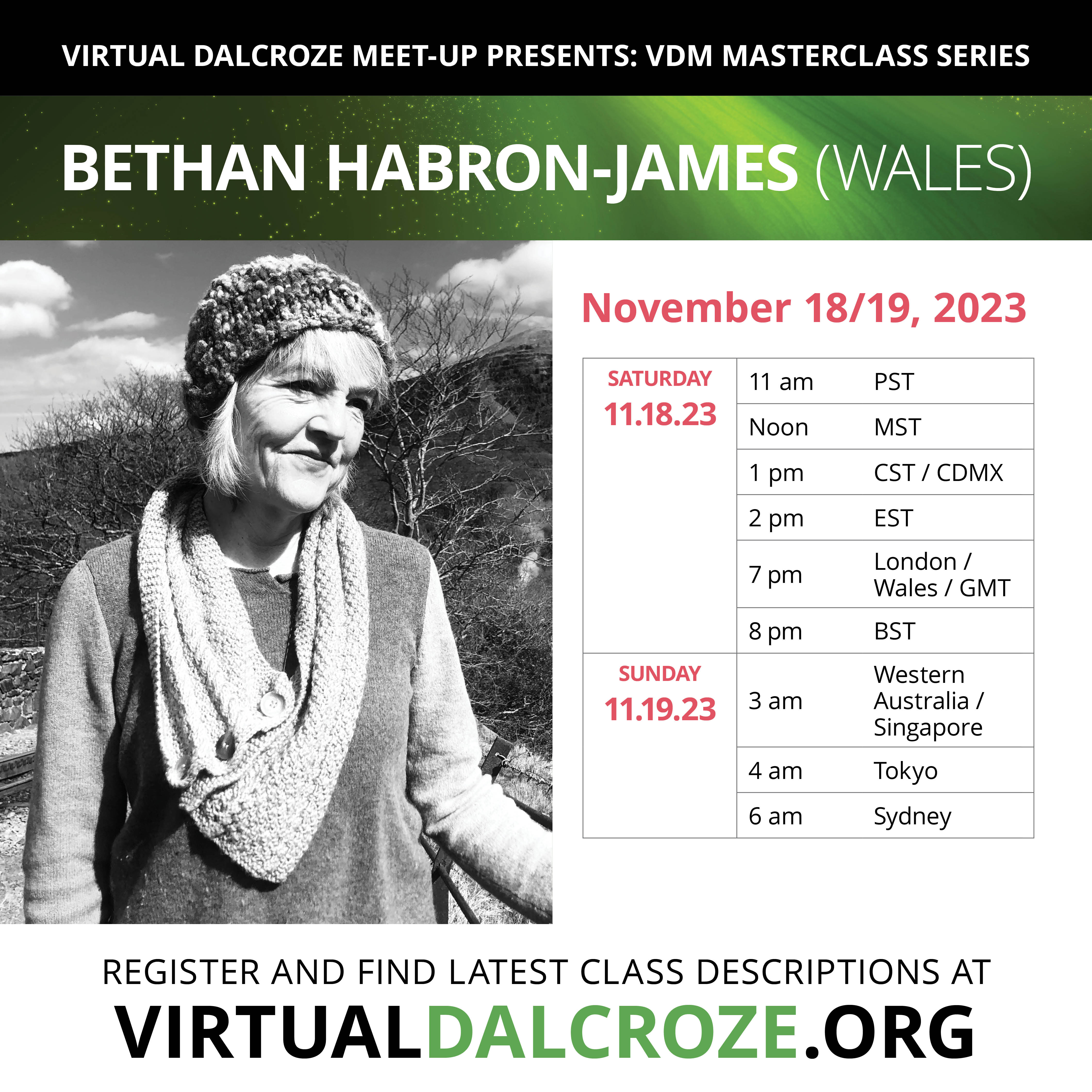 "A Dalcroze Masterclass with Bethan Habron-James!"

VDM Masterclasses require

paid pre-registration

. $30 USD per masteclass. $180 USD per Short Course. 

You will receive a Zoom link to the class about 48 hours in advance of the class.

We will send a recording to

all

masterclass registrants. You may participate live or watch the recording later (or both!).

The recording link expires after 30 days. 
Recordings of earlier Masterclasses and Short Courses are available for purchase HERE (with a new 30 day expiration).

Each masterclass will last 90 minutes. 60-75 minutes of teaching followed by questions and discussion. All classes are taught in English.

Contribute to the VDM Scholarship Fund!
We welcome donations to the VDM Scholarship Fund. When you sign up for masterclasses,

consider adding a $15 contribution or covering an entire masterclass registration fee with a $30 contribution.


Of course we always welcome larger and smaller gifts as well! 

Due to registration platform changes beyond our control, we are not able to offer discounts for purchasing one or more masterclasses this season. If you need financial assistance, please request a scholarship. Full and partial scholarships are available.

Questions? 
Check out our Frequently Asked Questions here. 
Need a scholarship?
If you are in need of financial assistance to attend the masterclass series, we will be happy to help as much as we can. Please fill out this very short scholarship request form:





If you have any questions, please email us at virtualdalcroze@gmail.com.
=======================

=======================