The next VDM Masterclass and Short Course Registration is Open!!

We are very excited to feature Toru Sakai (Japan), Anetta Pasternak (Poland), Cynthia Lilley (USA), and Kai Liu (China) in VDM Masterclass Series 9!
New for Spring 2023 we are also very proud to present "Latinamerican music: a rich source for Dalcroze Eurhythmics and Music Classrooms", a six-session short course with Elda Nelly Treviño (Mexico).


Register for upcoming and past events at integralsteps.org/vdm.
Masterclass #27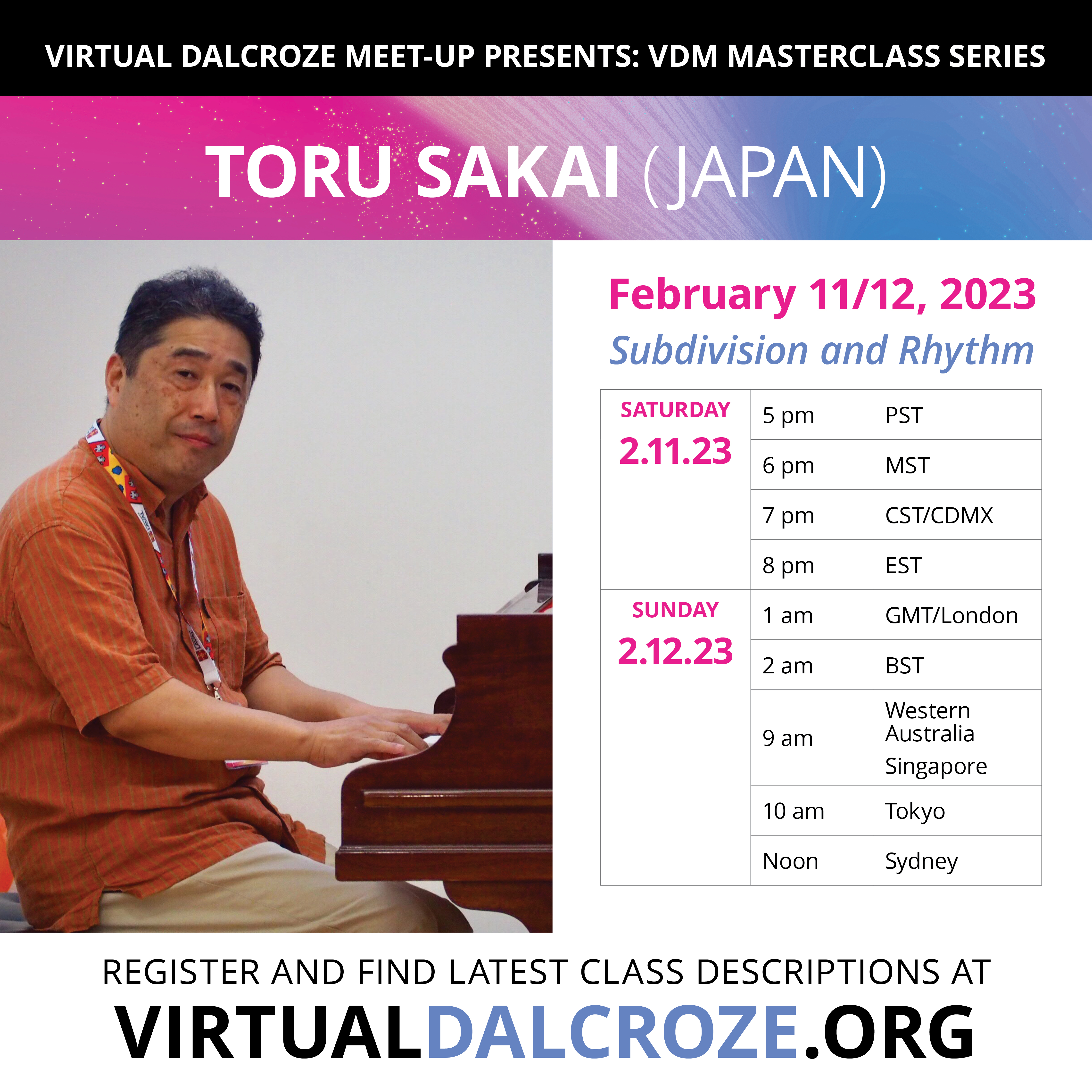 "Subdivision and Rhythm"
"Rhythm".  We hear this word often, but rarely have the opportunity to consider what it really means. Rhythm is a combination of long and short notes. People usually focus on timing only, but it is also very important to consider different weights and how energy flows. Where the mathematical values of specific rhythm is set and does not require a performer/composer/listener to be "correct", the actual music of rhythm is found in the motion of that music, as experienced in the feeling participant. There is only one way to feel and understand rhythm. That is to move to the music.  In this masterclass, we will explore this through Dalcroze Eurhythmics. 
Toru SAKAI was awarded Bachelor of music education by Kunitachi College of music. He gained his Dalcroze License at the Dalcroze School of Music (New York) and Longy School of Music (Boston), and took further Dalcroze study at Carnegie Mellon University. Toru completed his Diplome Superieur at the Institut Jaques-Dalcroze (Geneva). He is the chair of Dalcroze certification Committee of the Dalcroze Society of Japan, Member of the Collège of the Institut Jaques-Dalcroze, Geneva, Director of the International Dalcroze Seminar at Nagoya School of Music and supervises the Dalcroze certification Program at Hansei University in Korea. Toru was invited to teach in USA, UK, Hong Kong, Taiwan, Canada and Korea.
"A Dalcroze Masterclass with Anetta Pasternak!"

Anetta Pasternak (PhD hab, MA in Eurhythmics) works as a professor (specialty Eurhythmics) Department of Composition, Conducting, Theory and Music Education at the Karol Szymanowski Academy of Music, Katowice, Poland. Her assignments involve also teaching at Dance Theater Actor Specialty, Postgraduate Music Therapy and Art Therapy courses. As its artistic director, she promotes the Theatre of Rhythm Katalog. She specializes in the interpretation of 20th and 21st century music (Plastique Animée) and is particularly interested in the therapeutic aspect of Eurhythmics.
Masterclass #28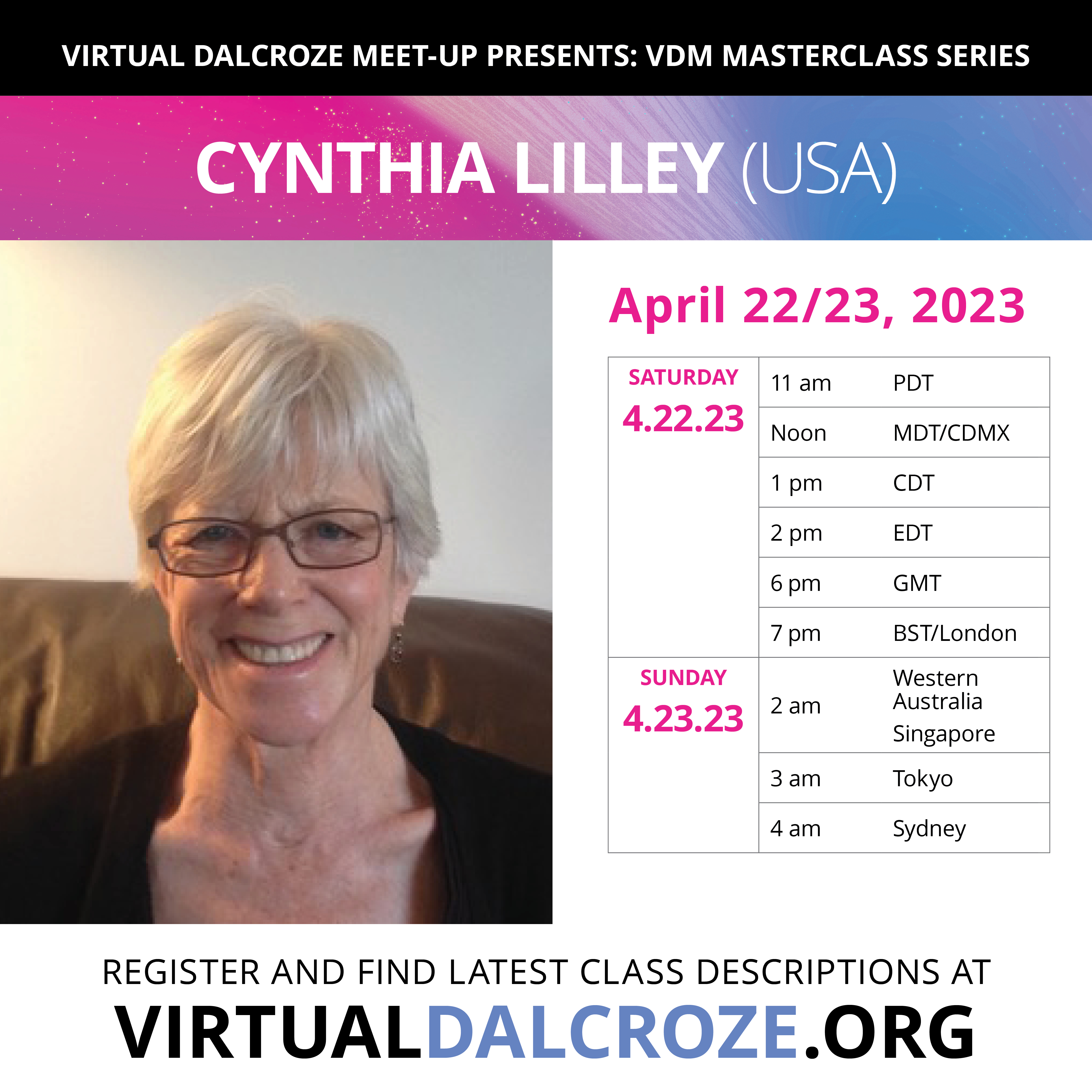 "A Dalcroze Masterclass with Cynthia Lilley!"

Cynthia Lilley earned a Dalcroze certification and license at the Longy School. She also holds an Orff Certificate from UCLA. She recently retired from a longtime job teaching Eurhythmics and Music Theory at the Special Music School, a public school in Manhattan for musically gifted children. She continues to teach adult classes in the Dalcroze School at the Lucy Moses School where she joins Michael Joviala and Leslie Upchurch teaching the summer intensive workshop. She also teaches a graduate credit course on the Dalcroze core subjects in the Dalcroze Program at The Diller-Quaile School. Privately, she teaches keyboard harmony. Cynthia has been a presenter at many Dalcroze and Orff workshops and national conferences, and she has taught summer courses in the Dalcroze approach for music teachers at the Longy School in Cambridge, MA, Southern Methodist University in Dallas, the University of St. Thomas in St. Paul, the University of Kentucky Lexington, and Hunter College in New York City. She is past president of the Los Angeles Orff Chapter and of the New York Chapter of the Dalcroze Society of America where she served as communications director. She serves on the Board of the Dalcroze Society of America and is active on several of its committees. Cynthia is a composer of piano pieces and art songs.
Masterclass #29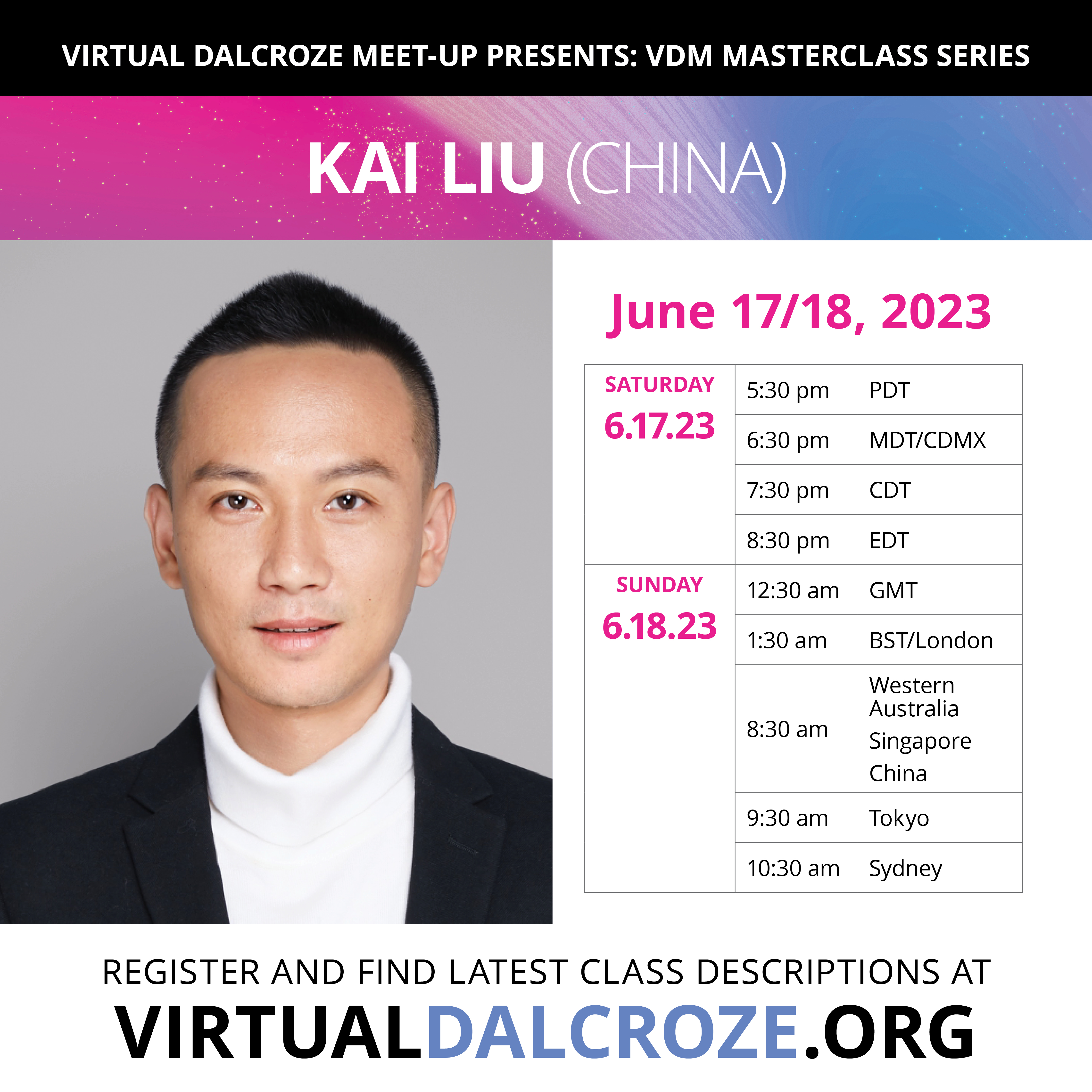 "A Dalcroze Masterclass with Kai Liu!"

Kai LIU, MD, Associate Professor and Director of the Music and Movement Division at the Institute of Music Education, Central Conservatory of Music (CCOM) in China. Jaques-Dalcroze Diplôme Supérieur, Institut Jaques-Dalcroze(IJD) (2019). Kai holds a MA in Dalcroze Eurhythmics Pedagogy from the Institute of Jacque Dalcroze (IJD) at the Haute Ecole de Musique (2012) and a MA in Music Education from CCOM (2012). Kai also
obtained his BA in ethnomusicology from CCOM and another BA in music and movement from IJD.

Kai is a respected lecturer in the field of Dalcroze Eurhythmics. He teaches Music and Movement, Keyboard Improvisation, and Western Music History at the CCOM and he also taught junior level Music Comprehensive Course at affiliated middle school of the CCOM and Beijing Dance Academy. Kai is a lecturer at the Chinese National Music Teacher Training Program held by CCOM. Between 2015 and 2019, Kai has taught and given
presentations at the 28th and 29th Dalcroze Congress in Geneve and at the Han-Sei International Dalcroze Workshop in South Korea.

Kai is a specialist of early western keyboard instruments. He has studied harpsichord and fortepiano with Michel Kiener, Classical piano improvisation with David Marteau. Kai is also a jazz pianist, organist and composer who frequently perform in important venues such as Blue Note Beijing. Kai is currently the teacher of Basso Continuo for students of organ major at the keyboard department of CCOM.

Kai is going to publish two translation books on 2023 - The Notation is Not the Music-reflection on early music practice and performance into Chinese by Barthold Kuijken and Historical Harpsichord Technique-developing la douceur du toucher by Yonit Lea Kosovske
Are you curious about finding novel repertoire to enhance your teaching  practice? This short course will take you through a journey of discovery of  Latinamerican traditional music rich in rhythmic patterns and beautiful melodies. We will work through Dalcroze eurhythmics exercises which can fit students of all ages and musical backgrounds. We will explore traditional music from different Latinamerican countries and short  piano pieces written for didactical purposes: music in simple and compound meters  both regular and irregular, pentatonic, tonal, modal melodies, and dance music.
Through a journey of discovery, we will emphasize musical aspects such as rhythmic patterns, melodic contours, phrasing, harmony, and character, which offer opportunities to work on the four areas of study of the Dalcroze pedagogy:  eurhythmics, solfège, improvisation, and plastique animé. Furthermore, we will explore various excerpts of concert music based on Latinamerican dance rhythms suitable for plastique animé. A lead sheet (music notation) with the lyrics in English and Spanish will be provided along with the links for recorded versions of the music available in public platforms. 
This course does not require prior background or experience with Dalcroze Eurhythmics.
Dr. Treviño is a pianist and Dalcroze Eurhythmics (DE) practitioner and researcher.
She is a professor group and coordinator of Programas Dalcroze at the Universidad
Panamericana in México City. Alongside she is a professor at the Facultad de Música of the
Universidad Autónoma de Nuevo León (UANL) in Monterrey, and director of her
independent studio "Música Viva".
As active promoter of DE throughout Latinamerica, Elda Nelly frequently serves as
guest lecturer, and clinician in DE and Piano Pedagogy. Up to the present she serves as a
member of the publications committee of the Dalcroze Society of America in the US,
member of the directive committee of the Mexican Healthy Conservatories Association,
and as a representative of La Fédération Internationale des Enseignants de la Rhythmique
(FIER) in México. In addition, she is active as a collaborative pianist.
Dr. Treviño holds a Ph.D. in Psychology from the UANL (Summa Cum Laude), a
Doctorate in Modal and Tonal Harmony from Universidad Tito Puente, Bachelor and
Master of Music in Piano Pedagogy from the University of Texas at Austin, Dalcroze
Certificate and License from Carnegie Mellon University; furthermore, she has received
numerous awards for her academic and artistic career.
=================
VDM Masterclasses require

paid pre-registration

. $30 USD per masteclass. $180 USD per Short Course. 

You will receive a Zoom link to the class about 48 hours in advance of the class.

We will send a recording to

all

masterclass registrants. You may participate live or watch the recording later (or both!).

The recording link expires after 30 days. 
Recordings of earlier Masterclasses and Short Courses are available for purchase HERE (with a new 30 day expiration).

Each masterclass will last 90 minutes. 60-75 minutes of teaching followed by questions and discussion. All classes are taught in English.

Contribute to the VDM Scholarship Fund!
We welcome donations to the VDM Scholarship Fund. When you sign up for masterclasses,

consider adding a $15 contribution or covering an entire masterclass registration fee with a $30 contribution.


Of course we always welcome larger and smaller gifts as well! 

Due to registration platform changes beyond our control, we are not able to offer discounts for purchasing one or more masterclasses this season. If you need financial assistance, please request a scholarship. Full and partial scholarships are available.

Questions? 
Check out our Frequently Asked Questions here. 
Need a scholarship?
If you are in need of financial assistance to attend the masterclass series, we will be happy to help as much as we can. Please fill out this very short scholarship request form:





If you have any questions, please email us at virtualdalcroze@gmail.com.
=======================

=======================