VDM Masterclass Season 5 Registration is Open!!

VDM Masterclasses require

paid pre-registration

. $22 USD per class. 

You will receive a Zoom link to the class about 48 hours in advance of the class.

We will send a recording to

all

masterclass registrants. You may participate live or watch the recording later (or both!).

The recording link expires after 30 days. 
Registration for Masterclasses season 5 is now open. Recordings of earlier Masterclasses are available for purchase HERE (with a new 30 day expiration).

Each class will last 90 minutes. 60-75 minutes of teaching followed by questions and discussion. All classes are taught in English.

Contribute to the VDM Scholarship Fund!
We welcome donations to the VDM Scholarship Fund. When you sign up for masterclasses, consider adding a $10 contribution or covering an entire masterclass registration fee with a $22 contribution.
Of course we always welcome larger and smaller gifts as well! To choose your own amount, scroll down to the bottom of the ticket column and make an additional donation here: 


Due to registration platform changes beyond our control, we are not able to offer discounts for purchasing one or more masterclasses this season. If you need financial assistance, please request a scholarship. Full and partial scholarships are available.

Questions? 
Check out our Frequently Asked Questions here. 
Need a scholarship?
If you are in need of financial assistance to attend the masterclass series, we will be happy to help as much as we can. Please fill out this very short scholarship request form:





If you have any questions, please email us at virtualdalcroze@gmail.com.
=======================

=======================
Masterclass #17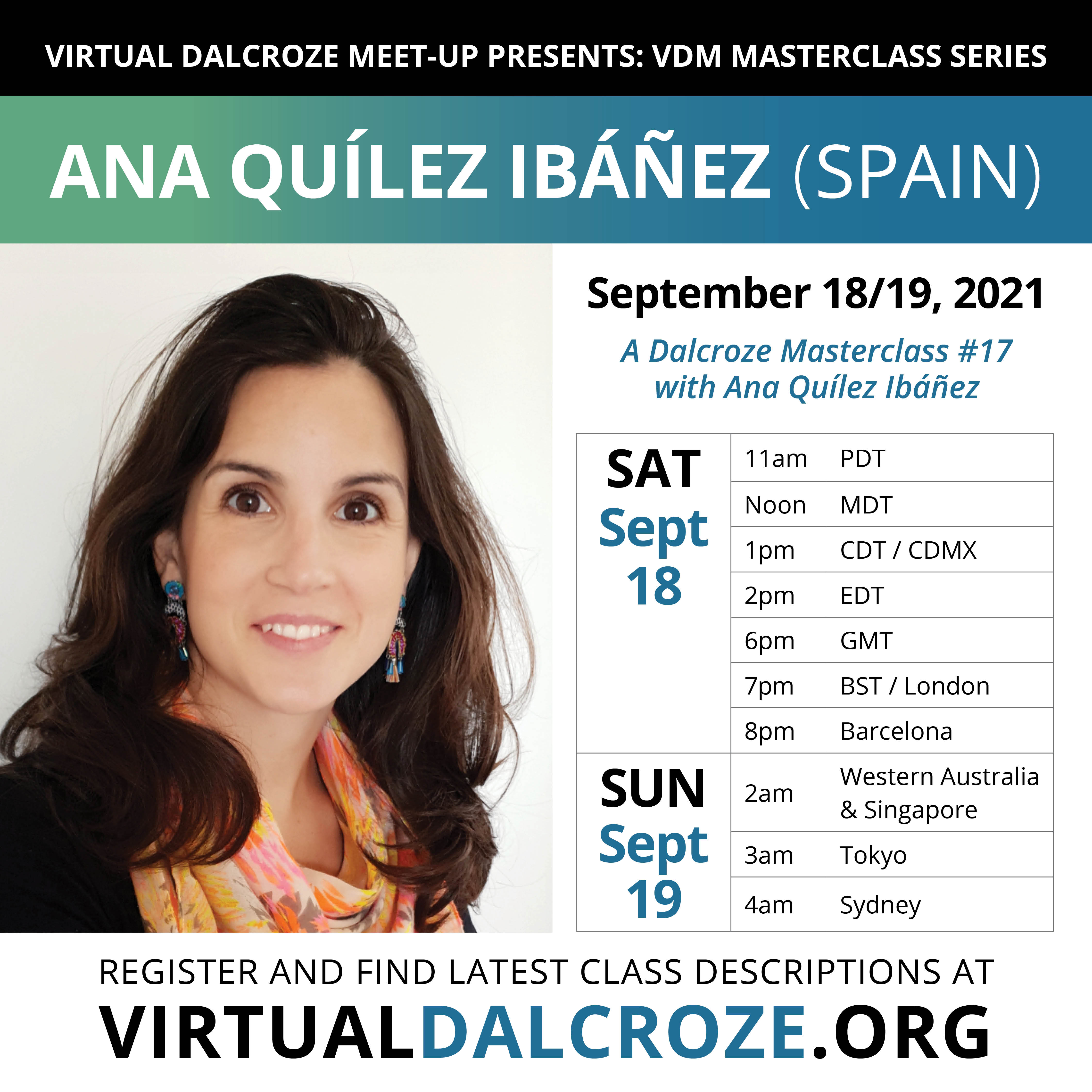 "Mini-Athletes" Music, movement and sports."
"Mini-Athletes", a session of music and movement based on a single theme, Sports. From the symbolic game we will become "Mini-Athletes", developing a sporting, musical and fun session.
This session aims to provide didactic resources applicable for face-to-face and online classes, helping teachers to create a common thread for their sessions and to show the didactic process, the "step by step" where the activities are exposed from least to greatest difficulty.
The session is organized in 3 blocks:
- Warm-up: where activities are proposed for the body and vocal warm-up of Athletes.
- Sports: the central part of the session where different sports will be developed working on musical content such as pulsation, accentuation, time signature, phrasing, structure, harmony, etc.
- Relaxation: where activities are proposed to change muscle tone and consolidate what has been learned.
Ana Quílez holds the 
Higher Diploma in Piano from the Conservatory of the Liceo de Barcelona and Musical Pedagogy from the Higher School of Music of Catalonia. She earned the Master in Musicology and Music Education from the Autonomous University of Barcelona and completed training in the following music teaching methodologies: She earned the Dalcroze License from Carnigie Mellon University in Pittsburgh, USA, and the Willems Diploma from the Joan Llongueres Institute of Barcelona. She trained at Orff by The San Francisco Orff School, USA. She is the co-author of the books "La fiesta de disfraces" and "El gran secreto de Chopin" by Bellaterra Editorial and is co-author of the online courses "Festa da Fantasia
" and "Mini-Athletes".

Ana has taught numerous teacher training courses throughout Spain, the Czech Republic, Peru, Mexico, Argentina, Colombia, Portugal, Chile, Italy, Venezuela, and Brazil. She is currently a Professor at the University of Gerona, Dance Accompanying Pianist at the Oriol Martorell Artistic Institute-School of Barcelona and Professor of Music and Movement at the Blai Net Municipal School of Music in Sant Boi, Barcelona.
Masterclass #18
"What Can I Do With This Song?"
In this Masterclass, we will use different pedagogical and improvisational strategies to work with some old Latin American indigenous songs.
Pablo Cernik received his music teaching degree and Dalcroze teaching degree from the National Conservatory of Music in Buenos Aires. In Geneva, Switzerland, he obtained the Licence and Diplôme Superieur in Dalcroze Eurhythmics. In Spain, he taught at the Institut Joan Llongueres (Barcelona) and at the Conservatory of Music "Musikene"  (San Sebastián). He taught and supervised on many Dalcroze Certificate training programs in Spain, Mexico, Chile, Argentine, and Japan. He currently lives in Buenos Aires working for the National University of Arts (UNA) and works training teachers throughout the country as well as in other Latin American countries.  He is the Director of Studies of the Dalcroze Certifications in Argentine and Chile, a member of F.I.E.R.'s Central Committee, and president of Argentine Dalcroze Society.
Masterclass #19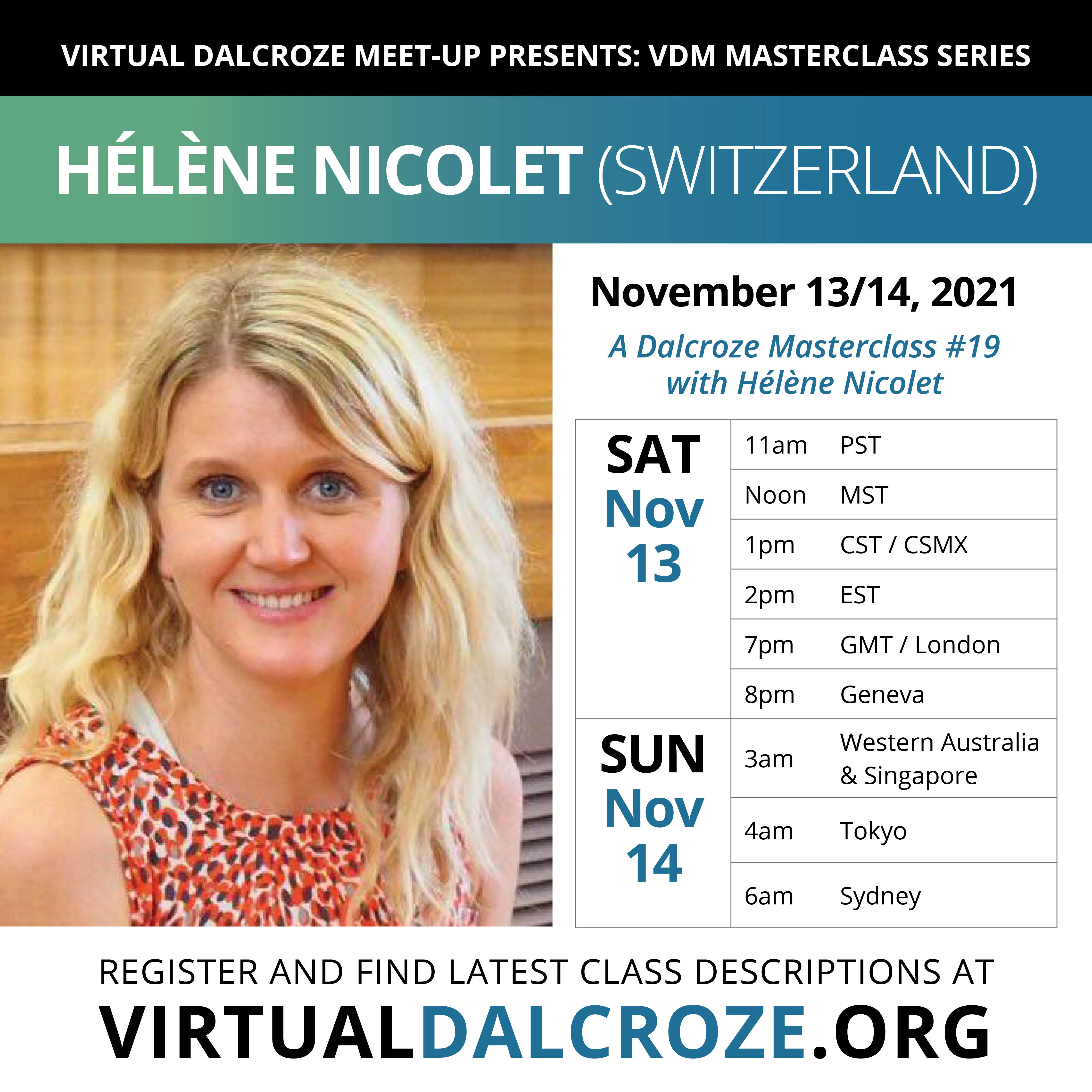 "Exploration of Phrase Structures" 
In this session open to all levels, we will benefit from the Dalcroze eurhythmics experience to make connections with aural training (solfège) and instrumental improvisation. We will also expand some of the ideas for teaching to children and seniors. Bring a tennis ball and prepare your instrument!
Hélène Nicolet
obtained her Dalcroze License in 2006 at the Institut Jaques-Dalcroze (IJD) and her Master of Arts in Music Education from the University of Applied Sciences in 2008. She studied classical piano and cello. In 2011, Hélène became a Certified Movement Analyst at the Laban/Bartenieff Institute of Movement Studies in New York. In 2013, she completed her Diplôme Supérieur. Hélène has taught in music schools, elementary schools, for adults and seniors, and is regularly invited to teach abroad. She teaches professional students at the Haute Ecole de Musique (Bachelor and Master program) and is the administrative assistant at IJD.