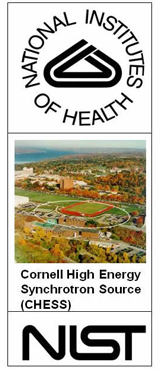 The Membrane Structure and Interactions Lab has been funded through the National Institutes of Health, General Medicine, with a four-year $1 million grant. Our current NIH proposal to study the interaction of HIV peptides with membranes is under review. We collect x-ray synchrotron data at the Cornell High Energy Synchrotron Source (CHESS) which is funded by both the National Science Foundation and the NIH.
Undergraduates have been funded through the Howard Hughes Medical Institute, administered through the Department of Biological Sciences, Carnegie Mellon University.
Professor Tristram-Nagle was also the recipient of a $77,000 equipment grant administered through the National Institutes of Science and Technology (NIST) for the purpose of construction of a new hydration chamber for neutron scattering. This chamber has now been fabricated and tested at NIST.
Professor Tristram-Nagle also received partial funding through a collaboration with the lab of Dr. Mark Zeidel at the Harvard University Medical School to study water permeability through membranes of differing composition.
Professor Tristram-Nagle recently received the third annual Charles E. Kaufman Award from the Pittsburgh Foundation in the amount of $50K.