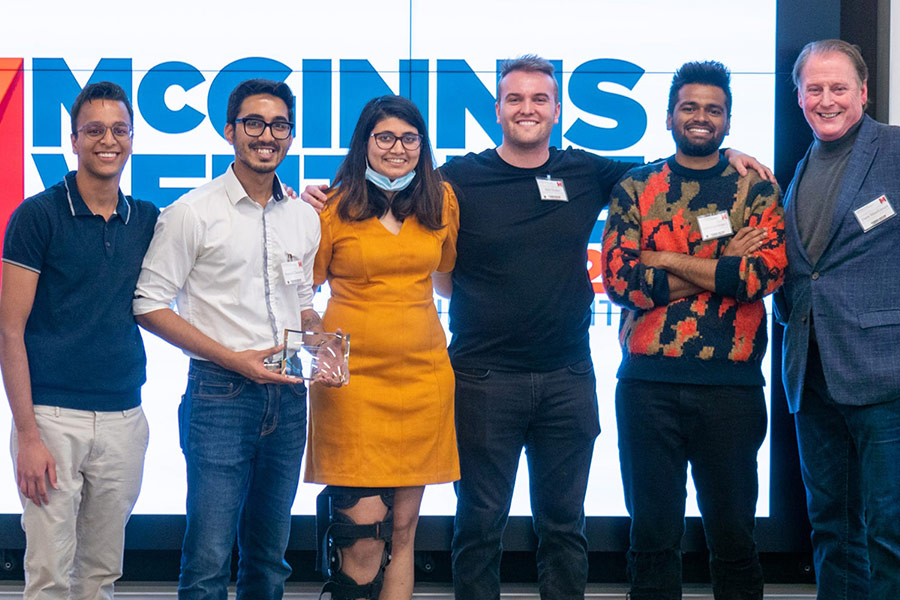 March 28, 2022
NFT Platform, Vehicle Sensors Win McGinnis Venture Competition
The graduate student team behind NiFTy and the undergraduate team behind Flurry took home top prizes at the annual McGinnis Venture Competition on Tuesday, March 22.
Presented by the Swartz Center for Entrepreneurship, the McGinnis Venture Competition invited student entrepreneurs from across Carnegie Mellon University to compete for a total of $60,000 in investment funds to support their startup ventures. The competition began with two virtual rounds in which teams had the opportunity to work with alumni entrepreneurs and venture capitalists to develop their ideas and business plans.
"The McGinnis Venture Competition is an opportunity for CMU students to get intensive coaching, judging and feedback on their ideas and startups — which is equally important to the investment they win," said Dave Mawhinney, Executive Director of the Swartz Center and Associate Teaching Professor of Entrepreneurship. "Many past winners have become successful growing businesses, including Tepper School of Business alumni Alison Alvarez (BlastPoint), Austin Webb (Fifth Season), and JJ Xu (TalkMeUp)."
In the third and final round, held in person at the Swartz Center in the Tepper building, finalist teams had the opportunity to pitch their startup ideas to faculty and entrepreneurs. Three undergraduate teams and 11 graduate teams competed in the 2022 finals.
Graduate Track Winners
NiFTy is a platform for blockchain-based games where gamers can access games and buy, sell or trade their in-game assets as non-fungible tokens (NFTs). The winning team members are Pranjal Chavarkar, Adithiyajothiram Lakshmanaperumal, and Kyle Snyder, all graduate students in the Integrated Innovation Institute. Their first-place win in the graduate track secured $25,000 to continue to develop their company.
Advanced Optronics took second place in the competition and won $15,000 in investment funds. Advanced Optronics is developing flexible, biocompatible electronic and optical systems to enable smarter, less invasive surgery for a variety of medical applications. Their first product provides real-time feedback to reduce surgical trauma during cochlear implant surgery. Team members include Jay Reddy, a postdoctoral research associate in the Department of Electrical and Computer Engineering, and Ruth Segall, a graduate student in bioengineering at the University of Pittsburgh.
For their third place finish, $10,000 in investment fees were awarded to E-Carebetics — an AI-powered diagnostic solution on mobile devices for diabetic retinopathy. The venture was created by Bingda Li, a graduate student in biomedical engineering and engineering and technology innovation management; Devansh Parikh, E-Carebetics technical lead; and Mukunthan Tharmakulasingam, a Ph.D. student at the University of Surrey.
Undergraduate Track Winners
Teams in the undergraduate track who place first or second in the McGinnis Venture Competition are entered in the CMU Venture Challenge (CMUVC) hosted in April by the Undergraduate Entrepreneurship Association. Undergraduate students from across the U.S. participate in CMUVC to compete for seed funding, legal services and mentorship.
Flurry, including team members Miguel Brandao, a junior in mechanical engineering; Jack Winters, a junior in business administration; and Steven Wu, a junior in computer science; earned the top undergraduate prize of $4,000. Flurry created hardware that plugs into a car's onboard diagnostic port and uses sensors to calculate a value representing a road's slickness and recommends driving speeds and stopping distances.
Receiving $2,500 in funding and taking home the second-place prize is BAM! Bottle. BAM! Bottle is a portable container that heats liquids on the go through battery power to ensure that drinks remain at the perfect temperature. The venture was created by Kaitlyn Chow, a first-year student in business administration.
The McGinnis Venture Competition was established in 2004 with an endowment from Gerald E. McGinnis, founder of Respironics, Inc., a medical supply company based in Murrysville, Pennsylvania, that was acquired by Philips in 2008. This year's competition was sponsored by Perkins Coie, Cowen, P&G, Optum and HubSpot for Startups.