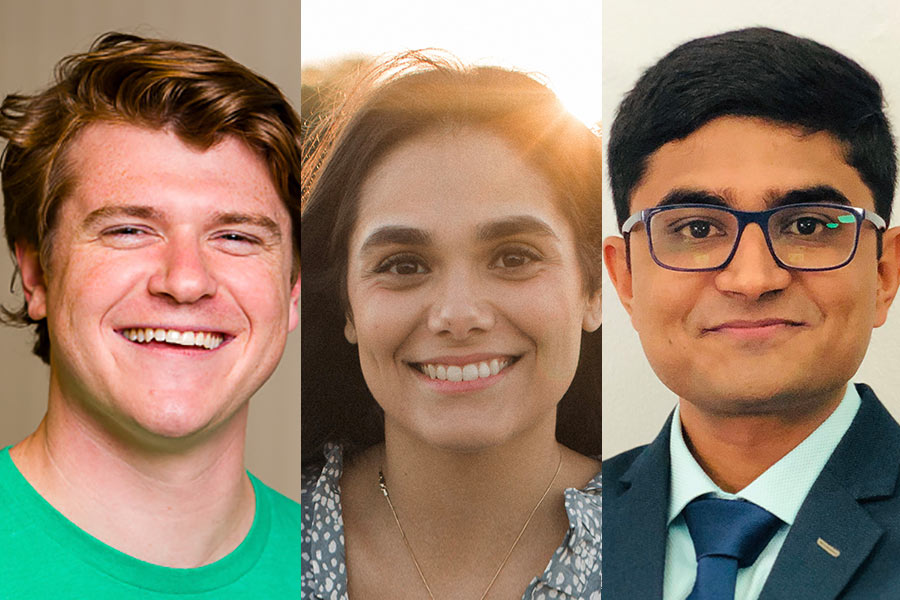 October 08, 2020
Three MBA Students Join 2020-2021 Class of Swartz Fellows
Fourteen new graduate students at Carnegie Mellon University have been selected as James R. Swartz Entrepreneurial Fellows in its newest class, including Tepper School of Business MBA students Robert Miller, Alejandra Rovirosa, and Anik Shah.
Through the Swartz Fellows program, the Swartz Center for Entrepreneurship supports aspiring entrepreneurs at CMU with mentorship and learning opportunities. Fellows connect with a network of university faculty, staff, and alumni with entrepreneurial experience — as well as local business leaders, investors, and executives — for guidance and support through the process of launching a business.
"The Swartz Fellowship brings incredible students across disciplines, whether it be business, engineering, the sciences, or art, together to learn from each other and grow their startups," said David Mawhinney, Executive Director of the Swartz Center, Associate Teaching Professor of Entrepreneurship.
Swartz Fellows also complete a summer internship with a startup company in the San Francisco Bay Area and have additional networking trip opportunities in the Bay Area. They attend weekly roundtable discussions with local entrepreneurs, VC's and investors called Proseminars, and may also participate in events with entrepreneurial leaders invited to speak at the Swartz Center for events such as the CONNECTS seminar series.
The complete list of 2020-2021 Swartz Fellows includes students from across the Carnegie Mellon campus:
Shreya Agarwal, College of Engineering
Alex Baikovitz, School of Computer Science
Jennie Christensen, Heinz College of Information Systems and Public Policy
Piper Hayden, School of Computer Science
Ben Kolligs, School of Computer Science
Gladys (Hoi Yan) Lau, College of Engineering
Xinyuan Luciana Ma, College of Fine Arts CFA/Architecture
Spencer Matonis, College of Engineering
Robert Miller, Tepper School of Business
Tess Niewood, Heinz College of Information Systems and Public Policy
Alejandra Rovirosa, Tepper School of Business
Anik Shah, Tepper School of Business
Vivien Shen, School of Computer Science
Ramon Williams Sobers, College of Engineering
The fellowship program is supported by Jim Swartz (MSIA 1966), Founding Partner of Accel Partners.