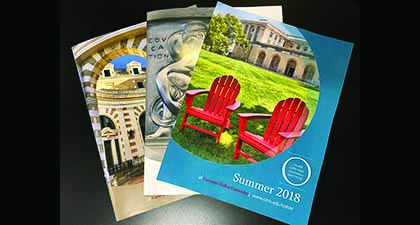 Catalog Delivery Management
Click the link in the blue box.
Members may manage their own catalog delivery. Three catalogs are mailed per year to each member at their home address. Some members have already elected to not receive a catalog since they read it online, set a schedule, and register online for the term before they would have received a catalog. Other couples choose to receive only one catalog to share. Anyone may request to pick up their catalog in the Osher office. 
Catalogs are mailed by the publisher through bulk mail. Anyone who has a regular "Change of Address" in effect does not receive bulk mail. Use the form to let us know which catalog(s) to send to an alternative (U.S.) address. 
Catalogs are available for current Osher at CMU members only.