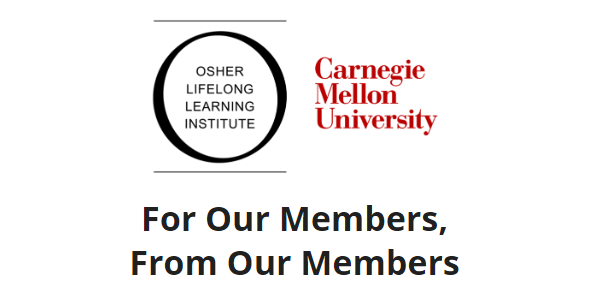 April 06, 2020
For Our Members, From Our Members!
What are you doing to keep learning? Let us know and we'll spread the word!
What is your favorite inspirational quote?
Do you have a favorite book to recommend?
Have you found an enriching online learning experience?
One submission per each catagory will be chosen to highlight in an email to Osher at CMU members on Monday's.
Click the button below to submit your ideas to share on our Google form. We appreciate your contribution, and we will spread the word to our Osher at CMU community!
Photo Fun!
Please submit a favorite photo to share. Click the link below to join the "Osher at CMU - Photo Fun!" album. You must have a Gmail address to participate. Submit one photo per person only. Staff will publish one favorite photo a week!

Note that when you share a photo with us on the Google site, you are giving us permission to share that photo on a public website.
Past Member's Monday Suggestions
Please review this week's submissions:
QUOTE OF THE WEEK:
"People may forget what you said, people may forget what you did, but people will NEVER forget how you made them feel." - Maya Angelou, Submitted by Barbara Lee Pace
"This too shall pass." 

Submitted by Jennifer Rabold & Linda Carter
SOMETHING TO BINGE-WATCH:
The Kominsky Method, 

Available on Netflix; 

Submitted by Byron Gottfried

Kim's Convenience, 

Available on Netflix; 

Submitted by Cheryl Kubelick
SOMETHING TO WATCH:
Justine, 

Available on Netflix ; 

Submitted by Diane Pastorkovich

Bicycle Thieves, 

Available for rent on iTunes and Amazon.com; 

Submitted by Martha Raak
SOMETHING TO READ:
My Dear Hamilton by S. Dray & L. Kamoie, Submitted by Angela O'Mahoney
A Gentleman In Moscow 

by Amor Towles, 

Submitted by Martha Raak
SOMETHING TO DO:
Start a Coronavirus Diary. Your great grandchildren will read how you lived through this historical time, Submitted by Martha Raak
Take a walk hike and look for lanternfly eggs. Help the environment by destroying them, 

Submitted by Mary Duquin 

Click here for more!