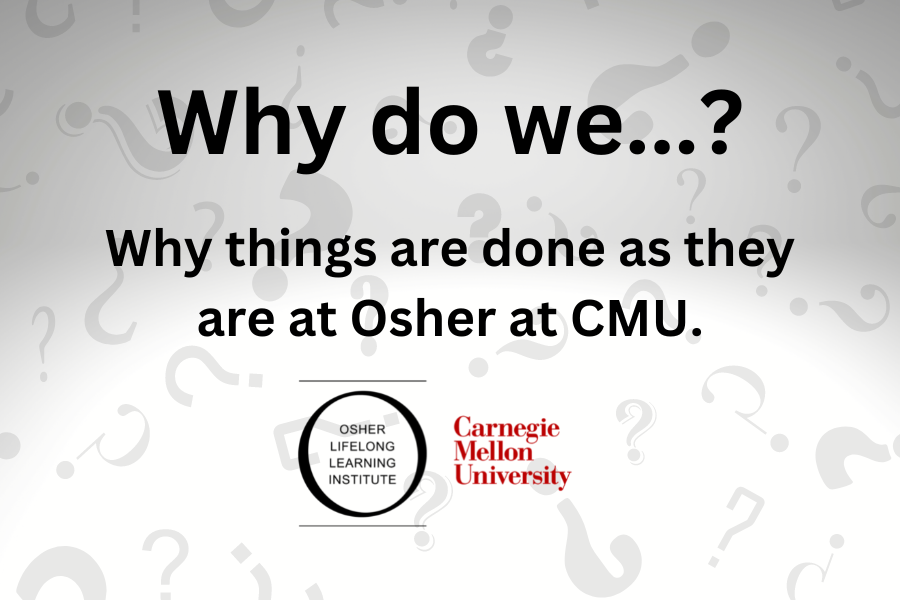 February 03, 2023
Why Do We.....Not Accept Late Proposals?
By Lyn Decker / Registrar and the Osher Staff
Every now and then one of our members will contact the office asking why we do things in a certain way.  An example of this is: "Why do we have surprise registrations rather than holding them on a specific date at a specific time?"
To provide members with a better understanding of why things are done as they are, the staff and I will share the explanation for why things are done as they are. If you have a question, please use the suggestion box on the Osher website and we will answer in order of submissions.
Sincerely, Lyn Decker / Registrar and the Osher Staff
Why do we...
Our first "Why do we….?" comes from a member who is disappointed that we didn't add a course after the proposal deadline.  They felt it wouldn't be a big deal to just add the course that the study leader hadn't submitted a proposal for.  They stressed that a lot of people were disappointed!
Answer: 
Please know that we are eager to offer as many courses as possible and we never want our students to be disappointed. 
Proposal deadlines are not a surprise. Study Leaders are asked each term, four months in advance of the proposal deadline, to submit their proposals for the upcoming term.  If a study leader is unsure of whether they will be able to teach for the term proposals are being collected for, we ask that they submit the proposal and then cancel the course, if needed, rather than missing out on teaching for us.  
Currently we are in the process of collecting proposals for our fall 2023 term.  The proposal submission period for fall runs from January 9th to May 1st. During this time, each potential study leader is emailed numerous invitations to teach and are given the deadline of the proposal submission date.  They are also contacted by their curriculum committee support person. All proposal deadlines are also listed on our website.
Once the deadline is passed, proposals are reviewed and then the courses are scheduled and built into the registration system.  This process typically takes a couple of months.  Finally, the catalog is produced in anticipation of registration. The catalog takes anywhere from 3 to 4 weeks to produce. To just add a course is complicated and, more importantly to be fair, if one course is added then everyone's request must be honored.  Last term there were 8 requests to add courses that proposals hadn't been submitted for.  Unfortunately, all offers had to be turned down.  
Years ago, we did add late courses but soon realized that the deadline came to hold no meaning and caused a backlog in getting the catalog to the members in time for review of courses for the upcoming registration.  As a result, the timeline for processing the following term was impacted. In conclusion, because of the large number of courses offered during each of our three terms, the office must run on a tight schedule with specific deadlines to make it all work on time.
P.S.:  There is one exception to this rule.  If a scheduled course has a large waiting list and the study leader can teach a second identical course, the new course is added to accommodate those on the waiting list.