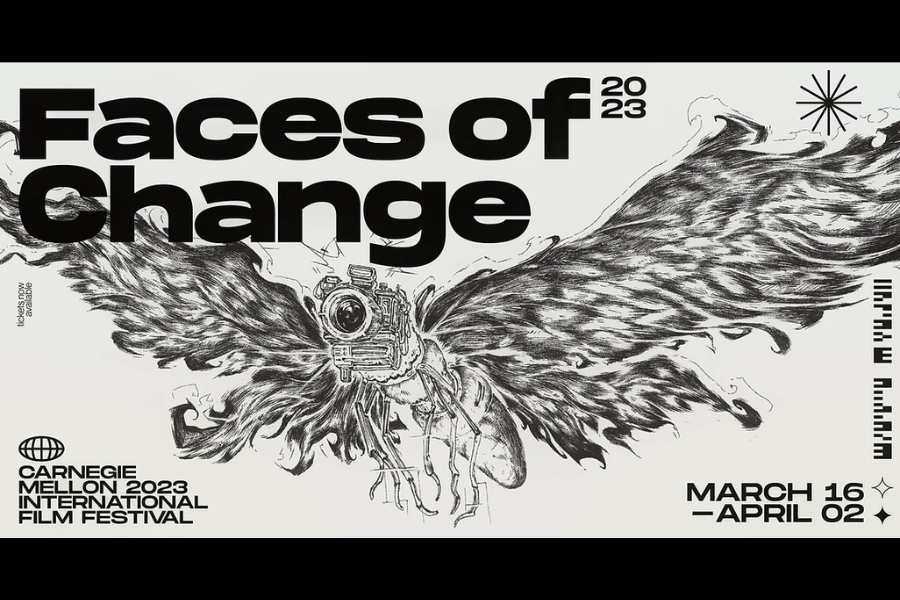 March 02, 2023
CMU International Film Festival presents: Faces of Change 2023
March 16th-April 2nd, 2023
Various Locations (see schedule below)
About the Theme
As the COVID-19 pandemic relaxes its grip, unrest destabilizes the status quo, and the rumblings of war threaten new struggle, the world seems to irreversibly change with every headline. Each morning, we wake up to developments that upset our preconceived notions about our place in the world and how it operates, and we continuously change, adapt, and try to make sense of the new, the mysterious, and the challenging. Change — whatever form it takes — constantly shapes our realities. 
Thus, "FACES OF CHANGE".
Change is integral to how we approach, navigate, and live life, and FACES OF CHANGE seeks to explore the ways it manifests, the anxieties it represents, and the hope it promises. How does change affect us, and how do we, ourselves, change in response to the new? Can we trace change, from the shots heard 'round the world, to the minute ones that affect only the individual? How do we work through change, or resist when it's no longer desired? Through film, and the privileged perspective it grants us, the CMU IFF hopes to answer these questions, and asks all of us to reflect on change, and our relationship with, for, and against it.
Click Here for More Information!
Ticket Information
Senior ticket prices are as follows:
Festival Pass: $25
Opening Night: $10
Individual Screenings: $5
Schedule of events:
For a full schedule and more information about each film, please to go to the festival website: cmuiff.com!
March 16 / Opening Night: Full Time
7 PM at McConomy Auditorium, Jared L. Cohon Center
Screening & Opening Reception
March 17 /

Wolf

and Sheep
7:30 PM at McConomy Auditorium, Jared L. Cohon Center
Screening & Q/A with Filmmaker
7:30 PM at McConomy Auditorium, Jared L. Cohon Center
Screening & Reception
March 19 / Mediterranean Fever
7:30 PM at McConomy Auditorium, Jared L. Cohon Center
Screening & Reception
March 23 / Return to Seoul
7:30 PM at Harris Theater
Screening & Q/A with Fillmmaker
March 24 / Woman on the Roof
7:30 PM at Harris Theater
Screening & Reception
March 25 / Goddamned Asura
6 PM at McConomy Auditorium, Jared L. Cohon Center
Screening & Q/A with Fillmmaker
March 26 / Matter Out of Place
4 PM at McConomy Auditorium, Jared L. Cohon Center
Screening & Reception
3 PM at Carlow University
Screening
March 30 / Blind Willow Sleeping Woman
7 PM at McConomy Auditorium, Jared L. Cohon Center
Screening & Reception
March 31 / Short Film Competition
5 PM at Simmons Auditorium A, Tepper Business School
Screening & Reception
7 PM at McConomy Auditorium, Jared L. Cohon Center
Screening & Reception
April 1 / Know Your Place
2 PM at the August Wilson Center
Screening & Q/A with Filmmaker
April 2 / The Balcony Movie
3 PM at McConomy Auditorium, Jared L. Cohon Center
Screening & Reception