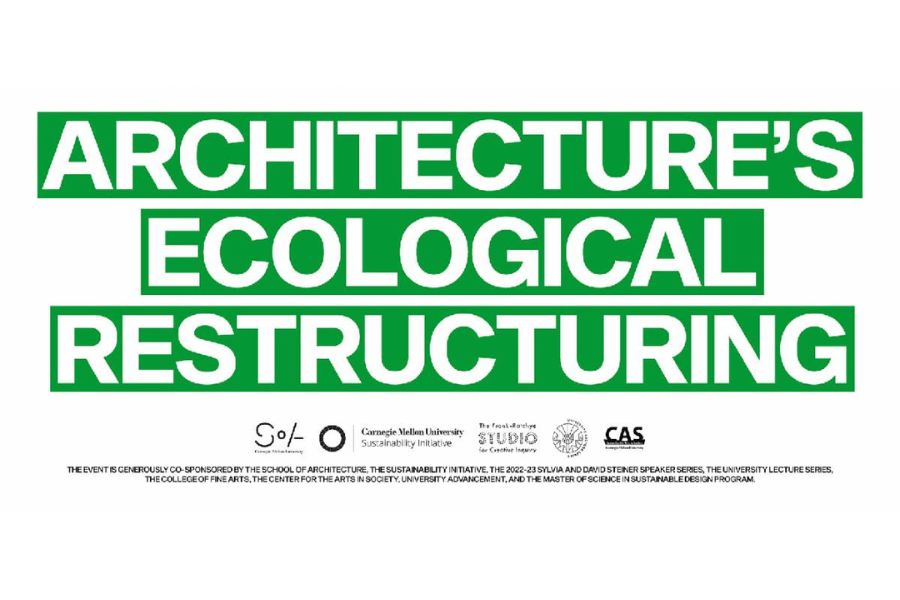 March 17, 2023
The CMU Center for the Arts in Society presents Public Symposium: Architecture's Ecological Restructuring
March 25th, 1:00pm-6:00pm
Kresge Theater, College of Fine Arts 
Click Here to Register for the Symposium!
Environmental degradation has transformed the very idea of nature. Nature as it was once known, untouched, undomesticated, unclimbed, or unconquered, no longer exists. As the discourse undergoes an excavation that reveals its destructive socio-environmental impact, demands for a just approach to people and the planet have become a primary matter. This workshop invites six distinctive voices to speculate on the ongoing ecological restructuring of the discipline.
Participants will present an object of study to speculate on its future impact on an ecologically centered discourse. What is architecture's take on infrastructure and non-civic structures? What social demands and inequalities do they generate? How can architects better engage with nature? How can disciplinary expertise serve architecture and its allied fields? This workshop draws from these questions to challenge traditional frameworks and build new forms of thinking.
This event is co-sponsored by the Sustainability Initiative, the 2022-23 Sylvia and David Steiner Speaker Series, University Lecture Series, University Advancement, the College of Fine Arts, Master of Science in Sustainable Design Program, and the Center for the Arts in Society.