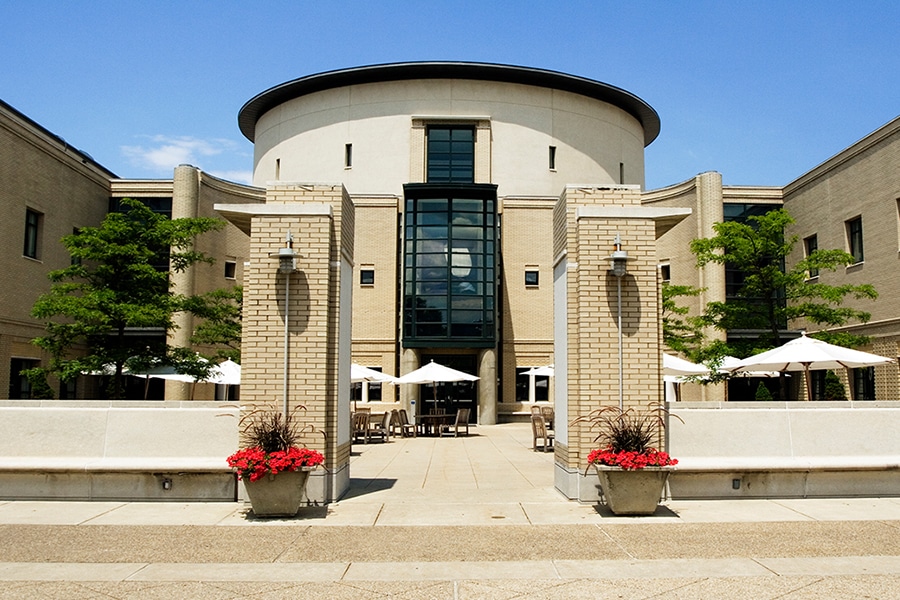 March 17, 2023
Osher's Campus Eats: Dining options at CMU, Spring 2023
CMU has a unique and robust campus food program, one of the best in the country. Dining services must meet the dietary needs of a vast international population, each with a unique cuisine and culture. Dining service-staff confirm that there are approximately 10,000 dining transactions each day, from full meals to snacks and drinks. How do they do that? With 32 (count 'em) dining concepts thanks to 11 different vendors. All are open to the public.
And you are invited to take advantage of that. After class, treat yourself to lunch, a snack or pair up with a pal to hang out and compare notes on the latest Osher class. Explore!
COHON CENTER
Cohon Center is the first campus building after the parking garage. It faces Forbes Avenue, and is an easy sloping walk from Cyert Hall.  Excellent location to find a snack, enjoy lunch, plan a quiet visit. Most eateries are on the second floor, but finding them can a bit hard for a first-timer.To get there: take the stairs or elevator to the second floor. You'll see Au bon Pain to your left, and although the offerings there are good, clean and predictable, keep walking; hike down the hall to the very back of the building and take a left. There you'll find excellent and varied seating arrangements, skylights, carpeting underfoot, and lots and lots of menu choices. Bonus: get an extraordinary view of American glass artist Dale Chihuly's exquisite hanging sculpture.
AU BON PAIN at Skibo Cafe, second floor
Coffee/tea, espresso, soup, sandwiches, salads, grab-n-go, yogurt parfaits, fruit, snacks. Healthy choices, comfort food, indulgent treats. ABP is the only corporate food service on Campus.
BACK BAR GRILL, second floor
Hand-crafted signature sandwiches and smash burgers. Grass-fed, all-natural Halal-certified beef upon request. Fresh-fried fries, house-made potato chips, cole slaw or Signature Mac 'n' Cheese.
GRANO, second floor
Customizable pasta plates and personal sized, hand-stretched pizzas. Each day features a house-made stromboli with marinara dipping sauce.  Build your own pasta bowl with everyday offerings such as Halal meatballs, grilled chicken, marinara and al fredo sauce or choose house-made pasta.
REVOLUTION NOODLE- second floor
Build-your-own noodle bowls allow guests to create their personal bowl by choosing the broth, type of noodle, vegetables, and protein. Try the house-made Bao Buns, a dough-like pocket filled with yummy ingredients. Bubble Tea and Fruit Smoothies.
NOURISH, second floor
Allergen-friendly kitchen, food made without gluten and the eight major allergen ingredients. All food is prepared and sealed in a dedicated kitchen There is no counter service; all orders through Grubhub app. But, Nourish grab-and-go items are available at Entropy+, Rothberg's Roasters II and Tepper Eatery.
SHATZ DINING ROOM, second floor
All-you-care-to-eat residential dining hall. Lunch and dinner include five stations serving a rotating menu of hot entrees, vegan and vegetarian options, soup and salad, made-to-order sandwiches, beverages and desserts.To make a reservation, please email schatzreservations@andrew.cmu.edu
INNOVATIVE KITCHEN, Cohen Center Marketplace, second floor
A rotating menu of global cuisines featuring locally sourced ingredients. Ever-evolving to continually bring you the most on-trend dishes. Authentically-themed menus inspired by cuisines from around the world, from Asian to Latino to Indian and beyond. Good stuff.
ENTROPY+, ground floor
CMU's on campus convenience store. Large variety of grocery items, health and beauty aids, bottled beverages, snacks, and sweets, Entropy+ offers fresh-made breakfast sandwiches, grab and go options, orthodox Kosher and Nourish allergen-friendly to-go options.
EL GALLO DE ORO, ground floor
Mexican eats, burritos, burrito bowls, tacos, quesadillas, salads. Offers authentic Mexican cuisine made with fresh healthful ingredients. Dishes feature many spices and are grilled to maximize flavor.
COLLEGE OF FINE ARTS
ZEBRA LOUNGE - first floor
This artsy coffeehouse is located in the Great Hall, Just up the steps from the entrance. Free trade organic tea and coffee, sandwiches, soup, pastries. Students often come for lunch, settle in and study for the afternoon. 
GATES HILLMAN CENTERS
LA PRIMA ESPRESSO, third floor. 
The second location on campus serving Italian-style coffee and food. Serving cold brew, nitro, chai and matcha green tea lattes, frizz coffee, and more. Freshly made pastries are available from Mediterra Bakehouse, as well as grab-and-go sandwiches and vegetarian meals from Common Plea Catering, and fresh salads from Fifth Season. Not to be dismissed, this is good food, made well.
HUNT LIBRARY
DE FER COFFEE & TEA AT MAGGIE MURPH CAFE - first floor
Locally roasted coffee and tea, scratch made sandwiches, snacks, scones, muffins, cookies, paninis, smoothies and parfaits. Take time to look at the black and white photo display of Maggie Murph students in the 30s, 40s, 50s, 60s - the way we were.
MOREWOOD GARDENS
THE UNDERGROUND - lower level
Campus's favorite hang-out features all-day, made from scratch, home-style breakfast, classic and creative burgers and sandwiches, fresh entrée salads prepared with organic greens, small-batch soups, the UG's famous chicken strips and crispy fries, and dessert. Owned and run by the former co-owner of Gullifty's, a much loved Squirrel Hill restaurant that closed in 2013 after three decades in business. Yes, you must have Gullifty-style dessert. Deja vu.
NEWELL-SIMON ATRIUM
HUNAN EXPRESS, Newell-Simon Atrium
The busiest concept on campus. Here's why. Asian cuisine, rice bowls, boba/bubble tea, smoothies. Authentic Chinese cuisine, featuring sauces made with bone broth, choose-your-base of noodles or rice and build your own meal with General Tso's chicken, stir fry tofu, seasonal vegetables and pork ribs in black bean sauce. Braised fish, spring rolls, pork dumplings, red bean rice cakes are available daily. 
POSNER HALL
THE EXCHANGE, first floor
Deli and breakfast sandwiches, salads and daily hot entrees. Custom deli sandwiches, soups and hot entrées, as well as fresh baked goods, fruit, yogurt parfaits, nutritional bars and other grab-and-go items. The designated coffee bar includes hot brewed La Prima coffee, specialty and organic teas, cold beverages and bottled juices.
RESNIK HOUSE
Resnik House, named in honor of the late Judith Resnik, is adjacent to Gesling Stadium and next to the University Center; Margaret Morrison is it's nearest neighbor. Challenger astronaut Judith Resnik was a mission specialist on that flight. She received a bachelor's degree in electrical engineering from Carnegie Mellon in 1970. A monument honoring her life stands near Hamerschlag Hall.
CARNEGIE MELLON CAFE - THE EGG SHOPPE
Classic Omelets, milkshakes, buttermilk pancakes, malted vanilla waffles with strawberries and cream, tater tots, egg sandwiches and quesadillas made fresh to order. Also, a vegan breakfast sandwich.
THE EDGE CAFE & MARKET - Tartans Pavilion 
Vaad-certified kosher bagels, bagel sandwiches, pizza, Turkish bourekas, wraps, salads, pasta, and artisan pizzas baked in a hearthstone oven. The Edge overlooks Gesling stadium.
GLOBAL EATS - Resnik Food Hall 
A fill-your-plate collection of week-long, fun-food concepts from around the globe including favorites such as The Nacho Bar, A Taste of Pittsburgh, Asian Fusion and Italian Cuisine. 
FRESH52 - Resnik Food Hall 
The largest salad bar on campus. At this fill-your-plate concept, fresh-made soups are also available.
TAHINI - Tartans Pavilion 
Originally, Tahini was a food truck, but demand was so great, owners joined campus eateries. Mediterranean cuisine, certified Kosher by the Vaad Harabonim of Greater Pittsburgh. The menu features shawarma, vegan eggplant "shawarma" and falafel pita sandwiches, couscous and hummus bowls, and freshly prepared sides including grape leaves, Israeli chopped salad and zahtar pita fries. 
ROOTED - Resnik Servery 
Vegan? This spot's for you. Plant-exclusive, this eatery is 100% vegan. You are invited to choose your own bowl concept; choose the veg and the chef cooks in front of you to serve over your choice of rice, pasta or lentils. Also, vegan sandwiches.
TASTE OF INDIA - Resnik Servery  
Indian cuisine, including chicken tikka masala and a rotating daily menu of traditional vegetarian favorites like chana masala, palak paneer, and rajma served with rice and house-made naan. "This is a real favorite," say fans of Indian cuisine.
URBAN REVOLUTION - Resnik Servery 
Grill-to-order NY strip loin steak, salmon, portobella mushroom caps and chicken breast with homestyle sides like mac 'n' cheese, steamed broccoli and brown rice. Halal chicken breast cooked to order. 
SCOTT HALL
WILD BLUE SUSHI - Ruge Atruim, lower level
Fresh prepared sushi daily using sustainably sourced seafood, made-to-order rice bowls and bubble teas. Select from a wide variety of grab-and-go options or request custom sushi, prepared on the spot. From rainbow rolls to poke bowls, Wild Blue has something for all sushi lovers.
TEPPER QUAD/ TEPPER SCHOOL OF BUSINESS
The Tepper Quad is the largest building on campus, almost a campus unto itself. It is located on Forbes Avenue (sort of) across from Cyert Hall. David Tepper graduated from Carnegie Mellon's business school, the Graduate School of Industrial Administration in 1982. Find out more; it's worth a Google.
BUILD PIZZA - Rohr Commons, second floor
Flatbread style pizza baked in a brick oven fresh daily. Pepperoni, cheese and a special chef's choice. Each day features a house-made stromboli with marinara dipping sauce.
BURGER412 - second floor
Freshly made specialty burgers, fries, house-made chips. Also Beyond Burgers, a vegan alternative, cooked to order or all-natural Halal-certified beef burgers. 
CAPITAL GRAINS - Rohr Commons Eatery, second floor                                                                
Student-run grain and salad bowl concept. First-of-its-kind student-run restaurant opens on the weekends. Suggestions welcomed.
E.A.T. (EVENINGS AT TEPPER ) - second floor
Grubhub orders only with advanced ordering for pick-up in Rohr Commons. The quick service menu features build-your-own-burgers and sandwiches, chicken tenders and fries, chicken quesadillas and entrée style salads.
MILLIE'S COFFEE 'N' CREAMERY - Rohr Commons, second floor      
Millie's chef-inspired ice creams and vegan gelatos (because the owner is also part of Pittsburgh's restaurant glitterati) along with KLVN coffee and espresso drinks, draft tea, and artisan pastries. Sweet treats for good guys and gals. Worth crossing Forbes Avenue.
POM AND HONEY - second floor
Halal Mediterranean cuisine including customizable salads, grain bowls and wraps prepared with 100% Halal ingredients. 
FORBES AVENUE SUBS - second floor 
Options at Tepper are Grubhub only. Must order online. Made-to-order deli-style subs and wraps. Vegan options available. They offer hummus and signature egg-style tofu salad every day for plant-forward guests.
WEAN HALL
LA PRIMA ESPRESSO - fifth floor 
It's worth the walk to Wean, and you'll "get your steps in." Pittsburgh-based certified organic roaster offers Italian-style coffee and espresso as well as cold brew, nitro, chai and matcha green tea lattes, frizz coffee, and more. Made-daily pastries are available from Mediterra Bakehouse, as well as grab-and-go sandwiches and vegetarian meals from Common Plea Catering. There is seating, but not much privacy.