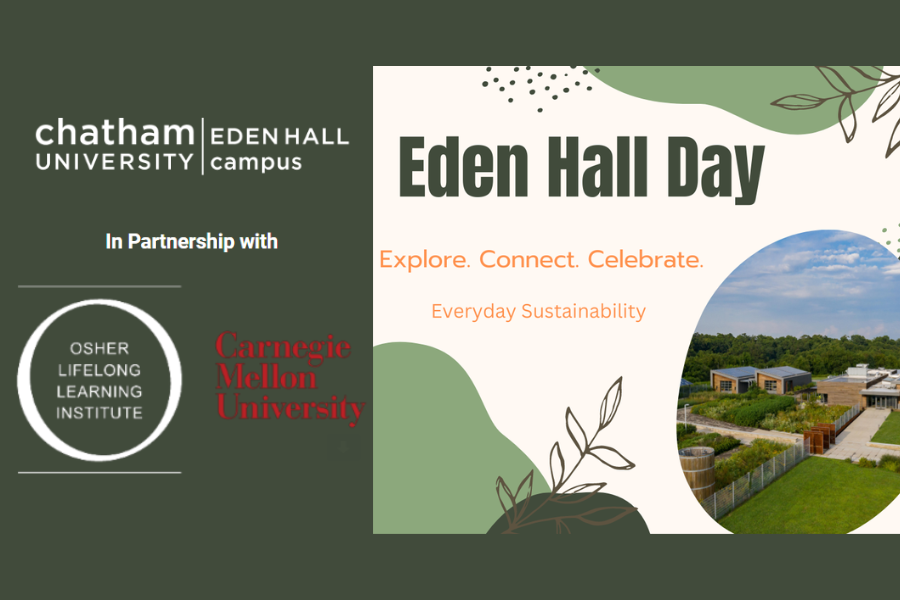 June 02, 2023
Eden Hall Day in Partnership with Osher Lifelong Learning Institute at CMU
Thursday, June 22, 2023, from 10:00 AM - 8:00 PM
at Chatham University's Eden Hall Campus, Gibsonia
Please join us for Eden Hall Day a one-day sustainability showcase at the beautiful Eden Hall campus in partnership with the Osher Lifelong Learning Institute at Carnegie Mellon.
In the morning and early afternoon, come join us for workshops and learning around everyday sustainability. In the late afternoon and evening, bring the whole family for guided hikes, yoga, great food, and an evening of music in our outdoor ampitheater!
Highlights:
Participants can choose among four 45-minute workshops at 10 am, 11 am, and 1:30 pm
Each workshop is $10 per person unless otherwise noted at check out
Workshops are taught by Chatham and the Osher Lifelong Learning Institute at CMU
A Farm to Fork lunch is available for attendees at an additional cost of $15 from 12-1:30 pm
Participants can choose between the Self-Guided Campus Tour, a Guided Nature Walk, or Outdoor Yoga at 3:30 & 4:30 pm
Music from Dead and in the Way (Bluegrass Jerry Garcia Tribute Band) at 6 pm at the Amphitheater & Tent with setup and event production by Zero Fossil
Attending more than one workshop? Use discount code "edenhallday23" at check out - first come first serve on the discount.
Click here to sign up for the event!
Keynote Speaker: Carla Castagnero, Co-founder and President, AgRecycle, Inc.
Presenting Trash into Treasure: How composting can address waste, build soil, and improve communities
Entertainment: Dead and in the Way
All Things Jerry with a Bluegrass twist! Bring a blanket or lawn chair and spread out at our scenic amphitheater.
Concessions: Street tacos and grab-and-go snacks while supplies last