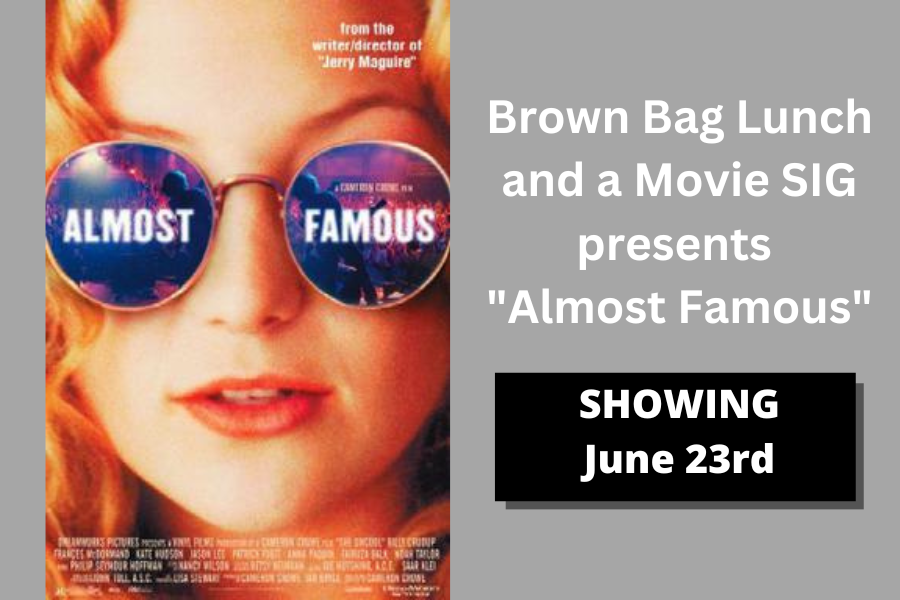 June 02, 2023
POSTPONED UNTIL JUNE 23RD! "Almost Famous," presented by SIG - Brownbag Lunch and a Movie
Osher Membership is required; there is no registration fee. Register for ID: 4490.
Brown Bag Movie - "Almost Famous"
In Our Osher Learning Center
11:30 Brown Bag Lunch
Bring a Lunch to the Osher Lounge and enjoy with fellow movie fans
Drink/Dessert item will be for sale $1
12:15 – Movie in Classroom
Cartoons and a trailer for the next movie will be show prior to the mail feature. 
Osher at CMU does not own the rights to these images.
Bring a Friend!!!!!!
To introduce Osher to someone who might consider joining our Osher community, we are urging members to "Bring a Friend" to the Brown Bag Lunches.
To acquire a one-day guest pass for your friend, please go to the "Membership" page of the Osher website and complete the request for a Guest Pass form in the blue "Other Information" box.  Once the office receives your request, you and your guest will receive a guest pass via email.  On the day of classes, your guest will need to bring a printed copy the pass with them.