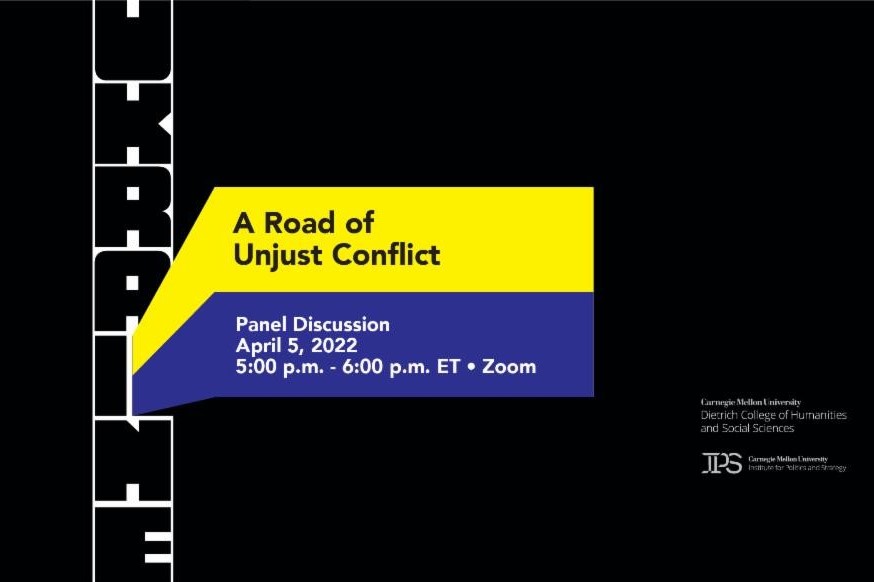 April 01, 2022
The CMU Institute for Politics and Strategy presents: "Ukraine: A Road of Unjust Conflict"
Tuesday, April 5, 2022
5:00 p.m. to 6:00 p.m. ET
Zoom
More than month into the war in Ukraine, after Russian President Vladimir Putin ordered his forces over the border, the battles have not unfolded as predicted. The Ukrainian armed forces have fought off their better-equipped aggressors and President Volodymyr Zelensky has become an international hero, but rocket attacks have reduced cities to rubble and sent millions of refugees fleeing into Europe.
Join us for a panel discussion to contextualize the war and look ahead to what comes next, featuring moderator Dan Silverman, IPS Assistant Professor, and subject-matter experts:
Anna Pechenkina, Assistant Professor in Utah State University's Political Science department, an expert on Ukrainian history and politics, and a former IPS Postdoctoral Fellow;
Emily Channell-Justice, Director of the Temerty Contemporary Ukraine Program in Harvard University's Ukrainian Research Institute; and
Kimberly St. Julian-Varnon, Penn Presidential PhD Fellow in the University of Pennsylvania's Department of History.
Registration is required to receive the Zoom access information