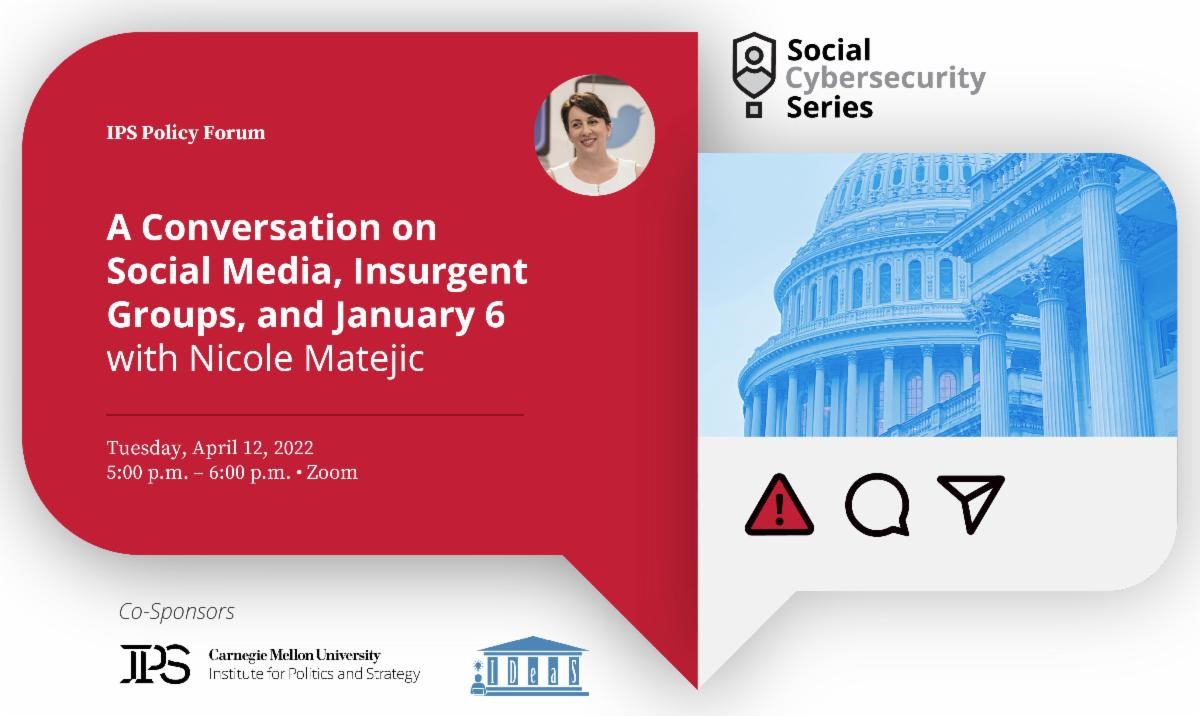 April 08, 2022
The CMU Institute for Politics and Strategy presents: "A Conversation on Social Media, Insurgent Groups, and January 6" by Nicole Matejic
Tuesday, April 12, 2022
5:00 p.m. to 6:00 p.m. ET
Zoom
In this presentation, Nicole will discuss how terrorist organizations use social media to influence, radicalize, and recruit followers. From weaponizing content to the behavioral economics behind how master narratives and information are shared, Nicole will talk in depth about how social media can be so effective to susceptible people and why terrorism isn't always the outcome. Nicole will also cover how the convergence of violent extremism and information disorder (mis/mal/disinformation) is manifesting as evidenced through events such as the January 6 insurrection at the US Capitol. As a multidisciplinary practitioner and scholar, Nicole's presentation will span the breadth of her academic and operational expertise across terrorism studies, behavioral economics, psychology, and the influence vectors within content marketing.
This lecture is part of the Social Cybersecurity Series and is co-sponsored by the Center for Informed Democracy and Social-cybersecurity (IDeaS) and the Carnegie Mellon Chapter of Women in International Security (WIIS).
About Nicole Matejic
Nicole Matejic is the Principal Advisor for Digital Safety at Aotearoa New Zealand's Te Tari Tewhenua Department of Internal Affairs. A regular expert instructor for NATO, Nicole is also a non-resident fellow at the United States Marine Corps University's Brute Krulak Center for Innovation and Future Warfare and an Adjunct Lecturer at Australia's Charles Sturt University in the School of National Security and Terrorism. A doctoral candidate at the University of Southern Queensland, Nicole's thesis 'The Jihadi Nudge' is a multidisciplinary body of work that investigates how terrorist organizations use decision science, choice architecture, and information cascades to influence, radicalize, and recruit. Nicole is also interested in how information disorder manifests and is used by extremists and other inauthentic actors. A former Australian Customs and Border Protection Officer, Nicole has extensive expertise in the passenger operational environments. She has worked with the Australian Department of Defence in Strategic Communications and extensively in private consultancy, specializing in national security and emergency management challenges. A published author, Nicole's first book 'Social Media Rules of Engagement' was published by Wiley in 2015.