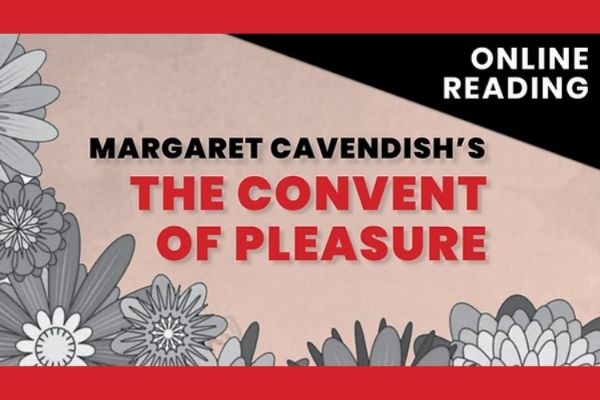 March 09, 2022
Upcoming events through the CMU Center for the Arts in Society
CAS is partnering with Red Bull Theater and the R/18 Collective to present multiple events:
Convent of Pleasure
A Play by Margaret Cavendish
Directed by Kim Weild

Monday, March 14, 2022
7:30 PM EST | LIVESTREAM READING

When Lady Happy and her friends decide to ignore society's expectations and consciously choose to avoid men and marriage, they seclude themselves inside a free-thinking and joyous community, creating a radical feminist utopia: the Convent of Pleasure. Cavendish's 17th-century play imagines a space established by and for women to live for pleasure without men. But when a mysterious Princess comes to join the convent, a "princely brave woman truly, of a masculine presence," the paradise of the enclave shakes. 

First published in 1668, The Convent of Pleasure was written as a closet drama–a play intended to be read rather than performed. In its 354 year history, there have been very few public presentations and we are delighted to provide this opportunity to hear Cavendish's play read aloud with the support of Red Bull Theater and the R/18 Collective.

This is an online "Pay What You Can" event

GET TICKETS
Bull Session : The Convent of Pleasure
An interactive discussion of the play and its themes with director Kim Weild, noted scholars, and members of the company
 
Thursday, March 17, 2022
7:30 PM EST | LIVESTREAM on YouTube with chat
The R/18 Collective was formed in 2019 to promote professional productions of plays drawn from the Restoration and eighteenth-century repertoire and to support performance research related to those productions. Composed of scholars from the United Kingdom, the United States, and Canada, the Collective seeks both to cultivate strong, reciprocal relationships between scholars and theatre artists and to increase awareness among theatre audiences of the great riches embedded in dramatic works from this era. The R/18 Collective believe these plays provide urgently-needed insights into the formation of the modern world, including the historical development of our current ideas about race, gender, sexuality, nation, and capital.
 
The R/18 COLLECTIVE is committed to providing the dramaturgical knowledge and services of some of the world's top scholars in the field to theatre companies interested in producing these works as well as to securing collaborative, international grants to support those productions and the related performance research.