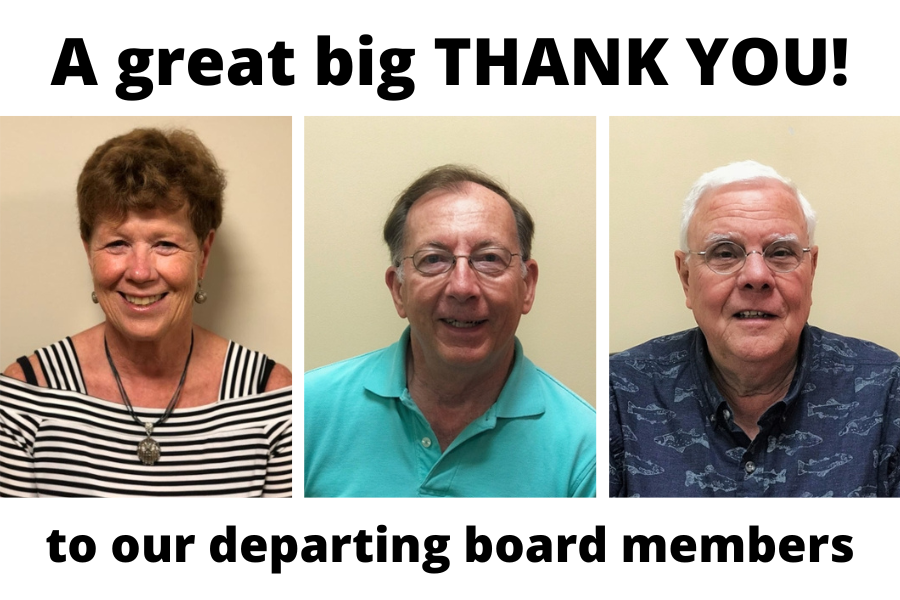 June 24, 2022
Thank you Board Members Al Hribar, Ann Augustine, and Jeffrey Swoger
As we wind down our 2021-2022 year, we'd like to recognize and thank three of our departing board members – Ann Augustine, Allan Hribar, and Jeffrey Swoger.
Ann Augustine joined the board in 2020 as an interim board member.  She was then voted in at the next election and immediately recruited as Secretary of the board.  She served until this year.  During her tenure, Ann was the Chair of the Membership/Social committee until she was appointed as the Chair of the Curriculum Committee.
Al Hribar has served on the Osher at CMU board of directors from July of 2016 to June of 2022.  During these six years, Al was the 2020-2021 Osher President, and chaired the Bylaws Committee, and served on the Policies and Procedures and the Chatham Partnership Ad Hoc committees.
Jeffrey Swoger has also served on the board from July 2016 to June of 2022.  During his six years, Jeff headed the 2018-2019 Strategic Planning Committee, the 2018-2022 4.0 Steering Committee, and served on the Membership/Social and the Curriculum committees.  He also is a member of the Study Leader Support Group.  Jeffrey also consistently carries a teaching load of at least four to six courses per term.  He is credited with spearheading our 1.3M capital campaign to build our new space in Cyert Hall.  He also played a significant role in the design and furnishing of the space.
While Jeffrey, Al, and Ann are all going off the board at this time, we hope that they will continue to contribute to the activities of organization.
Thank you each.  Osher at CMU is a better place because of your many contributions!