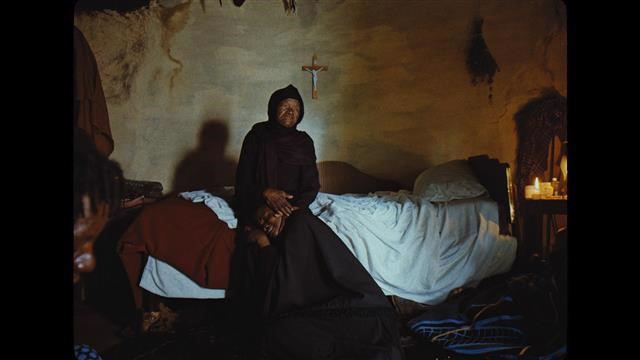 February 05, 2021
The CMU International Film Festival Presents: A virtual screening of the film "This Is Not a Burial, It's a Resurrection"!
Directed by Lemohang Jeremiah Mosese
Lesotho/South Africa/Italy | 2019 | 119 min
When: Feb. 6 - 12
Where: Online
ABOUT THE FILM
This Is Not a Burial, It's a Resurrection follows the story of 80-year-old widow, Mantoa, who is the only surviving family member after her son is killed in a South African coal mine. Distraught by the sudden news of his untimely death, Mantoa struggles to find meaning in her existence. An invisible wall of bewilderment arises and stands between Mantoa and the outside world. Consumed by grief, her yearning for death and reuniting with her family steadily grows. She wishes to be laid to rest in the local cemetery with her loved ones. Mantoa sets up her affairs early and makes arrangements for her own burial. Her plans are punctuated when she learns that the village is to be forcibly resettled due to the construction of a dam reservoir. Mantoa's resolve is unwavering, igniting a collective spirit of defiance within the community. In the final dramatic moments of her life, Mantoa's legend is forged and made eternal. Read more about the film here. 
FILM STREAMING + TICKET INFO 
Tickets are on sale starting Feb. 4 and viewing will begin Feb. 6 - 12. Viewers will have until Feb. 12 to watch the film regardless of when the ticket was purchased. After the inital viewing of the film, viewers will have a 48-hour window to finish watching.  
You can register and purchase tickets for the film on our Eventive page, found here. Need help with registering? You can learn more and see FAQ here. 
The first 50 people to register for the film using the promo code "CMUIFF" will watch for free! Tickets will be $5 afterwards.  
2020 Festival Passes will also be honored for this event.  
Register for the film and discussion in one easy step. You can sign up here at no additional cost with the "Virtual Screening + Live Discussion" package.
This event is organized in conjunction with the University Center for International Studies at the University of Pittsburgh and Center for Student Diversity and Inclusion at CMU. Sponsored by Cause, Humanities Scholars Program, CMU's Department of History, and CMU's Graduate Student Assembly.    
Live Zoom Discussion!
When: Feb. 11 @ 6 pm EST
Where: Online
The CMU IFF invites you to a live discussion with the film's director, Lemohang Jeremiah Mosese. He is a self-taught filmmaker from Lesotho, based in Berlin. Mosese was one of three filmmakers selected for the Biennale College — Cinema lab, with his feature film  This Is Not A Burial, It's A Resurrection.  
The discussion will be moderated by Macrina C. Lelei, Director of African Studies Program at University of Pittsburgh. 
This discussion will be FREE and open to the public.  Advance registration is required. Spots are limited, so register now!    
Almost Like the Real Thing!
The festival team has created an opportunity for anyone who would like to simulate a "real" festival event experience.  It's called "Almost Like the Real Thing" and will take place on the evening of Thursday, Feb. 11:
3:55 pm (EST) - Film Introduction video.
4:00 pm (EST) - View This Is Not a Burial, It's a Ressurection online.
6:00 pm (EST) - Join a free live discussion on Zoom. Access to the discussion will not be restricted to people who participate in this simulation. However, advance registration is required and places will be limited.
We look forward to (virtually) seeing you there!