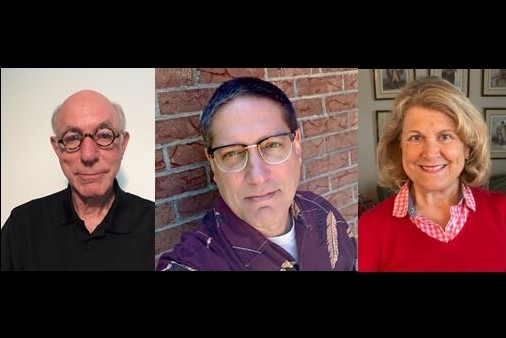 July 02, 2021
About Your New Board Members: Stan Winikoff, Robert Heilbronner, and Susan Morris
By Mackenzie Carpenter, Osher Member
One is a veteran award-winning radio personality who has dispensed advice to a wide audience — from college kids to stock market aficionados from Pittsburgh to Palo Alto.  Another served as the first lawyer for the fledgling Pennsylvania Human Relations Commission in Harrisburg before spending the next 45 years in his hometown of Pittsburgh as a trial lawyer — while devouring books, newspapers, magazines and movies every chance he got. Still another spent his career as a dentist, with a second career as a polymath — honing his skills as a computer geek, skier, bridge player, lawn and ten pin bowler, cyclist and avid tennis player.
These three — Susan Morris, Stan Winikoff and Robert Heilbronner — will be bringing those myriad life experiences and passion for learning to their new roles as members of the Board of Directors at the Osher Lifelong Learning Institute at Carnegie Mellon University.    
All have been students and study leaders at OSHER, and all of them say they've been so enriched by the experience that now, in the words of Heilbronner, they want to "pay it forward."
"Osher at CMU was my salvation," adds Winikoff, noting that after retiring from 50 years as a trial lawyer, "I was going a little nuts, but Osher has kept me occupied.  It has kept me sane."  Not to worry: his brain seems in great working order.  Besides chairing the Curriculum Committee,  after years of enjoying Osher at CMU courses in history, political science and the short story, he has taught, along with Jeffrey Swoger, courses on film from great American films to "A Night at the Movies: Italian Style." After viewing each film, "We discuss why they're so good." 
He is currently working of a course on the pioneering 20th century broadcast reporter Edward R. Murrow, a name perhaps recognizable to those over age 70, but "no one's writing about him any more."   Stan hopes to at least revive interest in the chain-smoking radio and television legend whose courageous reporting from London during the Blitz, his confrontation with Senator Joe McCarthy and his live interviews with famous personalities remain classics of the journalism genre.
Susan Morris will also continue to teach while serving on the board, focusing, as she has through much of her career, on communication skills.  During her long marriage to James H. "Jim" Morris, former dean of CMU's Computer Science Department (they met as young teenagers), she carved out her own niche in radio, reporting for National Public Radio (NPR), Voice of America and Mutual News as well as other news sources.  Pittsburghers might remember her show "Stock Talk" on KQV-Radio from 1998 to 2004, when she left Pittsburgh for Palo Alto.
Morris is somewhat fearless: when her husband headed CMU's Silicon Valley campus in California, she created and hosted a call-in talk show on Stanford's radio station called "What Would Your Mother Say?"  
In an article published in Stanford Magazine titled "Sex, Moms and Audiotape," the show was described as "an assortment of straight-talking moms who dish on matters ranging from style and manners to binge drinking and risky sex."
When Morris and her husband returned to CMU, she continued the program for 3 years as a weekly show on CMU's WRCT-FM.   This time the show was called "Talk Back," and Susan shared the hosting with one of the students.  When Susan retired from broadcasting, she began teaching for Osher at CMU, giving courses on how to talk — to your partner, your child, your friends or co-workers.  "I love teaching CMU's Osher classes, and I'm thrilled to give back now as a board member."
When Heilbronner was invited to apply to the board, he was characteristically self-deprecating.
"I had a career as a general dentist," he said.  "I had no corporate experience. I couldn't see that I had any qualifications for this kind of post."  But encouraged by another board member, John Olmsted, he decided to go ahead. As someone deeply computer-literate and knowledgeable about information systems, Heilbronner understands the need for a smoothly connected data system once Osher is in its new quarters at Cyert Hall. 
While he wants Osher at Carnegie Mellon to continue to offer online courses, so that more people in Western Pennsylvania can take advantage of them, "I prefer the in-person experience for me.  There's so much isolation among seniors as it is.  And there are so many of them who want to keep learning."
Ever since becoming an Osher at CMU member in 2018, Heilbronner has loaded up on courses every term, his choices reflecting his vast interest in just about everything. "Science, law, climate, architecture and humor," he said.  Oh, and music, and bridge.
"There's a significant bridge community at Osher at CMU," he said, thanks to the efforts of expert "games" class leaders Jack Patzer and John Olmsted.
Now, though, Heilbronner will be providing technical support to the study leaders, helping them learn how to manage the classroom — on Zoom and in person.
All three new board members consider their mission to see the Osher Lifelong Learning Institute survive and thrive in the upcoming post-pandemic environment, whenever and if ever that happens — by expanding the program's footprint beyond the city of Pittsburgh. Its partnership with Chatham College at their Eden Hall campus in Gibsonia is a step in that direction.
"Zoom kept us alive for the past two years," says Winikoff, "and it made us realize that we do not have to be bound by geographic location.  There's a whole coterie of people out there who still want to learn after retirement, and we want more students to come to us from out of Allegheny County. Osher at CMU could be their salvation, as it was for me."