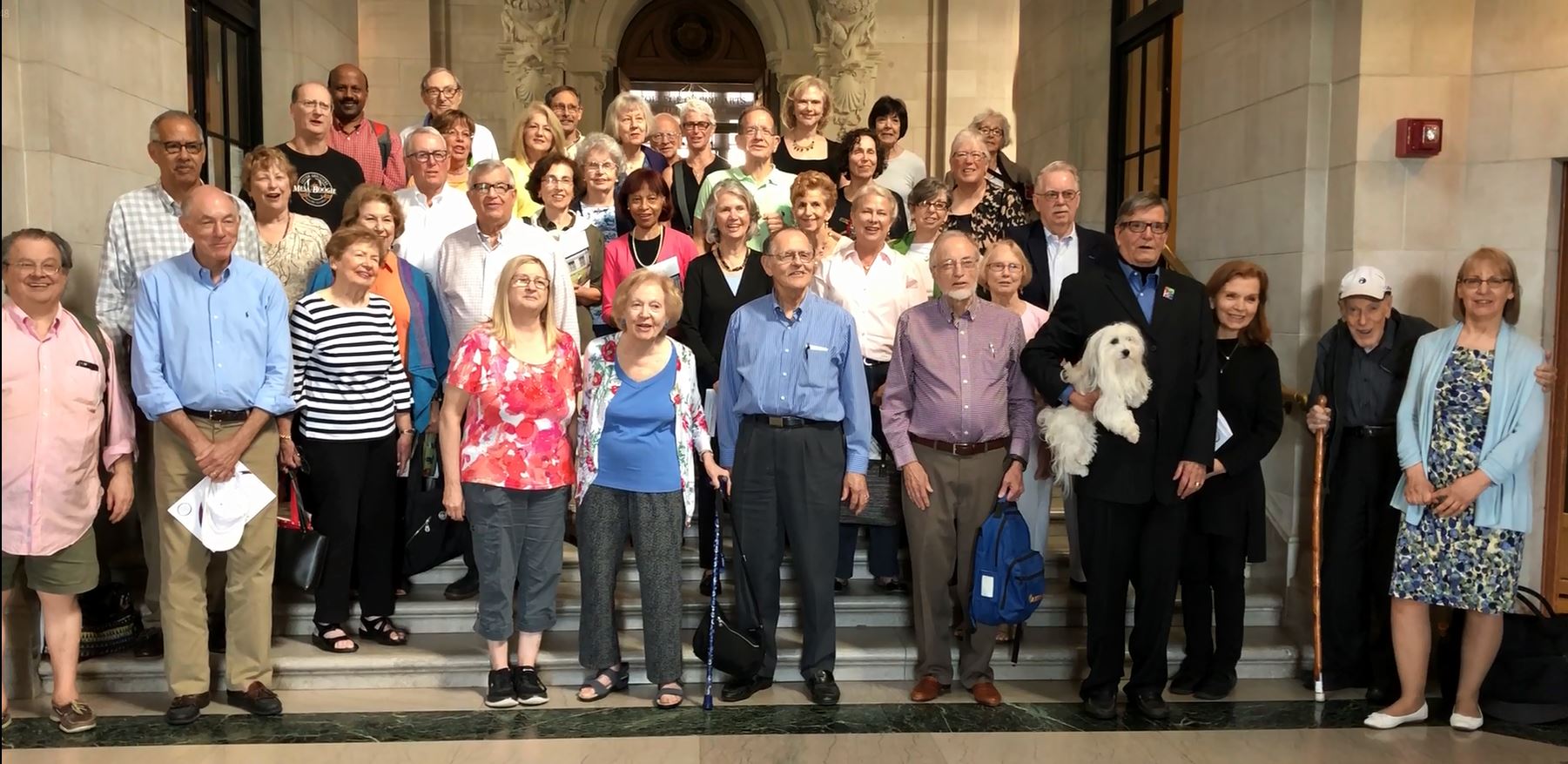 October 20, 2021
Save the Date: Osher at CMU 29th Annual Meeting
Please join us on Zoom for the Osher at CMU 28th Annual Meeting!
The 29th Annual Meeting will be held on Thursday, October 28th at 7:00PM through Zoom. Register to attend online with Course ID: 4106. Registrations are required. The Zoom Meeting ID and Password will be sent to those registered on the morning of the Annual Meeting. 
Entertainment Following the Annual Meeting…
8pm: "Bone Wars: The Excavation and Celebrity of Andrew Carnegie's Dinosaur" by Tom Rea
Members and guests are welcome to attend. Please register online using ID: 4085 or by emailing osher@cmu.edu. Seperate registration is required to attend the two portions.
Schedule of events:
7:00 Minutes of 2019-2020
7:03 President's Report
Cyert Hall Status
Recognition of Departing Directors
Welcome New Directors
7:13 Treasurer's Report
7:23 Other Business
7:45 Adjournment
8:00 Entertainment - "Bone Wars: The Excavation and Celebrity of Andrew Carnegie's Dinosaur" by Tom Rea. See Below for Details.
8:45 Conclusion
Entertainment: "Bone Wars: The Excavation and Celebrity of Andrew Carnegie's Dinosaur" by Tom Rea
Entertainment will begin promptly at 8pm on Zoom. Guests are welcome to attend. Please register online using ID: 4085 or by emailing osher@cmu.edu.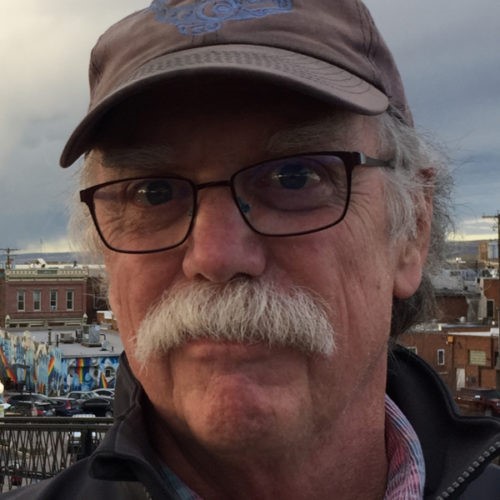 Tom Rae, Speaker
Less than one hundred years ago, Diplodocus carnegii—named after industrialist and philanthropist Andrew Carnegie—was the most famous dinosaur on the planet. The most complete fossil skeleton unearthed to date, and one of the largest dinosaurs ever discovered, Diplodocus was displayed in a dozen museums around the world and viewed by millions of people.

Bone Wars explains how a fossil unearthed in the badlands of Wyoming in 1899 helped give birth to the public's fascination with prehistoric beasts. Rea also traces the evolution of scientific thought regarding dinosaurs and reveals the double-crosses and behind-the-scenes deals that marked the early years of bone hunting. With the help of letters found in scattered archives, Tom Rea recreates a remarkable story of hubris, hope, and turn-of-the-century science.

He focuses on the roles of five men: Wyoming fossil hunter Bill Reed; paleontologists Jacob Wortman—in charge of the expedition that discovered Carnegie's dinosaur—and John Bell Hatcher; William Holland, imperious director of the recently founded Carnegie Museum; and Carnegie himself, smitten with the colossal animals after reading a story in the New York Journal and Advertiser. What emerges is the picture of an era reminiscent of today: technology advancing by leaps and bounds; the press happy to sensationalize anything that turned up; huge amounts of capital ending up in the hands of a small number of people; and some devoted individuals placing honest research above personal gain..

Tom will show a short film made by Pittsburgh Arts and Lectures, in which he gives an introduction to the book.  That will be followed by a PowerPoint and discussion of photos from the era, and then an opportunity for Q&A.
The University of Pittsburgh Press has just published the Twentieth Anniversary Edition of the book in paperback, and the Press is offering a 20% discount for books purchased from its site. Click the link below and enter the code 20BONEWARS.  The code will be live through 11/30/21.
  Click Here to purchase Bone Wars!
Tom Rea, who grew up in Pittsburgh admiring the dinosaurs at the Carnegie Museum of Natural History, lives in Casper, Wyoming, with his family. Now a freelance writer and editor, for a dozen years he covered politics, education, and science for the Casper Star-Tribune, Wyoming's largest newspaper.
Minutes of the 28th Annual Meeting
Osher at Carnegie Mellon University
28th Annual Meeting via Zoom
September 24, 2020
Board of Directors Present: Ann Augustine, Rosalie Barsotti, Lyn Decker, Jan Hawkins, Jeffrey Holst, Allan Hribar, Ann Isaac, Jim Reitz, Sankar Seetharama, Raja Sooriamurthi, Jeffrey Swoger, Randy Weinberg, Richard Wellins, Mark Winer
Board of Directors Absent (Excused) Marcia Taylor
Approximately 51 members attended the Zoom meeting.
Call to Order at 7:02
Minutes of the 27th Annual Meeting held on September 26, 2019 (included in the annual report) were approved as written.
Treasurer Report: A summary of the treasurer's report was presented by Mark Winer, in the absence of Marcia Taylor, treasurer.
Cyert Hall Remodeling Project: Progress of the project was presented by power point and elaborated on by President, Allan Hribar. Spring, 2021 is the tentative start date for construction; occupation of remodeled space is tentatively scheduled for Fall, 2021.
Campaign 4.0: 40% of the total funding goal ($1.4 million) has been achieved
Restart date of the Campaign is dependent on the status of Covid 19 and the status of
contributing foundations
Proclamation: 2020-21 has been proclaimed as the Year of the Osher at CMU Staff:
Lyn Decker, Executive Director and Registrar; Chelsea Prestia, Administrator/Publications; Olivia McCann, Administrator/Programs; Kate Lehman, Administrator/General Office are recognized for their tireless work during this time of transition and upheaval: working from home, transitioning from in-person classes to the Zoom format, offering support to Study Leaders and members.
Appreciation and Welcome: Recognition and thank you to outgoing Board of Directors: Gary Bates and
John Olmsted
Welcome to incoming Board of Directors: Ann Augustine, Sankar Seetharama, Richard Wellins
Special Thank you to Outgoing President Jim Reitz with an Ode to Jim Reitz, read by Al Hribar.
Bylaws Revisions: Proposed changes to the Bylaws were passed.
Chatham Partnership: Al summarized the initiation and advantages of the partnership to both institutions.
David Finegold, President of Chatham University presented slides highlighting Chatham's present and future goals, the Eden Hall Campus features, future phases for multigenerational expansion, including the Rachel Carson Ecovillage.
Adjournment at 7:59, followed by a Zoom presentation: Comedy vs. The Apocalypse by David Misch.