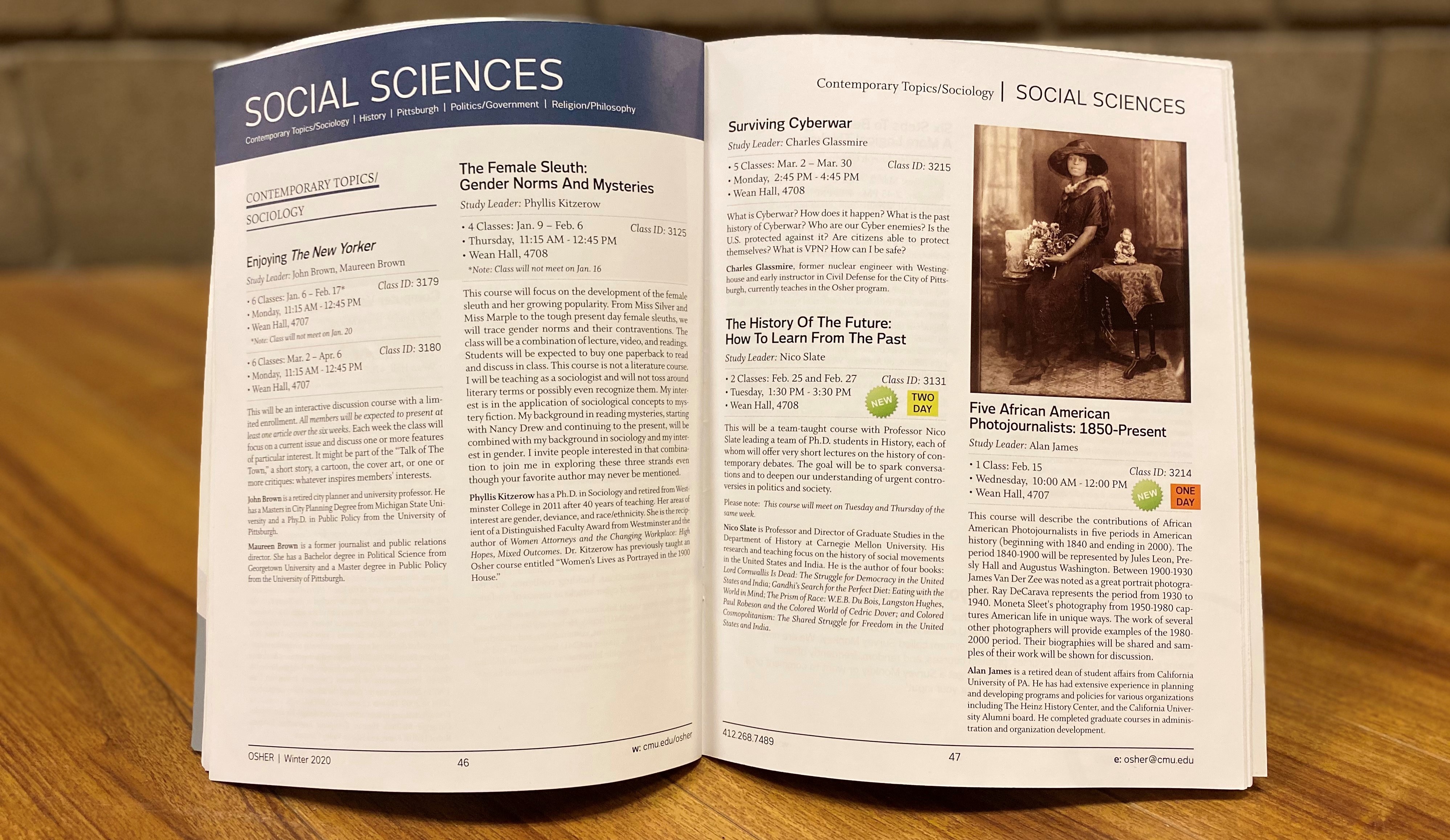 October 23, 2020
Curriculum Committee Now Seeking More New Members
The Curriculum Committee currently has a couple of openings on its committee.  If you would be interested in becoming a member of this vibrant and critical committee of the organization, please apply. 
As a member of the Osher at CMU Curriculum Committee:
you will meet and work with some of the most interesting and accomplished members of the Pittsburgh community,
you will make many lifelong friendships,
you will run across old friends and acquaintances,
you will open opportunities for many to fulfill their secrete goal of wanting to teach their passion
It's a great job – please apply
Please review the job description:
Curriculum Committee Job Description
OSHER AT CARNEGIE MELLON UNIVERSITY
JOB DESCRIPTION AND EXPECTATIONS
VOLUNTEER POSITION: Curriculum Committee Member
Mission and Vision in Bylaws:

The mission of Osher at CMU is to provide its members with learning and social enrichment opportunities that increase their knowledge, enhance skills and interactions with peers, and increase cultural and social awareness, complementing CMU's leading role in educational, intellectual, and cultural life in the Pittsburgh region.

Osher at CMU's vision is to be a premier quality source of lifelong learning for its members through cost effective, short-term, non-credit courses, lectures, field trips, special interest groups, and other events supporting its mission.
Key Responsibilities and composition of the Curriculum Committee as per the Bylaws:

The key responsibilities and composition of the Standing Committees are:
The Curriculum Committee shall identify and recruit study leaders to develop courses on a variety of topics for each term and evaluate the effectiveness of course offerings.  If the appointed Curriculum Committee Chair is not an elected Director, then the Committee Chair shall serve as an ex-officio, non-voting member of the Board. 

Primary Purpose of the Position:
To identify, recruit, and support study leaders to develop courses on a variety of topics for each term and evaluate the effectiveness of course offerings.
Major Responsibilities:
Manage an assigned portfolio of study leaders and associated courses to keep the curriculum vibrant and responsive to member needs and interests.

Interact with study leaders to:

Encourage them to continue teaching
Encourage new courses

Recruit new study leaders
Participate in special projects as needed

Length of Term:
All Committee members must be current members of Osher at CMU. There are no term limits for Committee Chairs or members.
Meetings and Time Commitment:
The Curriculum Committee typically meets at least once during each of the three terms to prepare for the following term.
Expectations of the Position:
Attend meetings regularly and meet all deadlines
Develop ongoing relationships with assigned and potential study leaders to enable open dialogue, positive interface, and effectiveness in providing feedback
Develop proficiency in the use of the Study Leader site on the Augusoft website and audiovisual equipment in order to assist Study Leaders when the need arises
Attend and participate in Study Leader orientations
Maintain written records of Study Leader interactions in order to pass on quality information to the committee chair and to future committee member liaisons
Meet established deadlines
Skills and Competencies:
Commitment and dedication to the Osher at CMU mission and programs
Strong interpersonal skills
Proactive team player and consensus builder
Access to and proven ability to use email and file attachments including but not limited to excel documents
Ability and willingness to seek out new study leaders to provide new courses
Ability and willingness to use email and file attachments including but not limited to Excel documents
How to apply for the position:
Please click the button below to fill out the application!