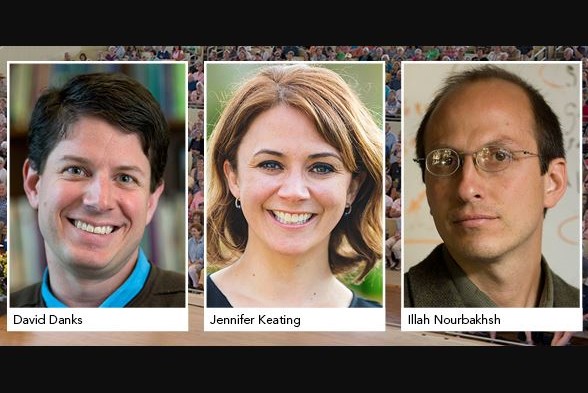 August 21, 2020
AI and Humanity at Chautauqua 2020
David Danks, Dietrich College; Illah Nourbakhsh, School of Computer Science; and Jennifer Keating, formerly of Dietrich College, discuss the ethics of technology, scientific, corporate and personal responsibility at the Chautauqua Institution's 2020 Summer Lecture Series.
Click Here to watch the Panel Discussion
David Danks is L.L. Thurstone Professor of Philosophy & Psychology, and head of the Department of Philosophy, at Carnegie Mellon University. He is also the chief ethicist of CMU's Block Center for Technology & Society; co-director of CMU's Center for Informed Democracy and Social Cybersecurity (IDeaS); and an adjunct member of the Heinz College of Information Systems and Public Policy, and the Carnegie Mellon Neuroscience Institute. 
His research interests are at the intersection of philosophy, cognitive science, and machine learning, using ideas, methods, and frameworks from each to advance our understanding of complex, interdisciplinary problems. Danks has examined the ethical, psychological, and policy issues around AI and robotics in transportation, healthcare, privacy, and security. He has also done significant research in computational cognitive science, culminating in his Unifying the Mind: Cognitive Representations as Graphical Models (2014, The MIT Press). 
Danks is the recipient of a James S. McDonnell Foundation Scholar Award, as well as an Andrew Carnegie Fellowship. He received an A.B. in Philosophy from Princeton University, and a Ph.D. in Philosophy from University of California, San Diego. 
Jennifer Keating is a Senior Lecturer and Writing the Disciplines Specialist in the Department of English at the University of Pittsburgh. She is the co-author of AI & Humanity (MIT Press 2020); editor of Patrick McCabe's Ireland (Brill Press 2019); and Language, Identity & Liberation in Contemporary Irish Literature (Palgrave Macmillan 2010), which was awarded the Durkan Prize for Best Book on Irish Language and Literature by the American Conference for Irish Studies.
Her teaching focuses on the societal influences of advancing technology and political and social strife in Ireland. Her work has appeared in AAC&U Liberal Education, ACM, Critical Quarterly, New Hibernia Review and elsewhere. Most recently, she served as Assistant Dean for Educational Initiatives in the Dietrich College of Humanities and Social Sciences at Carnegie Mellon University.
She earned a Ph.D. in English and Cultural Studies at the University of Pittsburgh and holds a B.A. in English and History from the University of Rochester. She has taught at the University of Rochester, University of Pittsburgh and St. John Fisher College.
Illah R. Nourbakhsh is K&L Gates Professor of Ethics and Computational Technologies at Carnegie Mellon University and director of the Community Robotics, Education and Technology Empowerment Lab. He is Associate Director for Faculty at the Robotics Institute. 
Nourbakhsh is currently serving as CEO of Airviz Inc., which is dedicated to global empowerment regarding air quality. In 2009 the National Academy of Sciences named him a Kavli Fellow. In 2013 he was inducted into the June Harless West Virginia Hall of Fame. He was previously Robotics Group Lead for NASA/Ames during the MER landings. In 2019 he was named a Hastings Fellow. He has co-authored textbooks and popular literature, including Robot Futures. He is a trustee of the Claude Worthington Benedum Foundation, a trustee of Winchester Thurston School and Chairman of the Southwestern Pennsylvania Environmental Health Project. He is a World Economic Forum Global Steward and a senior advisor to The Future Society, Harvard Kennedy School, as well as RoboGlobal.
Nourbakhsh earned his Ph.D., Master of Science and Bachelor of Science in Computer Science from Stanford University.