Lobster Boy piece slams frats

I thoroughly enjoyed reading your article on Jonathan Borofsky (spring). It was great to see such a significant interview on a great artist alumnus. Thank you for bringing that direction to the magazine. Re "Lobster Boy William Kofmehl scuttles housing project" in fall News: I was surprised and annoyed at the slam against the fraternities. In an article written with unveiled affection for an individual, the second Warhol as you imply, it's ironic that you readily paint the Greeks with a broad brush.
Did this group of vandals carry a resolution from the InterFraternity Council condemning the exhibit? I assume that the attackers were male. That being the case, apparently this Lobster Boy project was "too much for men" as well. Were they intoxicated? If so, then we can also surmise that Kofmehl is "too much for alcohol consumers." Meanwhile, this silliness really amazes me.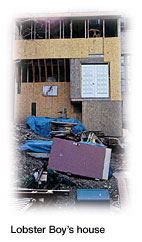 Every year alumni come to campus to re-experience Carnival. Those who park their cars on university property but not within designated parking spaces get tickets. Kofmehl builds a house on school grounds, and he gets a free ride for his fifth year. President Cohon, as he seeks to solve "the university's biggest challenge" of fundraising (p. 22, fall), might consider how ridiculous alumni feel to see the donations they contribute spent on such high-profile foolishness.
Michael T. Callihan HS'94
Ashburn, Va.

The university handed down its judgment on the four students, Aug. 19, limiting their campus activities. Two brought suit. In a compromise decision, the students must enroll in an art class, but they can keep their work-study jobs. They can spend class days on campus and eat on campus. A 240-hour community service requirement will take into account previous service. They cannot attend campus activities or use recreational facilities. They must write a 15-page paper on diversity and make $807 in restitution to William Kofmehl.—Editor


Tickets were once free!

Seeing the School of Drama ad (fall, p. 7) for season tickets reminded me of the many plays I saw before becoming a student, while getting my degree and after. It was a great education. And I took much pleasure in seeing students go on to success in New York and Hollywood. The tickets were even free then!
Estelle Herlick Weissburg MM'53
Katy, Texas


Ludwig Schaefer lives

I was taken aback to read in a letter (fall, p. 4) about "the late Ludwig Schaefer." Last year I located his phone number and spoke with him, 40 years after taking his History of Modern Germany course. There was no indication that he was ill.
Glenn M. Julian S'61, '63, '67
Oxford, Ohio

Apologies to Professor Emeritus Ludwig Schaefer, who is alive and well and living in Slingerlands, N.Y. He says he is grateful to be resurrected.—Editor


Thanks for Anita Newell column

Thank you for writing about Anita Newell (MM'47) in Between the Lines, fall. What an extraordinary person! All of Carnegie Mellon should be proud! And thank you for making the magazine so interesting and informative.
Arthur Rosenblatt A'56
New York, N.Y.


President's timing questioned

I enjoyed the fall issue. I love satire and watch Jay Leno's monologue. In the same spirit, I enjoyed the article on President Jared Cohon while viewing the pictures of him wearing the kilt and the Easter bunny outfit. It's amusing to see a president out of character once in a while.
Upon reading the article, the reaction changes. While advocating diversity and after celebrating Passover with his wife, he shows up on campus the next day, Good Friday, dressed in the bunny outfit! In comedy they say timing is everything. His timing needs some serious rethinking! If Pittsburgh is anything like it used to be religiously, there must have been many offended people. This would be akin to New Orleans running Mardi Gras up through Easter Sunday.
Stephen J. Samu E'58
Neenah, Wis.
The president's appearance as the Easter bunny was not a media event. It was the result of "winning" an election. Students selected the day; the president wore the costume for a couple of hours.
—Editor


You don't drive a motorcycle

I'm surprised at the major semantic error in Classes (fall, p. 34). One does not drive a Harley Davidson; one rides a motorcycle! It's good to know that there are Class of 1940 folks still doing things.

E. Gerald Meyer E'40
Laramie, Wyo.


Norman Dawes praised for using original sources in popular Western Civ course

Is Robyn M. Dawes (News, fall) a relative of Norman H. Dawes, who taught Western Civilization and other history courses at Carnegie Mellon in the '50s?
Norman Dawes was a wonderful professor who introduced me to new worlds in music and literature. He was a very effective teacher to engineering and science students who cared little about the arts andhumanities. The A in his Western Civ course countered the D's in calculus and perhaps saved me from flunking out with half of my freshman class. He gave me an immersion in the arts and history that years of typical art and music appreciation college courses could never duplicate.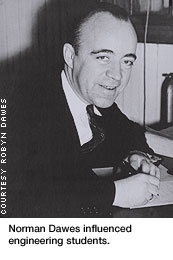 Professor Dawes once joked that he was "the only professed Democrat in the long line of the New England Dawes family, and as a result ended up teaching history to engineering students."
He began one of his lectures by admonishing us to take notes on what he was about to read. Already stressed students clenched their pencils even tighter. He read quickly from Chaucer in the original Middle English. It sounded like gibberish to us.
But with that opening he made a point about understanding that much of what we read today is a translation, how significant errors can creep into translations and retranslations and why original sources are so important to historians. We advanced to reading different viewpoints of the same event from contemporary observers and learned how even a historical event may have been changed over the centuries by subsequent writers for political or cultural reasons.
Professor Dawes strove to break his freshman students away from our K-12 mentality of memorizing dates and instead emphasized the importance of placing events or figures in their total cultural and social context at the time. Instead of "Columbus sailed the ocean blue in 1492," we would read excerpts about the conflicts of the national "superpowers" of the time, contemporary letters complaining about the current political pressures or religious issues, or catch glimpses of what a culture like China was at the same time and why it might have influenced events in the West. We would listen to music from that period.
He felt that if a student enjoyed the music of Mozart and was listening to "The Magic Flute," [he might] delve a bit further and discover that Mozart inserted elements of Masonry in that opera, and what Masons were back in the Age of Enlightenment and how they might or might not relate to the emerging profession of engineering. Still further back to glean what the Age of Enlightenment meant in the 18th century and finally what importance it in turn had in the history of Western civilization. That's how a student in Professor Norman Dawes' freshman course learned about history.
I think Carnegie Mellon has always been at the forefront of providing the very best in enriching its students beyond the traditional engineering and science curriculum.
Norman Dawes was a very remarkable professor, and judging from the success of his son, Robyn, a fellow of the American Academy of Arts and Sciences, he must have been an equally good father.
Frederick J. Fraikor E'59
Golden, Colo.
Norman Dawes taught at the university from 1936-64. He died in 1980 at 74. His son, Robyn Dawes, is a professor, Social and Decision Sciences Department. The writer is director, Colorado Advanced Materials Institute, Colorado School of Mines.—Editor


Old engineers connecting again

The fall issue was most enjoyed. I was pleased to find [in Mail] another person from the Class of 1938 (Dan Sutch). It was 1940 or '41 that the alumni publication carried the news that Dan was working in Wilkes-Barre, Pa., a city where I had recently accepted a job. Somehow we got together. Dan gave me a tour of a foundry, which he managed. That was over 60 years ago. [Forward my letter to him.] You should congratulate yourself in being the source of old engineering classmates connecting again.
Jack Wagg E'38
Palm City, Fla.


Mighty Heinz reminder

I was disappointed that the Heinz School was absent from the top graduate programs ("Doctoral programs ranked," News, fall). U.S. News & World Report ranked the school in the top 10 overall, 1st in information and technology, 3rd in criminal justice policy and management, 4th in public policy analysis, 6th in public finance and budget,10th in environmental policy management and 20 rankings in other areas. Heinz may be small, but it's mighty.
Matthew M. Maletestinic IM'96, HNZ'99
Pittsburgh
Rankings above are for 2001. News carried mainly 2002 rankings.—Editor


Ranking surprised reader

I thought Carnegie Mellon ranked among the top 4 in science and engineering and 1st in computer science. I was dismayed to read the low [doctoral] rankings of math, physics, chemistry and biology. I am scared to ask about the Fine Arts rankings.
Alan L. Sycip A'76
Makati, Philippines
Art, Drama and Music do not have doctoral programs. Architecture awards about four doctorates annually in computational design and building diagnostics. Design initiated a doctoral program last year.—Editor


Individual's role in judgments

I found the quotation from Professor George Loewenstein (Direct Quotes, summer) fascinating: "The judgments at which people arrive depend fundamentally on what they want to believe." The quotation made me wonder about two things.
First, we know that people do change, not every day, but people do change their attitudes and judgments. Does he suggest that we only change when circumstances force us to change? Does he really mean that we play no part (or at most a trivial part) in evaluating information and forming judgments? It seems to follow that the judgments of juries and judges would have no validity whether in legal or artistic settings. Interesting.
Second, I wondered how Loewenstein has managed to find ways to conduct research that guarantee that he himself is protected from the tendency to make judgments on the basis of what he wants to believe? Or, might his research methods be subtly biased to produce findings that match what he wants to believe?
Emil J. Posavac E'61
Skokie, Ill.
Professor Loewenstein responds that he "did not intend to say judgments depend only on what people want to believe, but that desires are one important factor that influences beliefs." He thinks that research understates this bias. It is seen when people get involved in get-rich-quick scams and quack remedies for illnesses and the tendency of people at war to abandon judgment and believe "any negative thing" about the other side. He agrees that researchers are not immune to bias—thus the need for peer review.—Editor


Dumbfounded in Maine

Please tell me that [the laughing graduates, News, p. 6, fall] were a reaction to a very poor choice for an honorary degree—Homeland Security Director Tom Ridge. What on earth could he say "honestly" to graduates? I'm dumbfounded.
Theophil A. Groell A'53
Deer Isle, Maine


---
> Back to the top
> Back to Carnegie Mellon Magazine Home