Mixing Toys and Tools
"Could Ya Get Any Cooler?"
Don Marinelli and Randy Pausch head a new master's degree program that brings artists and technologists together to learn how to collaborate in producing electronic entertainment and "edutainment" products and places.
By Ann Curran


"Interdisciplinary" is one of Carnegie Mellon's favorite mantras. The architects work with the engineers. The artists and environmentalists conspire. The writers and business majors consult. And the computer scientists consort with everyone.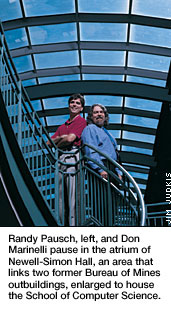 Back in 1998, the new president, Jared L. Cohon, listened to a lot of people who were urging the university to get into—even further—the new technical toys and tools. These include digital media, virtual reality, interactive animatronic robotics (producing the likes of the dinosaurs in the film "Jurassic Park" or the shark in "Jaws"), immersive environments, networked and freestanding interactive games, massive multi-player online games, synthetic interviews (with people that aren't there at the moment; Einstein, for instance), telepresence for entertainment and education purposes, surround sound and theme-based anything-parks, restaurants, museums, subway stations, to name a few options.
That year, Carnegie Mellon set up a new graduate degree, a masters's in entertainment technology. Under the co-directorship of two very different guys from very different disciplines—Don Marinelli, a drama and arts management professor, and Randy Pausch, a computer science professor, the university established the Entertainment Technology Center and began training candidates for this brave and frenetic new world.
Both leaders of this initiative term their co-appointment as "brilliant." Similar programs that place an artist or a computer scientist in the top position list in the direction of the leader's discipline, says Pausch, who earned a doctorate in computer science from Carnegie Mellon in 1988. No other school offers such a degree in entertainment technology "jointly conferred by a school of computer science and a college of fine arts," he adds. Pausch and Marinelli are so convinced of the wisdom of dual leadership that they have been sharing an office for two years. "It sends a real signal to the students about getting technologists and artists to work together," says Pausch.
A measure of the success of the young program, housed in Doherty Hall, is evident in the internships its students are landing after their first year of graduate school (see sidebars). Marinelli points out that as a result of Pausch's 1995 sabbatical with Walt Disney Imagineering (the art-and-techno brains behind Mickey and company), the ETC has an agreement with Disney to take three students each summer as interns. Other ETC students worked over the summer at
Electronic Arts, Redwood City, Calif., the world's leading independent developer and publisher of interactive entertainment software for computers and advanced entertainment systems, such as PlayStation, Nintendo, Xbox and GameCube;
Maxis, an Electronic Arts brand, home of the enormously popular Internet world of SimCity and other software and games;
Pixar Animation Studios, Emeryville, Calif., birthplace of the animated films "Toy Story," 'Toy Story 2" and "Monsters, Inc.," made in conjunction with Walt Disney Pictures;
Advanced Telecommunications Research Institute International in Japan, a research and development conglomerate.
The ETC can list Disney on its Web site, www.etc.cmu.edu, and "it helps us recruit good students," says Pausch. "They believe that, 'Wow, the hardest thing about this industry is getting your foot in the door, and these people have three slots [at Disney] guaranteed for interns.'"

Some students even opt for a co-op semester during which they work for the company where they have interned and earn university credits. And shocking to Marinelli: Some have turned down a co-op to return to the ETC. The program, which limits itself to 50 students, reached 47 this past semester. It offers no scholarships or grants. "Interestingly enough," says Pausch, "if you're offering something of value, you don't have to give people money to come get it."

Program shuns a classroom approach
Besides Pausch's Building Virtual Worlds course—based on Alice, a software program for creating 3-D environments developed by the professor's Stage3 Research Group—the students take a minimum of classroom courses, such as improvisational acting and computer programming. The end-of-the-year show of projects from Building Virtual Worlds fills McConomy Auditorium with a wildly enthusiastic audience that comes away truly awed after watching a series of animated works, each well under five minutes in length. In one, "Calvin & Hobbes with the Dreaded Suicide Sled," created by Ira Fay (CS'00), Herbert Yik-king Ng, Karyn Graff and Clifton L. Forlines (A'99, MET'01), the popular cartoon comes to life and the viewer travels downhill forever, smashing snowmen and narrowly missing trees along the way.

Pausch and two others have written a book on Alice and hope it will help middle school students have fun in their first experience with programming.

Beyond the classroom, Marinelli says, education in the ETC springs from "that whole Carnegie Mellon notion of learning by doing." Projects, built around four or five students, a faculty supervisor and a client representative, dominate the curriculum. Groups have worked with the Carnegie Museum of Natural History, developing edutainment (entertaining education) for its Earth Theater with 68 seats and a 210-degree horizontal wraparound screen. "A wonderful place to author for," comments Pausch. "We'll do the software, hardware and content," says Marinelli, who views the whole process like a show. "It's got a deadline. We've got production meetings. It involves some sort of performance, and since it's interactive, you turn any viewer into an actor. So I'm at home.

"The traditional museum is no longer a real educational experience because the audience has changed," says Marinelli, who earned his doctorate at the University of Pittsburgh and joined the Drama School as assistant head in 1981. "The idea of just staring through a piece of glass at some diorama doesn't have the impact."

Instead, ETC students create interactive shows, says Pausch. "I don't mean dork interactive where everybody has four buttons on the arm rest. That's kind of artificial. We're talking about the stuff where the audience can lean in their chairs and steer where the vehicle they are in is going. That's cool."

Pausch emphasizes that "our projects have to be allowed to fail." Some may succeed. Some may surpass people's "wildest dreams. Both of those outcomes have to be OK," he says.

At the National Aviary in Pittsburgh this semester, the students are working on an immersive classroom. That means hands-on, multi-sensorial stimulation—smell, touch, sound, atmosphere. "The more senses you stimulate," Marinelli maintains, "the more education occurs."

Marinelli carefully outlines the threefold thrust of the ETC: academic, industry research and entrepreneurialism. Doing "class preparation is synonymous with doing research in this field," he says. While entrepreneurialism is down at the moment with the decline of the dot-coms, he says, the school is preparing to market Jam-O-World, a game in which participants in a darkened room gather round a brightly lit circular game table—based on traditional tribal drum circles. The group "makes music and manipulates images" in a light show, says Marinelli. What's unique about it, he suggests, is that participants "have to cooperate with strangers in order to win. So they tackled the question of 'Does a game need to be competitive?' And 'Does a game need to be somebody wins and somebody loses in the sense of destruction?'" Last summer, the game traveled to Ars Electronica, Europe's premier digital arts event.

Professors lean to storytelling techniques
Neither ETC co-director leans to "traditional teaching." Marinelli says, "Genius stands up in front and lectures. How many of us nowadays want to be lectured at?"

"I don't lecture anymore," says Pausch. "I tell stories. I always make sure that there's a presentation of the thing as a narrative. There are characters that will be memorable and then instead of the general facts for the day, there's the moral of that story." He cautions, however, drawing his wisdom from Peter Parker in "Spider-Man": "With great power comes great responsibility." His stories, he insists, must not only illustrate and represent, they must be based on experience. And the story, he says, can't apply in all cases.

Interestingly, Pausch, wearing the techno hat, presents the more impassioned explanation of what he and the ETC are doing. "I love being at Carnegie Mellon. I can't tell you how good it is to be here.... Don and I approach things just radically differently, and for me personally the most exciting thing about [the ETC] is I get to work with Don.... When I collaborate with people, the further apart they are from me, the more I learn.... I don't want to say magical elixir, but we found what seems to be a sustainable formula for putting people from the arts and technology together."

If given a Myer-Briggs test, Pausch is convinced that Marinelli would come out as caring about people's feelings, and he [Pausch] would "care much more about their rights.... I'm much more concerned with process, and he's much more concerned with relationships. The great thing is we have both of those. You find a way to work together and not kill each other." The pair has never, he says, "had a knockdown, drag-out fight."

Pausch sees the balance between the co-directors as emblematic of the balance needed within the program. "If you don't keep the balance," he says, "you can't do the really cool, innovative stuff. That's our creed." Marinelli looks farther ahead, saying, "we're trying to turn out visionaries as well." People who will ask, "Where is this going to go from here?"

Both men cite Marinelli's line, "In Drama, we had techies long before computers were ever invented." Marinelli expands, "We knew somebody had to do the lights. Somebody had to do the set. Somebody had to rig it. We had to respect what they do, and we had to work with them. The one difference: In the theater when the techies came in, we usually cleared out. They wanted us out. They wanted the stage. But in the ETC, he contrasts, "collaboration is from day one to project launch."

And it's a collaboration that links the most ancient of techniques, storytelling-with its every trick, turn, method and even madness—to the possibilities in hardware and software polished to perfection some time in the middle of last night. Why? As usual, to snatch, hatch, entertain, educate, elevate, add your own favorite verb. Yeah, that's it!



Ann Curran is editor of Carnegie Mellon Magazine.



Closing the digital gender divide


Amy Kalson
Background
B.A., liberal arts, Sarah Lawrence College
"When I got accepted to the ETC, my dad [Grant Kalson, IM'61] gave me his old freshman beanie and Carnegie Tech sweater. I am very proud to share CMU with him. I left a successful career as an Internet programmer to come to the ETC. I sold my house in Denver, packed up all my things and headed east. I have never regretted that decision!"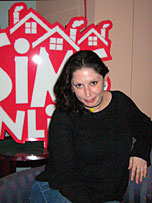 Internship
Game design intern, Maxis, Electronic Arts
"I am the only female intern at Maxis. I do something new every day: designing the way characters look, the jobs characters have; the look and functionality of objects in the game; inventing new and unexpected challenges for the players. I also gather reference materials, write design documentation and help brainstorm creative solutions to design problems."
What I've learned
"Besides learning what goes into making a best-selling game, I am also learning how to succeed in a highly competitive fast-paced environment. I've learned that it is crucial to take the initiative. Flexibility and communication are keys, and interpersonal skills are as important as technical and artistic skills."
Perks
"Games, games, and more games! Free games, discounts on video game consoles, getting to play the latest games and getting to work with some of the best people in the video game industry."
Did ETC help?
"Brenda Harger's Improv class taught me invaluable teamwork and brainstorming skills. The ETC project cycles taught me how to thrive under very tight deadlines. I've learned as much from my peers as I have from my professors."
Future
"This is my passion. Every day I get up and can't wait to get to work. I feel it is important for women to make games in order to increase the number of females who play games. I believe this is crucial to closing the digital gender divide. My ultimate dream is to start my own game studio with a couple of my fellow ETCers."
Organization not an accident
Jon Parise
Background
B.S., information technology, Rochester Institute of Technology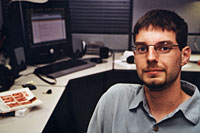 Internship
Software engineer, Maxis, Electronic Arts
"I'm working on The Sims Online. The Sims Online aims to bring The Sims, the best-selling PC title of all time, into the online environment. Players will be able to own property, explore their neighborhood and interact with other live players in an online interactive world. At the moment, I'm developing the suite of installation and account management tools that players will use to set up the game on their computers. I'm also involved in the details of building and laying out the game for CD distribution."
What I've learned
"The Sims Online is a huge undertaking, definitely larger than any other project in which I've been involved. I've learned the importance of developing requirements documents and the value of properly designing software systems before writing a single line of code. I've learned that organization does not happen by accident. And I've learned a great deal of respect for producers and their roles in making software projects like this happen. I honestly didn't expect to be given so much responsibility in the project. Maxis does an excellent job of making its interns feel like full-time employees. It's an incredibly enriching experience."
Perks
"Electronic Arts-sponsored movies, baseball games, etc.; discounted video games; incredibly talented individuals; living and working in sunny California; the pride of working for a well-known, successful company. Everyone I work with here is incredibly friendly and professional. On Friday afternoons, the entire company meets to discuss the week's successes and to applaud those employees that were 'star achievers.'"
Did ETC help?
I draw upon my project experience in the Entertainment Technology Center more than anything else, but even that is an aggregate of a number of disciplines, including time management, group and teamwork and software development skills."
Future
"I entered this internship not knowing if I wanted to pursue a career in game development (as opposed to other entertainment-related fields). So far, I'm definitely enjoying my work, and with the steady growth of this industry, the career options are looking quite attractive."
Throwing light on lighting
Dan Schoedel
Background
B.F.A., theater, Webster University
Lighting designer, Timber Lake Playhouse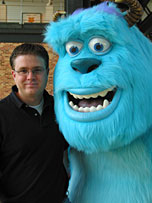 Internship
Technical Director Intern, Pixar "I am working on Pixar's next movie, 'Finding Nemo,' which will be released in 2003. I've been assigned to work with the lighting TD's (technical directors) on the movie. My job consists of adjusting the lighting for a shot, which usually consists of about 1 to 16 seconds of footage, to [assisting] the master lighter and the director of photography. I have some other non-lighting projects that I work on for the movie, but I don't think I'm allowed to talk about those."
What I've learned
"I have learned a lot about how the film industry works. On a smaller scale, I've learned that lighting in computer graphics is a lot more tedious than lighting for theater."
Perks
"We get free screenings in our theater of movies that are currently out. Sometimes we get to see movies that haven't been released yet. Plus that's nine bucks I don't have to spend! They spoil us here with a lot of other things, too. Full-time ergonomics lady, gourmet cafe for lunch, foosball tables and a beautiful campus that has a soccer field, basketball court and lap pool. The biggest perk of the job is probably just the fact that it's Pixar! Could ya get any cooler?"
Did ETC help?
"My B.F.A. in theater has helped out a lot. It taught me the lighting skills and how to look at things with a creative eye. The ETC taught me how to work with the computer science students. In addition, the ETC gave me great exposure to the tools used in this industry. I'm much more prepared to go into the computer animation industry than if I would have tried to go straight from undergrad."
Future
"By the end of the internship I'll definitely know whether I want to do this as a career. I still have 4 1/2 months left [Schoedel is continuing with a co-op experience at Pixar this semester]. A lot can happen during that time. But at the moment, this internship is confirming that I want to work in the film industry."
Schoedel is shown with Sulley from the Pixar film "Monsters Inc."
Cure for mashing buttons faster
Cort Danger Stratton
Background
B.S., computer science, Carnegie Mellon
Research work, Language Technologies Institute
Born Courtney Stratton, he switched to "Cort" early on. At 18, half of his IDs called him "Courtney." The passport folks frowned on that. Standing in line to formally become "Cort," he added a middle name and the resulting pun.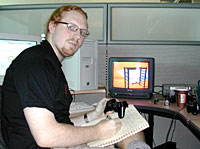 Internship
Engineering intern, Electronic Arts
"I'm working on the 2004 version of the 'Knockout Kings' boxing franchise. My first task was to design a file format for 3-D models and animations, optimized for performance on the Microsoft Xbox. I then wrote a utility to convert files into my new format. In order to verify that I was converting the data accurately, as well as to gauge the rendering performance of the format, I ended up writing a rudimentary graphics engine for the Xbox. I've been investigating new input schemes for the Playstation 2 version of KOK 2004. One of the biggest complaints about KOK 2002 was that it often degenerated into a contest of who could mash the punch buttons faster. In KOK 2004, we're looking into a much more realistic and intuitive interface for controlling your boxer."
What I've learned
"I've had the opportunity to pick up a number of useful technical skills. I've been exposed to the programming side of all three modern game console architectures, and that's been a dream come true.... I've learned to overcome my negative stereotypes of California and appreciate it for the wonderful (albeit insanely expensive) place that it is. And, of course, I've learned that my boyhood dream of writing video games for a living is actually feasible and within my reach!"
Perks
"Too many to count! An amazing work environment in a beautiful locale; top-notch facilities (ranging from a full-sized basketball court and extensive collection of exercise equipment, to a well-stocked free video arcade); access to Electronic Arts' enormous media library (books, movies, trade journals, reference materials and virtually every game ever published, all available for loan); and more free games and game systems than I'll ever know what to do with! Not to mention the thrill of working alongside some absolutely brilliant minds."
Did ETC help?
"It certainly prepared me to work long hours and love every minute of it."
Future
"This summer has totally reaffirmed my belief that this is the field I want to be in."
Hey, free parking at Disneyland!
Shawn L. Patton
Background
B.S., computer science, Rutgers University
Computer work in biomedical engineering lab on auto-focusing microscopes, tutorial videos and online medical quiz sites, University of Medicine and Dentistry of New Jersey

Internship
Business Associate, Research and Development, Walt Disney Imagineering
"I'm working on show programming for a massive multi-player online game Disney is making."
What I've learned
Aspects of the many problems that plague massive multi-player online games and their solutions."
Perks
"To quote Carolyn Brooks, a fellow intern, 'Freedom to use our creativity in our work, not just follow any orders given. Make suggestions that are valued.' We also get free parking at Disneyla.... It's a great feeling knowing that children and adults will be using and enjoying the software that I wrote.... The people here at WDI are great. Everyone is really supportive, fun and brilliant."
Did ETC help?
"All the programming I learned at Rutgers helps me with the technical aspects, but the ideas of interactivity in game play I learned at the ETC as well as the understanding of how art aspects of projects mesh with the technical ones help immensely."
Future
"I always knew I wanted this type of job, a creative/technical one, and now I know they really do exist."
Bearing up in Japan
David Ventura
Background
B.S., computer science (human-computer interaction and graphics concentration), University of Virginia

Internship
Student Intern (in practice, a visiting researcher), Advanced Telecommunications Research Institute International, Seika-cho, Kyoto prefecture, Japan
"I'm building a framework for musical expression with a stuffed-toy computer interface. My demographic is children ages 8-13. I'm looking to examine how cooperative play with a toy companion can be entertaining and promote creative development. "I have two stuffed bears. Each has sensors embedded in the stuffing that receive manual input in the forms of touching, bending and proximity data. Each doll also has a digital camera in its nose that allows it to take pictures of its environment. I'm constructing a set of assorted colored hats that represent different kinds of play and styles of music. A baseball hat prompts band music associated with sports. A nightcap evokes a soothing lullaby with dreamy sound effects. Users may create their own improvisational music by squeezing or bending parts of the bear, each area being mapped to a different audio sample (instrument or musical riff). Picking up the bear initiates cooperative performance. The bear plays a musical melody to accompany the sounds produced by the guest. To change between musical themes or "games," the guest pats the bear on the head and holds a new hat in front of the bear's face. The camera in the bear's nose takes a photograph of the hat, and, by using basic image processing techniques, extracts the dominant color and the type of hat. The hues and utilities of the hats are derived from color preferences and generalized trends observed in child psychology. We predict that more aggressive and active children will show a preference toward the red baseball hat; more emotionally mature children will find an attraction to the green painter's cap. "I perform all the research myself including development, music composition/sequencing, hat fabrication (sewing) and user testing. I hope to conduct a series of user tests culminating with a group of local primary school students and to prepare research papers on our work for academic conferences."
What I've learned
"I've acquired knowledge and practice in working with image processing, Windows programming, multimedia development and rudimentary sewing skills. I have gained more experience with my composing and technical writing, as well as working in a new environment with a different set of priorities and business model. Outside the workplace, I've learned more than I could ever hope to imagine. This is my first time abroad. I've spent substantial amounts of time learning about Japanese language, culture and rural/urban life. I'm fascinated to make new friends and discover the differences and similarities of Eastern and Western society."
Perks
"That which I value most: the people. If there isn't chemistry and trust among the people I see everyday, even the most entertaining of jobs will get dry quickly and bring my morale (and my productivity) down. I have friends here at work, and friends of friends that I see regularly outside. I'm a people person, and I need good friends to support me and who'll let me take care of them. The location is fairly good; I have access to major cities (Osaka, Kyoto, Nara) in less than an hour's train ride. The network connection at work is a must, but I suspect it isn't as fast as what we have at school. "Working internationally is really a trip. As a child, I played Nintendo and watched anime with my father and in my innocence failed to grasp the reason behind the poor English text or the kitschy characters and themes; all I knew is that I loved them. Now I'm taking advantage of the opportunity to see the country beyond the sunset where all of those neon-loaded nights and fantastic epics come from. It's really exciting! Indulging my addictions (like going to raves and techno clubs) and absorbing pop culture. TV commercials are hilarious. Corporations own and sponsor half the country (as far as I can tell, they're not evil), and everything is unbelievably cute!"
Did ETC help?
"My work at the Entertainment Technology Center has really helped me narrow my focus toward what role I'd like to play in a larger picture, and as such I've brought a lot of the scope and direction I need to get the most out of my time here. My most intense development work, which I performed at a previous internship with a government contractor, has helped me jump over the stumbling blocks that used to stymie my development. My experience at Microsoft as a program manager has given me the foresight to know what to throw away, when to keep things simple, how to regulate my time/effort, and, most importantly, what I can and can't accomplish."
Future
"I'm getting a foothold in the language and culture, and by acclimating myself to the environment and the national business model, I'm building a great foundation for when I decide to return here after graduation and start a career in games or animation."
---