Going Global
Courses Link Students, Nations
Classrooms become virtual visits to other countries.
By Peggy Neely HNZ'87


You're being interviewed for your ideal job. You feel great; your education and skills impressed your interviewer. Then suddenly you face a new priority of employers: "Do you have experience working globally, dealing with people in other countries whose business perspectives and practices might be different from yours?"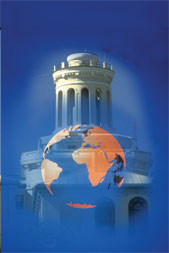 Reflecting a growing business demand for professionals who can think and work globally, Carnegie Mellon administrators and faculty are focusing intense attention on internationalizing undergraduate education. This focus also reflects student survey comments that they "get a good education here in technical and problem-solving skills, but they need more ways to develop understanding and skills in global issues," says Paul S. Goodman, the Richard M. Cyert professor at the Graduate School of Industrial Administration and chair of the university's International Committee.
Carnegie Mellon faces a special dilemma in tackling this task: Its demanding curriculum limits students' ability to study abroad. So, says Goodman, "we need to find other means to give our Pittsburgh students real-time global experiences. To solve this problem, we're making strategic use of technology to create opportunities for students here to work with students in other countries."
Engineering student collaboration
One such opportunity is the co-teaching of "Engineering Design Problem Formulation" simultaneously at Carnegie Mellon and the Delft University of Technology, the Netherlands. Carnegie Mellon faculty members Eswaran Subrahmanian (HNZ'88), senior research scientist, Institute for Complex Engineered Systems; Sarosh Talukdar, professor, Electrical and Computer Engineering, and Arthur W. Westerberg, the Swearingen university professor, Chemical Engineering, have worked closely with Delft colleagues in this initiative.
Coordinated classes at both locations mix live and videotaped lectures, slides and discussion. Instructors and students on both sides of the Atlantic use the LIRÉ online document management system developed at Carnegie Mellon's Institute for Complex Engineered Systems to share messages, assignments, presentations and reports.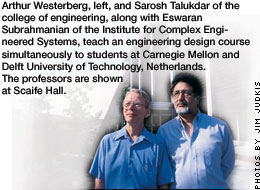 The course requires students to collaborate in groups spanning both institutions to formulate, not solve, assigned problems—for example, how to choose a location for a city fire station. This firsthand experience with working internationally "makes students aware of cultural issues in design problems and the challenges involved in cooperating across the Atlantic Ocean," says Westerberg. "The collaboration is problematic to start, as students must become comfortable with various communication tools and a six-hour time difference between their locations."
Lynna H. Quandt, a double major in electrical and computer engineering and engineering and public policy, says the course was "very different from my other courses and probably very useful for the future." She found some unexpected difficulties, one being that "Delft students could drop the course at any time; we might work with someone one day, and they'd be out of the course the next day. Also, the Delft students worked in a building that closed at 5 p.m. their time. If we sent an e-mail during our regular study hours, we might not get a response until 3 a.m. our time, when the Delft students could get back into their building."
To Aaron S. Pavkov (E'02), a senior in engineering, "the time difference was maybe the biggest challenge. Our team communicated mainly by e-mail for small issues, but if we had bigger issues to discuss, we did Web-based conferencing or phone calls." Because his foreign teammates might not reply to e-mails from Pittsburgh for several days, he sometimes felt that "Delft students didn't seem to give project tasks as much priority as we did. But I think students here had different communication expectations than the Delft students did. We expected daily communications, but they didn't seem to expect communications to be that frequent."
Quandt describes the course experience as "good preparation for any kind of long-distance work, whether working with people in other parts of the U.S. or abroad. Everybody—U.S. and Delft—brought something different to the table."
Eye-opening experience
Another Carnegie Mellon course that has moved into the international arena is "Ethical Judgments in Professional Life." In this course, Peter Madsen, senior lecturer, Philosophy Department, and students examine ethical issues and dilemmas that confront professionals. It's been offered at Carnegie Mellon for more than 10 years and in conjunction with Mexico's Monterrey Institute of Technology for four years.
"For Carnegie Mellon students, this foreign connection makes them aware of perspectives other than their own, making their own perspective broader and more global," Madsen says. "For example, one of our exercises in ethical decision-making deals with U.S. company-owned manufacturing plants at the U.S.-Mexican border. The perspective of U.S. students often focuses on the economic benefits to the U.S. manufacturers. Monterrey students add awareness of the pollution, sexual harassment and exploitation problems of such plants. This can be an eye-opening learning experience for students here, who often are unaware of such issues."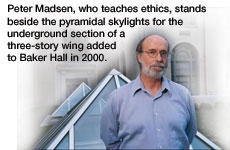 In another exercise, Carnegie Mellon and Monterrey students identify and compare values in their communities and countries. Because the students come from many countries besides the U.S. and Mexico, Madsen finds this exercise is "a good learning experience for all involved about different cultural values."
One surprise for student Brian D. Namey, a double major in international relations and ethics, history and public policy, "was how much the students in Mexico talked about environmental concerns. Here in Pittsburgh, we don't think about that a lot, but the Monterrey students are very concerned. During the course, they talked about whaling, ecological disturbances and other things that often didn't occur to us."
Carnegie Mellon course participants have classroom videoconferences with their peers in Mexico several times each semester, but communications occur online every day. "Rather than have live chats, we use discussion bulletin board," says Madsen. "The students share their perspectives electronically, creating good student dialogues on Blackboard, our online course information system."
Madsen says, "The course continues to be very popular, thanks to its globalization and self-paced nature. Each term, we cap enrollment at 100, and there usually are about 30 students on the waiting list." Although the course's minimal class sessions might contribute to its popularity, "the live videoconferencing with Mexico was one of the best parts of the course," says Namey. "It was a great opportunity for faculty and students at both locations to interact as one group. You could watch and hear people in both locations, and sometimes there was chatting back and forth."
Designing for global exposure
"At Carnegie Mellon we know that the marketplace for our students is the world. With this in mind, we're committed to help them become outstanding professionals in a global environment," says College of Fine Arts Associate Dean Luis F. Rico-Gutierrez of the School of Architecture.
Rico-Gutierrez (A'97) has actively promoted this goal as coordinator of the Distance Studio. This program advances the use of computer technology and telecommunications in the teaching and practice of architecture and urban design. One studio initiative gave teams of students at the School of Architecture and the Queretaro campus of Mexico's Monterrey Institute of Technology the opportunity to work jointly on projects or give each other feedback on different projects. The students used video conferencing between Pittsburgh and Monterrey for synchronous collaborative work, while using Web-based tools, e-mail, fax and courier services for asynchronous activities. Jennifer Y. Cheuk (A'98), who was a student participant in the initiative, reports that the videoconference option proved best at supporting "the discussion-type circumstances that we have in architectural decision-making processes and work critiques."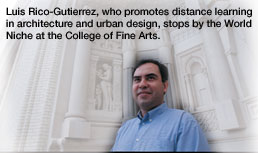 Knowing that trust is vital for team success, "each semester we started the course with a videoconference, to give the students a closer knowledge of one another," Rico-Gutierrez says. "In any business setting, you trust the people you know. We needed social interaction, like videoconferencing, among team members to develop trust. We once sent Carnegie Mellon students to Mexico for three days at the start of the process. They visited the site where the project was going to take place, but more important, they met their teammates face to face. They had dinner, went out and had fun together. I think that had a positive impact on their work."
Although the initiative was ended due to scheduling problems, Rico-Gutierrez says that it helped faculty members to learn valuable lessons about using technology to support collaborative design. And to then-student Kevin Lorei (A'98), it provided a valuable opportunity to "test the linkage between design professionals in different cities thousands of miles apart, to learn how architects can make a good project while working from a great distance."
Another globalized course is "Urban Design," taught by David Lewis, the distinguished professor of urban studies, Architecture School. Course sessions are broadcast by satellite from Carnegie Mellon to such countries as Chile, Costa Rica and Mexico. There is not necessarily interaction between Carnegie Mellon students and those in the other locations.
Rico-Gutierrez believes that providing students in architecture and other professional fields with a globalized education can improve creativity in those fields. "When people of diverse backgrounds and different points of view analyze a problem, possible solutions that were completely overlooked by some may very well occur to others who have different perspectives," he explains.
Managing the global game
Being able to think and perform in the international arena is vital to working with people and businesses from outside one's culture—and to competing against them. Learning how to compete in a global business environment is a primary lesson learned by Carnegie Mellon's graduate business students in The Management Game.
This applied strategic management exercise uses computer simulations to enable teams of students to operate simulated manufacturing companies, acting as senior management. "The key idea of the class is that we operate a human game supported by computing technology, not a computer game," says David L. Lamont (E'79, IA'84), senior lecturer, Graduate School of Industrial Administration. The class is unique in that students are evaluated primarily by external professionals. Each student team reports to an external board of directors and must defend its plans and results to these people, who then give feedback and evaluate the team's performance. Other real-world team challenges include negotiating with real union representatives and presenting marketing plans to practicing marketing executives. A number of quantitative and qualitative factors are used to measure each team's performance and ultimately determine the winning team.
Giving students experience in the dynamics of global competitiveness by interacting with students from around the world is a primary goal of the game, says Lamont. This has fueled the game's evolution from a campus competition in the 1950s to a program that now pits Carnegie Mellon business school teams against student teams in such countries as Argentina, Chile, China, Japan, Mexico and Ukraine.
Although the game's Carnegie Mellon-based teams include international students enrolled at the business school, the Pittsburgh teams can't easily gauge the competitive risk posed by foreign teams. However, says Lamont, "they've learned the risk is non-trivial because the first-place team last year was from the International Management Institute in Kiev, Ukraine. I think it was a wake-up call for the Carnegie Mellon students to be outperformed by a team from Eastern Europe."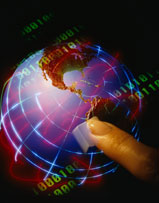 Carnegie Mellon participants are reaping valuable rewards from the internationalization of The Management Game, alumni report. According to management consultant Michael E. Kurela (IA'98), "GSIA gave me my first real exposure to issues facing global businesses—foreign currency exchange, currency hedging, international financing, tax issues and more. This was invaluable when I took on a client with significant international business because GSIA's academic environment had prepared me for the real-world global issues that my client brought to the table."
For Laura F. McGinnis (IA'99), "a key benefit of the international aspects of life at GSIA—including participating in The Management Game as both a student and a board member—was learning how similar people are all around the world. This has the effect of breaking down cultural barriers, which makes collaboration more effective. This has been valuable to me in my professional life," she adds, "because I'm actively involved in an international project. I have meetings with colleagues from all over the world almost every month. Being able to find things we have in common gets us through the relationship-building stages and lets us get to the meat of our business much more quickly."
Landing a coveted investment banking job was perhaps the most immediate value of the globalized Management Game to Shyam S. Ayengar (HS'01). While an undergraduate, he was part of an experimental game team that included students from both Carnegie Mellon and the Monterrey Institute of Technology. He feels this experience helped him get his current job, because "increasing mergers and acquisitions involving investment banking firms from around the world are creating more and more cross-border work and global deals." Ayengar is a financial analyst with Dresdner Kleinwort Wasserstein in New York City.
Ayengar terms the global experience at GSIA "a huge benefit, because learning to work with people outside Carnegie Mellon and the U.S. helps to break the U.S.-centric outlook that most of us raised here have." Lamont echoes this idea, reporting "an increase in the level of sophistication in the Carnegie Mellon students' marketing plans. They used to be U.S.-centric and now they are much more global."
Looking to the future
Many of Carnegie Mellon's initiatives in globalizing education have started in the same way—through faculty members' ongoing professional relationships with peers in other countries. This reflects the university's strong faculty tradition of interacting with peers from all over the world to advance knowledge in their fields.
The tradition of achievement through international human connections has helped Carnegie Mellon become a leader in education and research. Now, university technological innovations are helping faculty and students to develop new ways to foster such connections. This combination of tradition and innovation has built a strong foundation for Carnegie Mellon's continued leadership in globalizing education for the benefit of students and society.
For more on the Carnegie Mellon-Delft initiative www.ndim.edrc.cmu.edu/papers/video.pdf


Linking nations across the globe
While you may think of Carnegie Mellon as some 50-plus buildings on a green and hilly 100-plus-acre campus nudging up against Schenley Park in the heart of Pittsburgh's education center, the university reaches well beyond those perimeters. And well beyond its budding West Coast campus.
Four factors have driven the university's links to five continents: its students, its alumni, its relations with various institutions in almost40 nations, and the education and research support it receives from those countries.
The list of countries with connections to Carnegie Mellon moves from Argentina, Australia and Austria to Thailand, Turkey and Ukraine. It includes Ecuador, Finland, Hong Kong, Ireland, Poland and Russia, among others.
At the top of the list are Brazil, Chile, China, France, Germany, India, Japan, Mexico, Singapore and the United Kingdom, for a combination of factors.
Projects with Germany and India are representative. With the Bosch Group, one of Germany's largest international corporations, the university's Graduate School of Industrial Administration formed the Carnegie Bosch Institute of Applied Studies in International Management in 1990. The institute concentrates on international management and cooperation as well as producing globally savvy managers.
With India, Carnegie Mellon set up the Virtual Center for Technology Enhanced Learning, which brought together the country's Indian Institutes of Technology and the Indian Institutions of Management. The organization serves as an information clearing-house for Indian educational institutions interested in technology-enhanced learning.
According to Paul S. Goodman, director of Carnegie Mellon's Institute for Strategic Development, India is a natural link for Carnegie Mellon because it is expected to lead the world in information technology by the second decade of this century. And the greatest number of international students at Carnegie Mellon comes from India: 290 (215 graduate students and 75 undergraduates).
Of foreign countries, Japan leads in the number of Carnegie Mellon alumni with 375, followed by Canada (257), Taiwan (242), India (236), Korea (185), United Kingdom (159), Indonesia (127), Singapore (117), Hong Kong (113) and France (99).
Carnegie Mellon has an extensive relationship with Mexico, says Goodman, through a number of programs with Monterrey Institute of Technology. These include an executive education program with Cemex, a global cement manufacturer; core curriculum materials provided by iCarnegie Inc., headed by Allan L. Fisher (S'81, '85); special projects in doctoral education; architectural education; and other courses and workshops, including cross-cultural ethical courses. Clearly, Andrew Carnegie's little 32-acre technical school campus has expanded farther than even his 2,811 Carnegie libraries, located primarily in North America and the United Kingdom.
---