Collaboration is the key
Universities and Pittsburgh Arm for Biotech Revolution
A strategic initiative at Carnegie Mellon builds on exciting interdisciplinary activity among researchers.
By Ruth Hammond


Imagine a world in which a prosthetic arm would respond directly to signals from a person's brain, biosensors implanted in the body would detect disease at its earliest onset, and pharmaceutical companies would tailor drugs for the individual patient.

That's the world scientists in the field of biotechnology, at Carnegie Mellon University and elsewhere, are working to create. Researchers are mining data discovered through the U.S. Human Genome Project to develop new means of diagnosing and treating diseases. The project identified all of some 35,000-plus genes in human DNA (deoxyribonucleic acid), the chains of molecules that make each individual unique.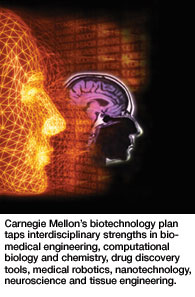 That achievement is expected to have a strong impact on the practice of medicine for decades to come. Scientists from the fields of biology, chemistry, physics, mathematics, engineering, computer science and robotics are all busy interpreting the data and applying it to present practices. "A few years ago, it was the age of computer science; I think everybody recognizes that biology is the next great important area of research," says Richard D. McCullough, dean of the Mellon College of Science.
When baby boomers get sick, they expect a remedy. They ask, "'OK, what pill do I take so that I can be cured?' 'I hurt; how can I get well?' 'OK, I hurt and these pills don't work; make me a new pill that makes me feel better,'" McCullough says. "We've become very much dependent on drug companies."
"The important research achievements in the life sciences require parallel advances in the physical sciences and in engineering to become technology that benefits society,'' says John D. Anderson, dean of the Carnegie Institute of Technology and former director of its biomedical engineering program. "We recognize that Carnegie Mellon's initiative in biotechnology will require, among other activities, strong education and research in biomedical engineering."
No major metropolitan area or research university wants to be left out of the biotechnological revolution. In its 1998 strategic plan, Carnegie Mellon identified biotechnology and health policy as one of its four main areas of focus. Two years ago, the university named Victor Weedn, a principal research scientist with an international reputation in the area of DNA identification, as director of Biotechnology and Health Initiatives. Six of the university's colleges and schools are involved in the initiatives, which encompass an array of biotechnology projects performed in collaboration with government, business, the University of Pittsburgh and others. They are described at www.cmu.edu/biotech.
Although he has a joint appointment in three colleges, Weedn's base is at the Science and Technology Center for Light Microscope Imaging and Biotechnology in the Mellon Institute. His office, next to a bulletin board display on the detection of calcium in mouse hearts, is filled with stacks of reports covering his diverse areas of scientific endeavor. A native of Houston, Texas, Weedn had earned both medical and law degrees by age 25. His career has encompassed work as a forensic pathologist, examining human remains to determine the cause of death, and efforts as a research scientist and administrator, breathing life into groundbreaking initiatives in science.
From 1988 to 1997, he served in the Office of the Armed Forces Medical Examiner, where he envisioned, created and ran the Department of Defense's DNA identification program, which includes a repository for military service members' DNA specimens. Weedn's interest in DNA led to his involvement in DNA microchip development efforts to create a portable hand-held device that could test war victims' DNA in the field. After a two-year interim as director of the regional crime laboratory in Birmingham, Ala., he came to Carnegie Mellon to do more research on microchips, this time exploring their medical applications.
"It's expected that biotech will replace IT [information technology] as the dominant market in the world's economies," Weedn says. "One could argue that it already has." As the population ages and people live longer, they will be in the market not just for new medicines but new technologies that will help them to overcome their physical limitations and enhance their quality of life. While people might spend a few thousand dollars for a new home computer system, they would be willing to spend much more for a pill that would cure a rare disease, turn fat into muscle or make them smarter, Weedn predicts.
The university's commitment to biotechnology is reflected in the elevation of the Biomedical and Health Engineering Program to a department, effective July 1. The new Biomedical Engineering Department expects to graduate from 40 to 50 undergraduates and eight to 10 Ph.D. candidates a year, says its head, Todd Przybycien, a chemical engineer who does research on the optimal manufacture, storage and delivery of drugs. In the department's uniquely structured undergraduate program, students will earn a double major in biomedical engineering and another traditional field of engineering; they will be both broadly trained in the life sciences and in biomedical engineering application and deeply trained in engineering fundamentals.
Przybycien expects Carnegie Mellon's biomedical engineering double majors will be in high demand in the workplace. "Biotech's tools and its potential are being continuously diffused into our economy," he says. "It's going to pervade, just as phone service pervades the country."
Cities compete for biotech leadership
Just as cities vied to attract high-tech firms during the dot-com era, they are courting biotech start-ups now. A Brookings Institution report published earlier this year identified nine metro areas, led by Boston and San Francisco, as the nation's top "biotechnology centers." The nine get the majority of National Institutes of Health research funding, have the most venture capital for biopharmaceuticals and are home to more than three fourths of all large biotech firms. A wide gap separates the nine biotechnology centers and 28 metro areas, including Pittsburgh, defined as having "median" levels of biotech research and commercialization.
In spite of its middle-tier status, if Pittsburgh plays its cards right, it could emerge as an important biotechnology center, advocates of the biotech trend at Carnegie Mellon say. Donald F. Smith (HNZ'94), vice president of economic development for both Carnegie Mellon and the University of Pittsburgh, notes that Pittsburgh is "the best of the rest" in the Brookings Institution study. Among the median metro areas, Pittsburgh receives the highest share of National Institutes of Health funding: $281.5 million in the year 2000. This is in large part due to the University of Pittsburgh Medical Center (UPMC) Health System, which, in 2000, ranked ninth among all institutions for the level of NIH funding. "It's the ability to leverage the intersection of IT, engineering and biology that gives Pittsburgh its extraordinary chance to succeed," Smith says.
To become a strong biotechnology center, a region needs not only a strong research presence but a flow of venture capital to new biotechnology businesses, the Brookings Institution report cautions. To move Pittsburgh toward that goal, leaders at Carnegie Mellon and the University of Pittsburgh launched an effort first known as BioVenture. That initiative has evolved into a nonprofit partnership called the Pittsburgh Life Sciences Greenhouse, which aims to attract and support new biotech companies and to invest in academic research. Like two other greenhouses in the state, it is funded in part with tobacco settlement money disbursed by the Commonwealth of Pennsylvania. Each of the greenhouses received a $33.3 million tobacco fund grant. Other funding comes from foundations and businesses.
Greenhouse grows a plan for Pittsburgh
To develop a strategic plan, the greenhouse commissioned a study by Battelle Memorial Institute, a technology solutions company in Cleveland, Ohio. Battelle's report predicts that Pittsburgh could become a significant player in biotechnology if it concentrates on the following four areas in which it is already prominent:
Drug discovery tools and targets: While it takes many years to develop a new drug and bring it to market, universities like Carnegie Mellon can do some of the early-stage work and then commercialize the tools they develop, such as software, molecular biology tools and instrumentation. Computational biologists at Carnegie Mellon can use the resource of the Pittsburgh Supercomputing Center to contribute to the analysis of data from the Human Genome Project. One area the university will specialize in is proteomics, the study of the protein products of genes and how they behave. Proteomics researchers in the Mellon College of Science are looking for distinctions among cancers so drugs can be targeted to an individual's specific disease, McCullough says. The knowledge researchers gain could lead to the development of medicines that would target particular proteins.
Tissue/organ engineering and regenerative medicine: Because of a scarcity of donors, transplantation is a limited solution to life-threatening illnesses. In the future, the organ deficit could be addressed by teaching the body to generate its own cells and tissues. In 2000, Carnegie Mellon established the Bone Tissue Engineering Center, where scientists are developing bone substitutes in the laboratory that could help children with malformed skulls and older people with bone fractures. (See "Carnegie Mellon and Pitt Center Works toward Growing Bones," summer, and the Web site, www.btec.cmu.edu.) The effort is led by Jeffrey Hollinger, who did groundbreaking bone graft surgery while on the faculty of Oregon Health Sciences University. "We can live longer, but we need to be able to live longer better, and I think tissue engineering is going to help us in that regard," Hollinger said at a Biomedical Engineering Research Panel at Carnegie Mellon, Sept. 17.
Medical devices and diagnostics: At Carnegie Mellon's Robotics Institute, many researchers are working on robots that will join doctors and nurses on the front lines of medicine. The institute has already spawned surgical robots, such as HipNav, which guides surgeons doing hip replacements, and an assisted living robot known as Nursebot. But Carnegie Mellon also has expertise in the development of miniature devices like biosensors. Weedn came to Carnegie Mellon to work with Kaigham J. Gabriel, Gary K. Fedder and other scientists on BioMEMS, microchip-based instruments that can sense and act as well as compute. Someday BioMEMS could be implanted in the body to diagnose, monitor and respond to illness. The new Biomedical Engineering Department is sure to generate still other devices.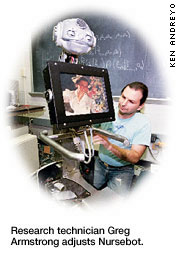 Therapeutic strategies for neurological and psychiatric disorders: Research projects at Carnegie Mellon reveal how normal brains function as they perform various tasks. Such knowledge makes it possible to develop devices that could benefit people with injuries or other limitations. "These interventions are like medicine in the sense that they produce a therapeutic benefit," says James L. McClelland, Carnegie Mellon's co-director of the Center for the Neural Basis of Cognition, a joint project with the University of Pittsburgh. An example is a robot that helps stroke victims rebuild strength in their limbs, adjusting its resistance to the need of the individual. "It's like weight training except the weights are smart, so they know when to be heavy or light," says McClelland,a psychology professor. The robot is the work of Yoky Matsuoka, an assistant professor at the Robotics Institute, Mechanical Engineering, the Center for the Neural Basis of Cognition and Biomedical Engineering.
At the Center for Cognitive Brain Imaging, another collaborative effort between Carnegie Mellon and the University of Pittsburgh, faculty use functional magnetic resonance imaging to discover which areas of the brain are active during various language and visual tasks. One research project led by center co-director Marcel Just is evaluating therapies designed to help people with brain injuries increase their language strategies and compensate for their reduced power to use and understand words.
Strategies designed to make an impact
"We're not doing everything. We're following the usual Carnegie Mellon model. We're going to be really, really good, the best in the world, in these specific areas," science dean McCullough says.
In all four areas of concentration, researchers at Carnegie Mellon hope their discoveries will spark commercial activity that will bring high-paid jobs to the region. The region already has about 60 biotech companies representing about 6,000 jobs, Smith says. Carnegie Mellon scientists launched several of them. They include Cellomics, a developer of software and equipment to test new drugs founded by Lans Taylor, adjunct professor, Biological Sciences; Sequel Genetics, a drug discovery company founded by Jonathan W. Jarvik, associate professor, Biological Sciences; and CASurgica, a developer of computer-assisted surgical tools founded by Anthony M. DiGioia III (E'79) and Branislav Jaramaz (E'92), both HipNav creators and research scientists who work in the Robotics Institute.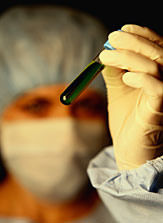 Last spring, Pittsburgh Life Sciences Greenhouse announced that it had attracted its first company to the region: Renal Solutions Inc., which makes a transportable kidney dialysis system. The jobs Renal Solutions brings with it from Indiana will become the first of a projected few thousand the greenhouse expects to add to the region in the next couple of years.
Waiting for biotech companies to become profitable requires more patience than anticipating the same from spinoffs in the field of information technology. "When a piece of software or hardware leaves the university on the IT side, in some cases it's only months away from being on the market," Smith says. But most biotech ideas "are still years away from being a commercial product, so there's a long development stage that goes on once they leave the university."
The Life Sciences Greenhouse will help those spinoffs each step of the way. It intends to offer funds to help Carnegie Mellon and the University of Pittsburgh recruit leading scientists and add laboratory space. New and existing start-ups will also receive greenhouse assistance with training, lab space and funding. An Executive Corps program will bring in managers who have biotech experience to guide local companies and assist them with the entrepreneurial side of their businesses. The greenhouse will strive to attract investors, including large pharmaceutical companies that could establish research and development centers in Pittsburgh.
The Pittsburgh Life Sciences Greenhouse is co-chaired by Carnegie Mellon President Jared L. Cohon and University of Pittsburgh Chancellor Mark A. Nordenberg, who recognize that their partnership is the key to success. "In today's world, it takes more than one institution for a region to compete," Weedn says.
Biotechnology is such a complex field that collaboration is essential at every level: among universities, companies, governments and scientific fields. Yet, science dean McCullough says, the patients who benefit from the scientific collaboration often fail to appreciate the scope of the research that went into lifesaving drugs and medical diagnostics. "'Thank God the doctors saved our lives,'" they say. But, McCullough says, "It's not only the doctors that have saved your life. It's the scientists that have helped to save your life. The doctors are implementing science and technology."
With research scientists across its colleges focused on biotechnology, Carnegie Mellon expects to continue launching initiatives that will not only save lives but improve the way people with health problems live.


---