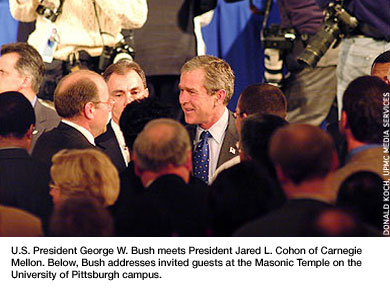 President Bush visits Oakland, greets university presidents

President George W. Bush came to town, Feb. 5, to promote his budget increases for U.S. security from $19.5 billion to $38 billion in a total budget of $2.1 trillion beginning Oct. 1.
Among invited guests in a meeting with the president at the Masonic Temple on the University of Pittsburgh campus were Carnegie Mellon President Jared L. Cohon and Pitt Chancellor Mark A. Nordenberg.
President Bush toured several UPMC (University of Pittsburgh Medical Center) labs, viewing microscopic images of anthrax bacilli and a demo of the Real-time Outbreak and Disease Surveillance System, a project of the Biomedical Security Institute, a Carnegie Mellon and Pitt initiative that provides data from 17 area hospitals. The system can give an early warning of biological or chemical attacks.
"Pittsburgh used to be called 'Steel Town,'" the president said. Now, he continued, "they need to call it 'Knowledge Town.'" He told the Masonic Temple audience, the Pittsburgh Post-Gazette reported, that Pittsburgh is "one of the country's leading centers on monitoring biological threats."


Elizabeth Delhagen works the Olympics

Any Carnegie Mellon connection at the Olympics in Salt Lake City in February? You bet. Sophomore Elizabeth Delhagen, still bubbling with excitement a month after the games, was one of two students in the nation selected by AT&T Wireless to make the Olympics fun for the younger generation. As if the rest of us weren't yukking it up over the skeleton and double-luge guys, not to mention the hissy fits on the ice rink.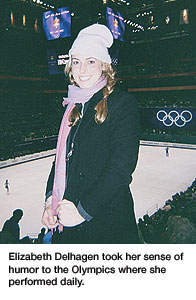 Delhagen, however, won an all-expenses-paid trip, including tickets to the opening ceremony, a pairs figure skating event and women's snow-boarding. Titled video jockeys, Delhagen and David Silver interviewed people coming and going from the port-o-potties. She appeared with her hair up in large pink curlers one night as she asked people about the mysterious sport of curling, wondering aloud if blow-drying should be added to the games, too. The 15 skits, featuring the video jockeys, appeared on AT&T Wireless's website.
It wasn't all a lark though.
"I'll never forget," says Delhagen, "when the American flag from the World Trade Center was brought into the stadium. It reminded me of what happened and of all the changes in our country since Sept. 11. It was moving." A Los Angeleno, Delhagen never experienced anything as cold as Utah. How cold? She told people she was going back to Pittsburgh to warm up—"as funny as it sounds."
Faculty excused Delhagen, a biology/psychology major, from class to attend the games. Though she considered a career in theater, she plans at the moment to go to medical school.
On a more serious side, a Real-time Outbreak and Disease Surveillance System, developed by Pitt and Carnegie Mellon, ran data from 40 emergency rooms in Utah during the Olympics, to provide an early detection and warning of bioterrorism.
Meanwhile, over at the International Olympic Museum in Lausanne, Switzerland, Burton Morris (A'86), a pop artist and illustrator, created an image for the International Olympic Committee. The piece, including a column, Olympic circles, stars and Morris' characteristic exploding border, will represent the Swiss museum on banners, invitations and in advertising for a year and then become part of its permanent collection. The hand-painted work on canvas measures 3 by 4 feet. Morris, who is based in Pittsburgh, shows internationally.


Hollywood hugs the man with "A Beautiful Mind"

John F. Nash Jr. is, no doubt, the only Carnegie Mellon alumnus ever to have his life captured in a Hollywood feature film. And such a film! It's garnered all sorts of awards, including Oscars for Best Picture of the Year, Best Director, Best Supporting Actress and Best Screenplay. And Nash (S'48) and his wife, Alicia, joined the Academy Award festivities at the Kodak Theatre in Los Angeles.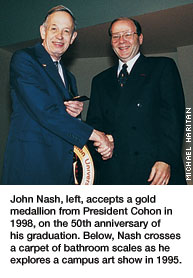 Based very loosely on Sylvia Nasar's unauthorized biography of the 1994 Nobel laureate in economic science, "A Beautiful Mind" shows the portrait of a socially inept but brilliant mathematician. It concentrates heavily on Nash's Princeton years when apparently he made his major contribution—after a light bulb went off in a bar one night about reevaluating some of 18th century economist Adam Smith's works.
Carnegie Tech, never mentioned in the film, appears to be the last place where Nash actually attended class. At Princeton, where he went to graduate school, he felt he was too busy trying to make a major contribution to the field to attend class. He was right.
It was also at Princeton, according to this fictional film version of his life, that he experienced the initial episodes of schizophrenia that plagued him most of his adult life. His efforts—and the valiant devotion of his former student and wife Alicia—are quite admirable.
The film's repetition of a practice of laying down your fountain pen in the refectory in honor of a superior faculty member is used very effectively. Natalie Lennon of Princeton's public relations department allows as the pen bit is strictly a "Hollywood creation. It's not done here. As far as we know, it's never happened here." But it's one of those fine touches: If it didn't happen, it should have.
Princeton comes off as a terribly humane university, nevertheless, for making room over the years for Nash, even if only in a corner of the library while he did war with his various demons. Nash still retains the title of senior research mathematician at Princeton.
Finally, despite the honor of receiving the Nobel, Nash evokes great sympathy for the tremendous obstacles he fought daily to come to terms with his disease. The little boy genius from Bluefield, W.Va., is an amazingly unlikely hero. But, nevertheless, a hero.


Swim teams rack up honors

Carnegie Mellon's swim team placed fourth in the NCAA Division III Men's Swimming and Diving Championships at Miami University in Oxford, Ohio, March 21-23. Sophomore Brian McCarthy placed first in the 200 individual medley (1:50.11). The Tartans set 13 school records.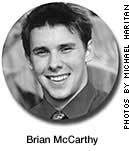 Both the men's and women's swimming teams finished second in the University Athletic Association Championships in Atlanta, Ga., Feb. 14-16. Led by Head Coach David Belowich, the Tartans set 11 school records, four UAA records, six NCAA Division III automatic qualifying times and 22 NCAA provisional qualifying times in Atlanta.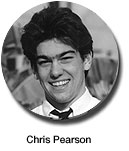 The Tartans posted a perfect 7-0 overall mark this season, and the Lady Tartans registered their best ever, 6-1. Freshman Chris Pearson captured two individual and two relay events to become the UAA Swimmer of the Year and Rookie of the Year. Pearson surpassed automatic qualifying standards for the NCAA Division III championships in three events. He set a UAA record and NCAA provisional qualifying times in winning the 200-yard freestyle with a time of 1:39.40 and the 500-yard free-style with a qualifying time of 4:26.75. Pearson placed third in the 500 freestyle with a time of 4:27.95 at the NCAA Championships.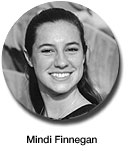 Freshman Mindi Finnegan earned the UAA Diver of the Year title after registering top honors and setting the UAA record in one-meter diving (405.30). She took home a second place finish in the three-meter dive (410.80).

Basketball, Brady break records

The women's basketball team ended the season, etching two new records in the Tartan record book, including an individual season record and a team single game record.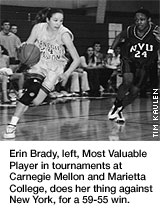 Junior Erin Brady made Carnegie Mellon history when she set a new season record with a .842 free throw percentage. Brady made 48 of 57 free throw shots this season and surpassed Lisa Lightner Georgiana (HS'89), who had a .840 percentage, making 42 of 50 during the 1987-88 season. The team also set a single game record, totaling 30 assists against Chatham College, winning 96-22.
The Tartans posted a 14-11 overall mark and a 4-10 University Athletic Association slate. Junior guard Michelle Sodini earned all-conference first team honors. Erin Brady placed on the all-conference second team, and sophomore Carissa Sain received an honorable mention.

Carnegie Mellon opens West Coast campus

Carnegie Mellon's West Coast campus in California's Silicon Valley will employ a story-centered curriculum when it offers its first classes this fall.
What does this mean exactly?
It's clearly not like nursery school where you curl up with your teacher who reads you a storybook. Students enrolled in the master's programs in software engineering, electronic commerce and information management will take on the role they are aiming at in the real world—whether it's manager of e-commerce, software engineering or information. They will set up simulated companies and learn skills through practice. They will work on real projects with each other and receive one-on-one mentoring from faculty in the valley and in Pittsburgh.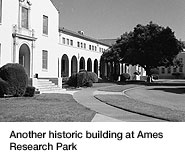 The full-time master's programs, with a tuition of $13,200 per semester, can be completed in a year or three semesters.
The West Coast campus is located at the NASA Ames Research Park in Moffett Field, Calif.
Raj Reddy, the Herbert A. Simon University professor of computer science and robotics in Carnegie Mellon's School of Computer Science, is director of the West Coast campus. Reddy is a recipient of the A.M. Turing Award for his work in artificial intelligence and human-computer interaction and a founding director of the Robotics Institute.
This summer the campus will offer a seven-week robotics camp for high schoolers. The course will introduce students to the mechanics, electronics and computer science of robotics. They will build, program and operate vision-based mobile robots. They will also get to take home the robots they build to continue exploring on their own.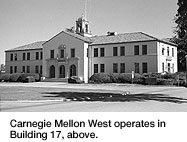 Carnegie Mellon made its initial foray into Silicon Valley, where close to 2,740 alumni work, in 1999 with establishment, along with 15 major information technology companies, of a High Dependability Computing Consortium with NASA to address dependability of computer systems used in such critical areas as space missions, defense, health care and e-commerce.
In January, NASA's Ames Research Center agreed to award $23.3 million to Carnegie Mellon's School of Computer Science to develop a High-Dependability Computing Program to improve the space agency's ability to make dependable software. The initial grant of $2.9 million will go to both the Pittsburgh and West Coast campuses and other universities functioning as subcontractors. Chief investigators on the program are William L. Scherlis, principal research scientist in Carnegie Mellon's Institute for Software Research International, and James H. Morris (S'63), professor and dean of the School of Computer Science.
Brian K. Reid (S'81), a systems expert, became the first full-time faculty member of the West Coast campus. Reid made breakthroughs in networked print service, financial information for stockbrokers, data broadcasting for major stock exchanges, real-time election results and dependable computer networks.


Physics honors Roger Sutton


The Physics Department dedicated the Roger B. Sutton Undergraduate Physics Laboratory in November in honor of the late emeritus physics professor. Professor Sutton died, June 2, 2000. He worked on the atomic bomb at Los Alamos Laboratories before joining the Carnegie Tech faculty in 1946. He was present at Alamogordo, N.M., as a technical consultant on the explosion of the first atomic bomb. He was co-designer, builder and director of the school's Nuclear Research Center in Saxonburg, Pa. The synchrocyclotron there and support from the Atomic Energy Commission made the center one of Tech's most important and most heavily financed research areas at the time.

When people get bugged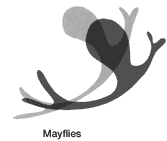 The bugs are back, and people are excited about it. Last June, for the first time in 105 years, mayflies hatched and flew from Pittsburgh's rivers. Stephanie Flom, a research fellow in Carnegie Mellon's STUDIO for Creative Inquiry, and founder/director of the Persephone Project, cut out and displayed 147 mayfly-inspired silhouettes in an exhibit at the Brew House Gallery 101. She's now peddling those pieces to support the Persephone Project. The project hopes to promote gardening as an art form, starting with Frank Curto Park along Bigelow Boulevard, home of a flock of turkeys—always a big hit, though not literally, with drivers whizzing by. Artists will install the gardens. In a separate neighborhood garden project, the group will ask people to donate plants from their own gardens.

For information, contact sflom@andrew.cmu.edu.


---
> Back to the top
> Back to Carnegie Mellon Magazine Home