Borofsky interview appreciated

I thoroughly enjoyed reading your article on Jonathan Borofsky (spring). It was great to see such a significant interview on a great artist alumnus. Thank you for bringing that direction to the magazine.
When I was at Carnegie Mellon, the legacy of Andy Warhol (A'49), Philip Pearlstein (A'49) and Jonathan Borofsky (A'64) was spoken of as if each generation had its leaders or visionaries who would make their way to full expression and a larger prominence within the larger world. I made a goal of joining that list in a personal way—and perhaps in an unconscious way—by synthesizing some of the strategies of those three art giants.
Now, while prepping for my first New York solo show, I was reminded of those Carnegie Mellon days, that aspiration and all the work I have cut out for me as well. I was in the pilot innovative art program [begun by] Bryan Rogers [Art School head from 1988 to 2000]. It was a great influence on my broad-range working process. I hope to make newsworthy progress in the near future.
Patrick C. Meagher A'95
New York, N.Y.


Poetic license

I was struck by line five in Erin Fried's poem "Artemis," spring. It reads "She wasn't much older than me...." According to my reference books, it would be grammatically correct to write "older than I." I'm not being critical. I am very curious about when and how rules of grammar can be stretched. Is it only in poetry?
I enjoyed the poem, and my husband, Claude C. Smith III (HS'78), and I always enjoy the magazine.
Elaine Skwirut Smith HS'75
Ada, Ohio


Update on the windmills

I was pleased to learn, several months ago, that Carnegie Mellon would be buying power from the Mill Run, Pa., wind power project. I am a project manager at Enron Wind, the company that manufactured and installed the ten 1.5-megawatt turbines at Mill Run as well as the six 1.5-megawatt turbines at Somerset.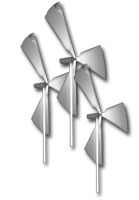 I also enjoyed the short article in News, spring, discussing the university's commitment to purchasing wind power. However, I had to smile at the photo that accompanied the article. It shows what appears to be a large site in California composed of very small turbines that were probably installed about 20 years ago. While these machines were, at one time, state-of-the-art, our current products look much different. I have attached a couple of photos. [Detail of one is replicated above.] These modern turbines, and these installations in particular, are cleaner in appearance. To me they are even beautiful.
Rain Byars E'97
Tehachapi, Calif.


Where's the garden?

The photo of the "Man with Briefcase" (spring cover) is said to be located at the General Foods Sculpture Garden in Minneapolis, Minn. I would like to know where this garden is.
The issue was outstanding. Read it from cover to cover as I always do.
David A. Maggitt PE'88
Minneapolis, Minn.


Salute General Mills

The cover of the latest spring magazine shows the "Man with Briefcase" sculpture. The cover reference refers to its location at General Foods when in fact it is on General Mills property. Obviously, our name is too general. Thanks for the front cover. It's not really a garden but more the grounds of General Mills' campus. It's extremely easy to pull into our parking lot and walk 50 steps to it.
Bob Waldron IM'85
Minneapolis, Minn.
The writer is president of Yoplait at
General Mills Inc.—Editor


Hidden village

Both my wife and I grew up in Pittsburgh and traveled most of the city by trolley and auto, but we never heard of Chatham Village. A search of the Internet gave lots of results, but none describing Chatham Village. Do you know of a Web site that describes Chatham Village? We would be particularly interested in drawings, photos or site plans.
Charles Eardley E'50
Houston, Texas
Chatham Village is one of Pittsburgh's best kept secrets. See www.chathamvillagehomes.com. Carnegie Mellon Architecture Archives houses the original village architectural drawings.
—Editor


Pleased with Sept. 11 coverage

I am happy to see that the spring issue devoted coverage to Sept. 11 and faculty contributions to the anti-terrorist cause.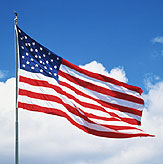 Two years ago, I was working for the Marine Corps at the Pentagon. I attended meetings in the [destroyed] space. I wonder how many alumni work, directly or indirectly, for our new reality of the new century. Government, industry, nonprofits and others all have roles. I now work as an operations research analyst for the U.S. Coast Guard, forecasting work force trends: for example, our ability to hire maritime security personnel.
Thomas A. Weiland HNZ'85
Vienna, Va.


Apologize, please

In the spring issue, p. 25, there is a sidebar titled "War Sparks Activism on Campus." We are almost six months into that war. Newspaper headlines are talking about the start of school in Afghanistan. Girls along with boys are rushing to class to get an education. The joy of the pictures makes me proud to be an American. This war has been one of liberation, not oppression or wanton destruction. I was always confident such would be the outcome because the United States always has been and remains the world's major force for freedom and hope. That is why people want to come to America.
I now wonder if the activists who started that anti-war rally, motivated by a lack of trust in and understanding of America, are ready to stage rallies supporting the liberation of Afghanistan and the achievement of a return of freedom and equality for women in that country. I would expect the protest leader to issue an apology, tell us he was wrong and support America as it seeks to liberate other people in the world facing the suppression of brutal dictators or religious extremists who pursue policies intended to bring harm not only to the citizens of their country but ours and others as well.
Jake Boomhouwer E'68
Laguna Niguel, Calif.
The sidebar was about a pro-peace rally, not an anti-war rally.
—Editor


Women and the military

I was just flipping through the spring issue and am disturbed by the response given to Mary Ann Turnquist Lambertsen (MM'61) in reference to women serving in combat roles in the military. While your response is technically correct, I would encourage you not to underestimate the role women play in the military both as officers and enlisted personnel.
I am speaking from firsthand experience and knowledge with four years of service as an officer in the U.S. Army Corps of Engineers. [I would like] to credit three amazing women who fill positions that may put them directly in harm's way. All are captains in the U.S. Army. One serves as an Apache pilot (yes, a combat aircraft); another is a company commander in a combat engineer battalion; and a third is in operational security. These women—and many others who are wives, sisters, daughters and friends—are an amazing asset to the military. Their contribution should not be diminished because they are not directly behind a rifle.
Ashli Thompson Slawter A'96
Southern Pines, N.C.


More car talk

I am not sure that Michael Stavish (E'51), Mail, spring, understands the difference between "economy" and "efficiency." The auto industry has not, nor are we requesting to "stand still" on fuel efficiency. The fuel efficiency of autos has improved at about three percent annually. The difficulty lies in translating that efficiency into greater economy (measured across a fleet) when consumer and regulatory demands push manufacturers to make heavier and bigger vehicles.
Last year, consumers bought more pickups, minivans and SUVs than passenger cars. In 36 states, consumers buy more light trucks than cars. There are more than 50 vehicle models available that get more than 30 miles per gallon.
Some critics believe that auto makers have a "secret carburetor" that will allow us to increase fuel economy for light trucks. Several members of Congress insist that auto makers should be required to increase the fuel economy of fleets by more than 50 percent. This is not possible without halting production of light trucks.
Any of us would move to market with an innovation that could give us a competitive advantage. In the interim, consumers should be able to choose the products that meet their needs. A large family will have a hard time packing up the kids for vacation or car-pool if they can no longer buy a minivan.
Jake Jones HNZ'92
Washington, D.C.


Winning trio

In 1939, the Allegheny County Civic Club ran its test of high school seniors to identify "exceptionally able youths" for scholarships at local colleges. I kept a newspaper clipping reporting the results. I came in fifth out of 768 contestants. Ted Burtis (E'43) and Walt Haller (PM'43) tied for second. We all ended up in the Class of '43 at Carnegie Tech. Now Walt and Ted have been named together once again, this time in the Alumni Deaths listing in the spring magazine.
Donald C. Scheline E'43
Houston, Texas


---
> Back to the top
> Back to Carnegie Mellon Magazine Home