Videos about Work and Workers
What Can Students Learn From a Pittsburgh Steelworker?
To prepare students to operate in the real world, whether local or global, Paul Goodman and Denise Rousseau bring those worlds to the classroom through videos.
By Ann Curran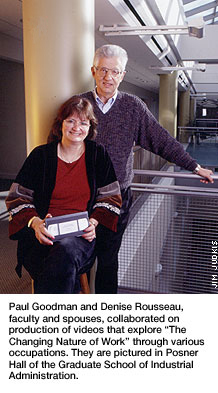 A Pittsburgh steelworker is making appearances at Carnegie Mellon and at 150 other universities across the globe. Like his grandfather and father before him, he works at Edgewater Steel Company in Oakmont, Pa. He fixes broken things all over the plant. He picked his job for the variety it offers. He talks about the "great camaraderie working in a place like this." He pushes himself to be a better mechanic even when others are standing around, slacking off, drinking coffee. He laments that the industry has collapsed; the company has changed ownership too often; it's failed to invest in the plant; it erred in putting its profits into a non-union facility down south. He's worked 30 years at Edgewater and says the retirement benefits are terrible. "I could never survive on the money." As it is, he can't live on the money he's earning. He "can't take a vacation." He "can't go out once or twice a week." He "can't afford to play golf."
This millwright doesn't appear live in a Graduate School of Industrial Administration classroom at Carnegie Mellon or in classrooms from the U.S. to Japan, from France, Ireland and Germany to Chile. He comes courtesy of a short video produced and directed by Paul S. Goodman, the Richard M. Cyert professor of organizational psychology in the business school, and Denise T. Rousseau, the H. J. Heinz II professor in the Heinz School. The pair worked with consultants/photographers Ralph Vituccio and Tom Clancy at Carnegie Mellon in making the series.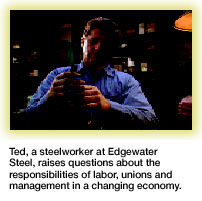 The "Steelworker" video is part of a series called "The Changing Nature of Work," purchased by some of Goodman and Rousseau's customers for use in assorted courses such as business, sociology, psychology, social work and nursing. The videos range from 15 to 30 minutes in length and sell for $80 to $100.
Goodman and Rousseau, a married couple, followed an instinct to bring the "real world" into the classroom over a dozen years ago. Since, they have produced close to 20 videos focused on individual workers, similar to Studs Terkel's book "Working: People Talk About What They Do All Day and How They Feel About What They Do." Goodman sees Brazilian photographer Sebastian Salgado's "Images of Brazilian Workers" as a major influence in his work. The videos include "Waitress," "Nurse," "Lobstermen," "University President" (it's Carnegie Mellon's late President Richard M. Cyert); "Stone Carver," among others. The videos have focused, too, on groups of workers: "Chinese String Quartet," "Chamber Music Quartet," "CERT" (formerly known as the computer emergency response team at Carnegie Mellon), "Rowing in an Eight" (women's crew at Cornell University).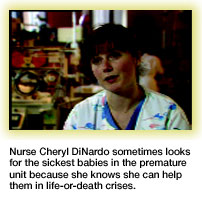 Other videos developed by the academic couple for their own mom-and-pop sideline examine more typical business school fare: a Mexican specialty steel company; organizational change with Rousseau as the on-camera teacher; managing in China; a plant closing in Pittsburgh.
Bernie Leppold, a part-time university employee, handles the business end on her own time. When orders come in, she calls up New Media Inc., Downtown; they dupe the video and send it out to customers along with the teachers' notes and a guide to the Web page (www.workvideos.com). The hardest part of the business, says Rousseau, "is figuring out how to put in the credit card information when you're just a family business. They keep changing the software."
Only recently has the couple branched into full-length documentaries, beginning with one on a unique group of workers called "Dabbawallas" in Mumbai, India. They're aiming this longer work (see sidebar) at a general audience.
So what do students learn from the steelworker?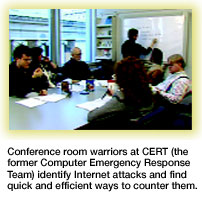 "It's important for students who are thinking about the new economy to understand workers who have committed their lives to an organization," says Goodman, who early in his career studied coal mining crews in the U.S. "It's also a good example for middle-class and upper-middle-class students to realize that workers like that are actually very articulate about economics and what's going on in the marketplace." And, he observes, listening to the steelworker helps to erase some of the stereotypes students might have about such workers. One of Goodman's customers, Terri L. Griffith, management professor at Santa Clara University, agrees. She teaches intrinsic motivation and equity theory with the video and finds students "are surprised to see the love this guy has for his work and the challenge of learning something new."
Nurse video shows an expert at work
Rousseau contends that it's easier to get ideas across and "apply classroom knowledge to practice" when it's seen in context. She likes to use the "Nurse" video about Cheryl DiNardo, who works in an intensive care unit with infants at risk in Pittsburgh's Mercy Hospital.
"Everybody knows what a nurse does," she says. Rousseau can use the video with "people who have incredibly varied organizational experience from zero to maybe a 30-year career."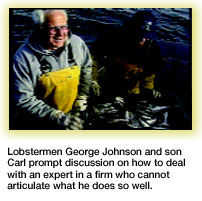 Such a range of experience is not infrequent among Heinz School students, Rousseau says. There are students who have worked as managers for many years, and there are others "who have been students all their lives.... Maybe they've been sent by their government overseas to get some training before they go to work in that government."
The nurse, clearly an expert, works in a field that has changed over the years. Nurses have more responsibility, more authority than in the past, the video details. This nurse knows her actions on the job are often "a matter of life and death." But she also knows, "I can do a good job with a child [in danger of] dying. I know exactly what to do." She prides herself on taking the extra step, doing more than is expected, "making sure parents understand how the kid is doing." She knows, too, that for self-preservation, "when you walk out the door, you leave this behind."
Rousseau writes the teachers' notes that accompany each video. They guide professors to use the videos in multiple ways. Goodman refers to his wife as "one of the best teachers in this university, without question," and her students use adjectives such as "energetic" and "enthusiastic" in describing her. "I might see a video [as illustrating] autonomy and control," says Rousseau. "Somebody else sees it reflecting standards of excellence. Somebody else might see conflicts. Somebody else might see an important issue in training a nurse."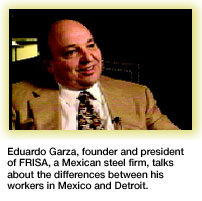 Students working with the nurse video could easily examine stress management, the burnout rate for nurses as well as others in demanding jobs (executives, air traffic controllers, Pittsburgh Steelers, etc.). They might discuss what causes burnout and ways to avoid it. Rousseau is modest about her involvement in the project. "I'm basically sort of like the trampoline for him [Goodman] to bounce ideas off of, and from time to time I suggest, 'Wouldn't this be great if we had a film on x?'" Many of their films are shot in Pittsburgh; others, at places Goodman has traveled to for the university.
Rousseau used the video "Plant Closing" in her Organizational Change course to typify the breaking of a psychological contract. Workers at Nabisco, a cracker/cookie producing company in Pittsburgh, who thought they had "a job for life," found out by reading the newspaper that their plant was closing. Tara Trapani, who took Rousseau's course, said she learned from the video that before the closing, "management listened to workers and gave incentives" for suggestions on how to improve. Costs were cut; production was up. In fact, on the day the plant closed, the company was operating at 105 or 106 percent of production, Goodman adds. Trapani said she was "extremely moved, angered and outraged" by the company's decision to close without informing employees. Both she and classmate Bridget M. Jakub planned to boycott Nabisco products made at other locations. As future managers, both students learned to look at actions from the point of view of the worker.
Policing the Internet is a new kind of job
Besides looking at very traditional kinds of occupations, the videos also explore jobs that "are very new and very different," says Goodman. While the nurse's position is traditional, she is "working in an environment that's loaded with technology."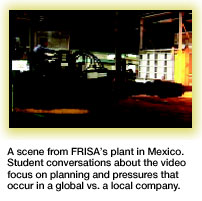 Even more non-traditional is the CERT team at the Software Engineering Institute at Carnegie Mellon. Its job—Internet security—did not exist a decade or so ago, says Goodman. "They're working with people all over the world. And they are a group. "Groups are essential and important aspects of organizational life for many organizations. They are what they call building blocks," says Goodman. In the CERT video, half a dozen people, from a public relations guy to a software engineer, prepare to send out an advisory, basically to the world, on the latest bug attacking the Internet. This one, called the "Password Sniffer," ferrets out identifications and passwords. The trick in issuing an advisory is to warn, give enough information so that users and networks can protect themselves against the Sniffer, but not enough information that it could be misused to complicate the problem. It's a fine and furtive line. Depending on the nature of the attack, the composition of the CERT team can change.
Rousseau has used the "CERT" video in many different ways: for managing across boundaries (among people with different disciplines); group decision-making; managing a meeting; handling conflict. "And, if I frame it correctly," she notes, "the students will come up learning things that I didn't see but that reflect their own experiences and generate conversations in the classroom. It applies the concepts that we're talking about in class but also works the students' experience and then the new experience in the film. It's so cool!" says Rousseau. "It's always different."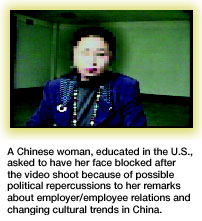 The couple made two videos on Maine lobstermen, the father- and-son team of George and Carl Johnson. In the first video, Goodman ran into—as he often does—the unexpected: what he describes as the difference between explicit and tacit knowledge. (Explicit, you can share; tacit is Grandma's unmeasured recipe that nobody can duplicate.) The son tells Goodman, "I'm out with him [his father] every day. We set these traps the day before.
We're pulling in the traps. Then he goes to another place and doesn't pull them out. And I have no idea why."
In a follow-up video, "Lobstermen II," the father and son install a Global Positioning System in their boat. This means they can go out in fog or at night and find their 1,500 traps. It also means there's a computer record of where the traps are placed, the date when they are set, when they are pulled out, what the yield is. As a result of the application of technology to the task of lobstering, the son can construct a spreadsheet from the information gathered and learn a lot more about the knowledge that his father has but really can't explain. On the fourth day after installation of GPS, the Johnsons hauled in $1,000 worth of lobster.
Some videos expand global awareness
Putting on his newest hat as director of the Institute for Strategic Development, which is linking Carnegie Mellon with partners in Mexico, Latin America, India and South Africa, Goodman observes, "American students basically don't learn a lot about global issues. They may see them in the paper. Only a small percentage of our students travel abroad. As part of my other role in the university, I've tried to create technological ways that students interact and work with students in other countries. The education isn't as global as it might be. I have two children in college still, and when they leave I want them to be not just a good chemist or a good linguist. I want them to have some greater appreciation of global issues." As a result of his efforts to connect the university to other nations and travels to those locations, Goodman and Rousseau have made videos that open other worlds to viewers.
While Goodman and Rousseau were guest-teaching at the Nanyang Technological University in Singapore, people there knew they had already made a video about Cuarteto Latinoamericano, a string quartet in residence at Carnegie Mellon's School of Music. So they were invited to make a similar video about the Huqin Quartet, a Chinese group. Goodman found the Chinese quartet to have a distinct entrepreneurial spirit, reflecting the buzzing economy in Singapore. They were not playing traditional music or instruments. Goodman suspects the quartet's method of work might resemble "what work will be like in the future. A string quartet only works maybe once a week. They spend most of their time practicing.... They are not coming to work every day, five days a week, at a particular time. Other times they are thinking, reading or practicing." Even more than many working teams, a quartet must set aside its personal differences and work as one. The beauty is in the blend.
Some of the working videos focus students' attention outside of the U.S.
The Mexican video, "Doing Business in the U.S. and Mexico," is set at FRISA, a specialty steel company in Monterrey, Mexico. With this company, global relations are imperative. Only 10 percent of its products are sold in Mexico. The video contrasts the work force at FRISA versus a similar group in the U.S. The Mexican workers come from the countryside. Workers and their supervisors are often people who grew up together. As a result there's less of a line between them, even though there's a greater disparity in wages. And there's closer supervision of workers. Some workers have not completed primary or secondary school and take classes at the workplace. The company president says his workers "want their children to have a better life." He describes one worker who completed his primary school work and was pleased that he could now help his children with their homework. If you subtract the accent from the Mexican company president, Goodman says, "the way he talked about the customer, what he did about the customer, how responsive he was, that should be said by any good manager anywhere.... That's a generalizable thought that would cross all kinds of cultures."
Only in one videotape did Goodman and Rousseau have to apply some censorship. In "Reflections on Changes in China," they interviewed a Chinese woman who was educated in the U.S. and worked for a Chinese firm. When she went back to China to work, she was stunned by the fact that employees were not expected ever to challenge employers. "After we had shot the film, she came back the next day, crying," says Goodman. The woman said, "I told my parents what I did. Can't you block my face?" The videographer did that, and Goodman says it "actually makes it more powerful." The woman's comments suggest that rules and regulations within the company can bend "under the table"; that "everybody is talking about money and how they can get rich.... They are more consumer-oriented." Previously, the family prevailed; "now there are divorces and remarriages."
Goodman made his first video at age 14. His decade of making short educational films has led, perhaps inevitably, to the production of "a stand-alone piece that is a story that can be informative to people." It's called "The Dabbawallas," a group of 4,000 men who deliver 100,000 lunches from private homes to workplaces each working day all over Mumbai, India. Goodman is always on the lookout for interesting forms of work. He heard about the dabbawallas on a visit to Mumbai. An Indian producer helped the couple connect with the group.
But the educational videos continue. The couple is focusing on migrant workers picking blueberries in Maine. Yes, Goodman and Rousseau have an affinity for Maine. They were married on Eagle Island there. The blueberry pickers will raise questions "about marginal workers and social responsibilities." And Goodman is busy planning another documentary. This time on one of the work groups that stages Rio de Janeiro's annual pre-Lenten explosion of merriment, music, dance and madness called Carnevale.


Ordering in in Mumbai, India, from the Dabbawallas
What could a high-tech nation, addicted to remotes, smart cars, intelligent buildings and Internet saturation, learn from a group of 4,000 hard-working but mostly illiterate guys in India who deliver 100,000 lunches every working day using bikes, racks and trains?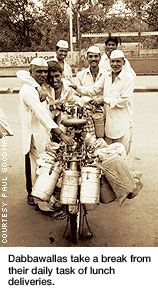 Plenty apparently, says Paul S. Goodman, who along with Denise Rousseau, has produced and directed their first full-length documentary, called "Dabbawallas," aimed at educational stations in the U.S. and abroad. The word "dabbawalla" translates from Marathi as "box person" and describes people who pick up lunches made in an employee's home, take them to workplaces all over Mumbai, India, collect the empties and take them home again each day.
The demand for such a service springs from several causes. Some 11 million workers crowd the trains into Mumbai. There is literally no room to carry anything. Many cannot afford to go out to lunch. Some workers are vegetarians for religious reasons. Some could not eat a meal prepared by someone of a different caste.
The system works because Mumbai has a dependable rail system running north to south through the city of 16 million. The dabbawallas maintain a lunch delivery system that has worked effectively for over 100 years with an amazing degree of success even though the workers do not use cell phones, computer tracking systems, big highways, etc.
Each dabbawalla will pick up some 35 lunch boxes from workers' homes and apartments and attach them to his bike. The containers carry codes indicating the dabbawalla, where it goes, what floor, rail station and place of origin. They are sorted several times, right on the busy street, before they're carried to the train on racks.
Although many people in Mumbai literally live in impromptu slums on the streets, the dabbawallas earn enough to have "a place of their own. Their own stove...a place to sleep. Their own privacy," says Goodman.
Their company, the Tiffin Box Association, helps them financially at critical times—when they're getting married, buying a house, educating their children. In addition, says Goodman, "providing food to people is seen as an important spiritual thing to do," so that adds status to the dabbawallas' job, as do the hats they wear.
The system works, too, because customers do not move frequently. Customers may remain the same over 10 or 15 years. In addition, the dabbawallas are organized into small groups of 20 to 25 with a leader and specific customers. "They're oriented toward their own job and their customers. They're oriented toward the group they belong to. Some groups come from the same rural village. And they're also oriented or identified with the company as a whole," notes Goodman. "Those three links make it a powerful system." It's a big-time buy-in, plus regular pay and status. Goodman sees these relationships and the effectiveness of the dabbawallas as instructive.
The dabbawallas gather in their office monthly to settle disputes from customers or between dabbawallas. The company president, the first ever to have a college degree, hears and settles arguments. Part of the dabbawalla creed decrees that "if 25 customers complain, the group [of dabbawallas] is thrown out of the organization." Everyone fears the organization.
The office space also provides a place for religious worship. And even with a net income of 4,000 to 5,000 rupees a month (about $100), the dabbawallas can help family members in their home villages and set aside savings to buy a home.
Customers pay about 180 rupees or $4 per month for the delivery service. About 10 rupees a month go to the organization from each worker. Some of this is used for charity or for helping a member in need.
The dabbawallas control the business and the quality of the business themselves. Their job depends on keeping customers happy. So far, they have an extraordinary rate of success, hovering near 96 percent. That means on average 96 out of every 100 customers get exactly what they want each day. As Goodman puts it, the dabbawallas get those lunches "to the right people at the right time virtually all the time."
---
> Back to the top
> Back to Carnegie Mellon Magazine Home