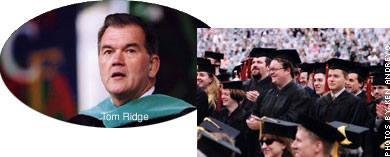 Homeland Security Director Tom Ridge addresses graduates


When Americans are not out buying new SUVs or crying in their Rolling Rock over their declining stocks, they still react in sudden silence at any mention of 9/11. You could hear it at the 105th Carnegie Mellon commencement, May 19, on the field at Gesling Stadium when Tom Ridge, director of homeland security, addressed the 1,880 graduates under dark and occasionally weeping skies. "Our world changed forever on Sept. 11," Ridge said. The silence of riveted attention, the silence of watching while a bandage comes off an old wound, hushed the stadium.
The former Pennsylvania governor told the crowd of 9,000 graduates, their families and friends that "we need to apply science and technology to our homeland security efforts." He noted that "homeland security requires a new way of governing.... The only turf we should be worried about defending is the one we stand upon." He stressed the need for a "technology revolution to transform the threat to homeland security into a new era of innovation." He said, "Our enemies view our freedom and openness as weaknesses. We must secure our homeland without compromising the freedoms and spirit of enterprise that define us as a nation."
"In closing," he joked, that "those are the two most cherished words uttered by any commencement speaker." He brought the talk down to the level of daily living, saying the titles that mean the most to him are "father, husband and friend. Take time to enjoy life, to love those closest to you and to be there for them," he advised.
In a roundtable discussion with reporters following the graduation ceremonies, Ridge said that all the government organizations with security functions could never fit under a single umbrella. The departments of State and Defense, for example. Some organizations, he said, don't always share information with each other because "there have been prohibitions against sharing."
He reminded the reporters that he was sworn in Oct. 8, had "not seen any intelligence reports pre-Oct. 8," and then faced "the anthrax murders." However, he expected to present a national strategy to the president by July 1, a short nine months after taking office. Three and a half weeks after commencement, President Bush announced his plan to elevate the Office of Homeland Security to Cabinet level.
"It's not a question of if they'll strike us again," Ridge acknowledged to reporters. He admits what everyone knows: "Any public space or private space is potentially a target." —Ann Curran


Cancer research project launched

The Pennsylvania Department of Health has announced that Carnegie Mellon and Dickinson College will receive $3.5 million over four years to create a more exact way to identify cancer subtypes.
The grant is part of the state's tobacco settlement funds earmarked for research. The project, Integrated Protein Informatics for Cancer Research, deals with cancer classification and treatment using biochemical technologies and advanced computational techniques. The team will examine proteins in 60 cancers to determine subtypes of each cancer. Researchers contend that identification of subtypes will allow for more exact treatment of cancers.


Melissa Martin scores with first film

Film director Melissa Martin (A'93) has put Pittsburgh on the map with her independent film "The Bread, My Sweet." Turned down by the Sundance Film Festival, the film went on to win Best Drama Feature, Santa Monica International Film Festival; Grand Jury Award-Best of Show and Compaq Independent Vision Award at Worldfest, Houston; Best Dramatic Feature at the Marco Island Film Festival; and Best Actor for Scott Baio at the Atlantic City Film Festival and the Halfway to Hollywood Film Festival in Kansas City.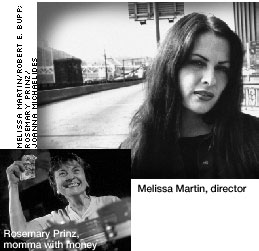 Set mainly in Pittsburgh's Strip District at the landmark Enrico's biscotti bakery, it's basically an Italian family drama, which means there's lots of shouting, tons of food, traditional religion, heartbreak and happiness, entwined like a pretzel.
The three brothers who run the bakery have become like sons to the old Italian couple living upstairs. Their only child, a daughter, went to the Peace Corps and never came back. Meanwhile, Momma (Rosemary Prinz) stuffs coffee cans with cash to pay for the daughter's eventual wedding. Obvious choice is the good-looking baker downstairs who also plays senior vice president in a firm downtown, where people eat prepackaged snacks that really annoy him. Good fresh bread is the cure-all. And in Italian culture, a good man is a piece of bread.
The Strip and the city are stunning in this film—even the mess of wires overhead. The little alleyways between houses have a truly authentic ring. The appearance of a Hollywood nun (about the only ones that still dress in black-and-white garb) is the sole false note in the film.
You'll want a bag of biscotti or at least a loaf of bread warm from the oven after seeing the film. So stock up.
Meanwhile, director Martin is spending seven days a week getting the film distributed. "The whole independent film scene has changed since we started this," she says. It used to be distributors would get advances; now there is nothing. In addition, Sept. 11 has affected people traveling to festivals and learning about new films.
That hasn't discouraged Martin though. She converted her master's thesis play, "The Shriveled Arm of Uma Kimball," for film. It's her next project.
More at www.whoknewproductions.com —Ann Curran


Joe Manganiello Bullies Spider-Man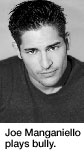 It might seem a little disloyal for a student at a high-tech university to appear in a film whose villain is a nanotechnologist. That didn't stop Joe Manganiello (A'00*) from accepting a role in the blockbuster film,"Spider-Man." He auditioned in June 2000, while out in Los Angeles with other senior drama students for their traditional "Showcase of New Talent."
Manganiello plays Eugene "Flash" Thompson, a high school bully who takes a food tray on the back of the head when Peter Parker/Spider-Man (Tobey Maguire) begins using his newfound web-slinging powers. The actor's mother, Susan Manganiello, invited a few hundred people to celebrate his role at a screening party at South Hills Village Theater, May 5. Every time Joe Manganiello appeared on screen, his guests applauded and hooted.
"Sometimes it gets tough playing a despicable character," he says. "As a person, you want people to like you." He had initially tried out for the role of Spider-Man but says his height, 6 foot 5, destines him to play some bullies. "You need somebody bigger than the hero. Otherwise, no big deal if the hero beats up somebody smaller than him."
Although he harbors dreams of success, "I could never have foreseen the magnitude of this," he says. His next role is in "Disenchanted Kingdom," an independent film by Matthew T. Hencke (A'02). Manganiello plays the main character's deranged boyfriend. —Ruth Hammond


Blowing our own horn

Cristina H. Amon, the Raymond J. Lane distinguished professor of mechanical engineering and director of the Institute for Complex Engineered Systems, accepted the Ralph Coats Roe Award from the Mechanical Engineering Division of the American Society for Engineering Education.
John R. Anderson, a leader in the creation of computer tutors in math, was named the R. K. Mellon university professor of psychology and computer science.
Named "University Professors," the highest honor bestowed on Carnegie Mellon faculty, were Guy C. Berry, professor of chemistry and polymer science; Gérard P. Cornuéjols, the Ford distinguished research professor, Graduate School of Industrial Administration; and Elizabeth W. Jones, the Dr. Frederick A. Schwertz distinguished professor of life sciences and head, Biological Sciences Department.
Manuel Blum, the Bruce Nelson professor of computer science, was elected to the National Academy of Sciences.
Aksel Bothner-By, university professor of chemistry, emeritus, received the Gunther Laukien Prize for his nuclear magnetic resonance research at a meeting of the 43rd Nuclear Magnetic Resonance Conference in Santa Fe.
Technology Review magazine, published by Massachusetts Institute of Technology, selected Carnegie Mellon's Howie Choset, associate professor of mechanical engineering, as one of the world's 100 Top Young Innovators for his work with the snake robot, designed for urban search and rescue and structure inspections, and his work with other robots designed to remove land mines.
Terry Collins, a leader in green chemistry, has become the Thomas Lord professor of chemistry.
Jim Daniels, poet, professor and director of the Creative Writing Program, managed to bring out three books of poetry in March: "Night with Drive-By Shooting Stars" and two chapbooks, "Digger's Blues" and "Greatest Hits."
Robyn M. Dawes, the Charles J. Queenan Jr. university professor, Social and Decision Sciences, was elected a fellow of the American Academy of Arts and Sciences.
Sara Kiesler, professor, Human-Computer Interaction Institute, was elected to the Computer-Human Interaction Academy.
Richard M. Lackner (HS'79), head football coach, accepted the Bob Prince Award at the 29th Annual Art Rooney Dinner. Lackner has a record of 116 wins, 41 losses and 2 ties in 16 years as head coach.
Vivian Loftness, head, School of Architecture, addressed the U.S. Senate Environment and Public Works Green Building Roundtable, April 24, on green building design and sustainable building design initiatives.
Ted Massalski, professor of materials science and engineering and physics, emeritus, was named one of 12 honorary fellows of the Council of the Institute of Materials in London.
Semi Ryu (A'02), a graduate student in art, received the Best Film award for "Hungboga" in the Young Animation category at the 11th International Festival of Animated Film in Stuttgart, Germany.
James W. Schneider, assistant professor, Chemical Engineering, will receive a Beckman Young Investigator award of $240,000.
Sridhar Seetharaman, assistant professor, Materials Science and Engineering, took the Wilhem Bessel Research Award presented by the Alexander von Humboldt-Stiftung/Foundation.
Robert F. Sekerka, a university professor of physics, mathematics and materials science, is president of the International Organization for Crystal Growth.
Jay M. Sipelstein (CS'02), in his first foray into the World Series of Poker, won the Pot-Limit Omaha Hold'Em event at Binion's in Las Vegas.
Lydia Steier (A'02), who received a master's in directing, won a Fulbright Fellowship. She will spend the next academic year studying how Berlin's three major opera houses and other theater groups operate during a period of financial difficulty.
Katia P. Sycara, principal research scientist, Robotics Institute, was elected a fellow of the American Association for Artificial Intelligence.
Larry A. Wasserman, professor, Statistics, won the 2002 Centre de recherches mathematiques de Montreal­Statistical Society of Canada prize for contributions to statistical theory and Bayesian methodology.


Greenhouse grows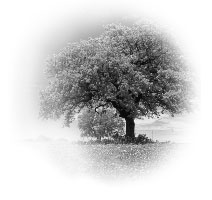 Pittsburgh Life Sciences Greenhouse has received $33.3 million from the State of Pennsylvania to advance life sciences in the Pittsburgh region. The Greenhouse includes Carnegie Mellon and the University of Pittsburgh as well as the local biotechology industry, economic development organizations and state and loca governments. The Greenhouse also has attracted the firm of Renal Solutions from West Lafayette, Ind., to relocate to Warrendale, Pa. The firm has developed a kidney dialysis product that patients can self-administer in their homes. The Greenhouse grant comes from the state's $11 billion share in the tobacco industry settlement.


Higher education turns to wind power

Pennsylvania leads the nation in the number of colleges and universities—25—buying 5 to 6 percent of their electrical power from wind farms. Carnegie Mellon became the first university in the state to purchase wind power last year. It has extended its commitment for five more years.


Lobster Boy William Kofmehl scuttles housing project

Back in 1949, a student named Andrew Warhola entered a painting called "The Broad Gave Me My Face, But I Can Pick My Own Nose," depicting a guy doing just that, in an Associate Artists show under the name Andrew Warhol. The work caused a bit of an uproar and was rejected, only to make the cut later under the title "Why Pick on Me" in an Arts and Crafts Center show. That was before the Internet.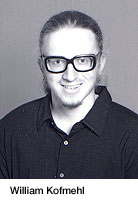 Last semester, William Kofmehl III, a senior in art, gained notoriety for about 15 minutes around the globe for an art project he constructed on campus. Multiple media from The Pitt News to the Associated Press descended on Kofmehl's three-story house built in the shadow of Doherty Hall.
The house alone, constructed from discarded lumber and assorted mismatched windows, didn't attract all that attention. Kofmehl donned a Halloween lobster costume his mother had made for him and attached himself to the project with a yellow cord. Part of his art project involved maintaining complete silence (no, he wouldn't talk to the magazine either). According to The Tartan newspaper, Kofmehl hoped to "explore the effect of his daytime silence on his nighttime utterances." He'd promised to make a film on the project, too.
It was too much for the fraternities. A group visited one dark night, and four fellows were arrested and later convicted of disorderly conduct. Meanwhile, folks started taking a closer look at what Kofmehl was up to. Half of his house, built too close to Doherty Hall, was condemned as a fire hazard and taken down. Some suspected he was living there. The university gave him a deadline on dismantling the rest-plus a new site to start over during the coming academic year. He will spend this year as a fifth-year scholar. This honor, accompanied by a free year on campus, is given to outstanding seniors.
Susanne Slavick, head of the Art School, says Kofmehl turned down a university proposal for him to reconstruct his abode on a slope behind the Purnell Center for the Arts. She says Kofmehl plans to take engineering courses in the fall.
A Google search on Lobster Boy, as he came to be known, turns up commentary from all over. An anonymous Carnegie Mellon student wrote: "Whoever decided to mess with his house definitely did what everyone else wanted to do. At a real school, lobster man wouldn't have lasted this long. CMU is lame."
British banker Alex Mezger from London concluded, "Lobster Boy is putting you on the international map. I know that I am just an ignorant Brit but...I have never really heard about or shown an interest in your university before. That's all changed now. I am so impressed that a university is prepared to sponsor such a wacky, amusing, and artistically stimulating project. I and everyone I tell about Lobster Boy have so much respect for both the artist and all those who have supported him. Keep up the good work."
Kohmehl's art, incorporated in the Amphitheater he helped to build on campus (see Contents and p. 24), is as whimsical as his temporary abode. But polished to last.—Ann Curran


Faculty, students honored

Harry Faulk, associate dean, emeritus, of the Heinz School, Laura Lee, associate professor, Architecture School, and Stephen Garoff, physics professor, have won the university's top education awards. Faulk took the Robert Doherty Prize for Excellence in Education; Lee won the Ryan Award for Meritorious Teaching; and Garoff took the Undergraduate Academic Advising Award. Also honored were Rocio Dominguez, Modern Languages Department, Graduate Student Teaching Award; and Jacques Katz, Psychology Department, Graduate Student Service Award.


Astronaut speaks at Homecoming

Astronaut Edgar D. Mitchell (IM'52, H'71) will attend the 50th reunion of the Class of 1952 at Homecoming, Oct. 4-6. The Apollo 14 astronaut, who is founder of the Institute of Noetic Sciences, will speak at 8:30 a.m., Saturday, Oct. 5, on "Fifty Years of Change," with a focus on the space program, technological development and the future. The talk is open to all.


Doctoral programs ranked

Carnegie Mellon's doctoral program in computer science ranked first with Massachusetts Institute of Technology, Stanford University and the University of California at Berkeley in the U.S. News & World Report analysis, published April 15.
In specialty areas, the School of Computer Science ranked second in artificial intelligence and systems, and sixth in theory. James A. Gosling (S'83), who developed the Java programming language at Sun Microsystems, says of his alma mater, "It's by a pretty wide margin the best place on the planet to study computer science."
In other areas of graduate study, Carnegie Mellon's engineering programs ranked 10th overall and placed 4th in computer engineering. The business school ranked 18th with specialty rankings of second in management information systems and quantitative analysis, and third in production/operations management.
Departmental rankings included Psychology, 9th; applied mathematics, 11th; Economics, 19th; Physics, 28th; Mathematics, 34th; Chemistry, 51st; and Biological Sciences, 54th. Psychology and Economics are 2001 ratings.


Faculty retire

The following faculty have retired: Cletus R. Anderson, professor, Drama; Joseph M. Ballay, professor, Design; Ulrich Flemming, professor, Architecture; Francis C. McMichael, professor, Engineering and Public Policy and Civil and Environmental Engineering; and Daniel P. Resnick, professor, History. Resnick will remain a special assistant to President Jared L. Cohon.


Carroll Gantz, inventor of the Dustbuster, is back to boats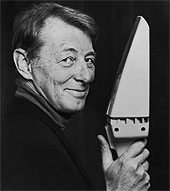 Carroll Gantz (A'53), who headed the Design School from 1987-1992 and holds the design patent for the "Dustbuster," Black & Decker's most successful product ever (100 million sold to date), returns to an early interest in his latest design venture: canal boats. In the 19th century, construction of canals boats opened up the West, when the West was somewhere around Western Pennsylvania.
Writing in American Canals (spring 2002), Gantz talks about the background on his latest project. "When completed in 1848, the [Illinois and Michigan] canal and its fifteen locks...completed an interior shipping connection between New York and New Orleans and triggered the tremendous growth of Chicago."
Disenchantment with Amtrak is not fueling the effort to restore the old canals and reconstruct canal boats, but rather tourism is. Gantz has designed three boats for a $7 million project for the Port of La Salle in Illinois. The project, Gantz says, will include "three reconstructed canal boats, a restored canal lock, a mule barn interpretive center, costumed interpreters and a locktender's house." On the original vehicles, mules tethered to the boats pulled them through the water from a tow path alongside the canal.
The boats will travel on the five miles of restored canal, running from LaSalle to Utica, Ill., according to Gantz.
Back in 1970, Gantz designed and supervised construction of St. Helena II in Canal Fulton, Ohio, the first historically reconstructed canal boat in the country. Now replaced by St. Helena III, a fiberglass copy, the original boat is undergoing restoration and will become a land-based museum, says Gantz.
While most canal boats carried freight, there were also packet boats transporting such astute observers of the scene as Charles Dickens, Harriet Beecher Stowe and Nathaniel Hawthorne.

Gantz's design allows for mule- or horse-drawn boats. There is no smoother or more peaceful ride anywhere, but his boats will also carry electric motors under the poop deck. In addition, they'll allow for sleepovers with separate men's and women's bunk areas. One boat will offer dinner trips.
Water is a way of life for Gantz, who calls Seabrook Island, S.C., home. He lives there with wife Lorraine.—Ann Curran
---
> Back to the top
> Back to Carnegie Mellon Magazine Home