Speak softly, carry a giant carrot
President Jared Cohon Favors Persuasion over Issuing Orders
Having completed his first five years as president, Jared Cohon pushes university priorities, impacting students, faculty and the region.
By Ruth Hammond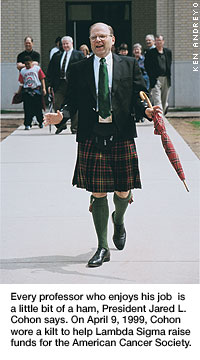 It might have been a lighthearted occasion, this meeting between Carnegie Mellon University President Jared L. Cohon and the faculty of the Engineering and Public Policy Department. When Cohon enters the room, the professors burst into laughter and applause, responding as much to his costume as to the man himself. The pink-and-white ensemble includes long ears that flop back on his head, white gloves, oversized feet and a cottontail. In keeping with the dignity of his office, he has left his necktie visible. The giant carrot he wields makes a staffer remark, "I see the carrot, but I don't see the stick."
A university president assumes many roles: intellectual leader, fundraiser, promoter, administrator, visionary. And on this Good Friday, a day after he celebrated Passover with his wife, Maureen, Cohon adopts the additional role of good sport. He had won a fundraising contest conducted by Mortar Board, the student honor society. People donated money to have their favorite contestant appear as Easter-Bunny-for-a-Day. "It's very effective because I must have given at least $100 to other people's funds so as not to be selected," Cohon confides as he crosses campus on the way to his department meeting, drawing bewildered glances from passersby.
This is the same man who took it with aplomb when he learned at his inauguration, Nov. 10, 1997, that he was to be fitted for a kilt, in a salute to the university's Scottish founder, Andrew Carnegie.
When the faculty's laughter subsides, Cohon gets down to the serious business at hand. It had been nearly five years since he assumed the presidency of Carnegie Mellon, years that had gone well enough that he could have appeared comfortably in his own skin. A Presidential Assessment Committee had just submitted a glowing report on his performance to the Faculty Senate and the university's board of trustees. His reappointment to a second five-year term, which the board of trustees approved May 20, seemed certain. "President Cohon is the right person to lead Carnegie Mellon University to the next level of excellence," the committee wrote. Co-chaired by Kears Pollock (E'62, '64), a trustee, and Joseph B. Kadane, university professor of statistics and social science, the committee was made up of six faculty members and six trustees.
With the accolades had come a lengthy, confidential critique, and Cohon was in the midst of weighing what adjustments to his style and priorities he should make to meet the challenges of his next five years. The committee urged him to apply the personal intensity with which he fosters diversity on campus to other key issues, to select areas in which the university can realistically achieve top-tier status and to articulate a vision that acknowledges the necessity of hard choices. The committee also advised Cohon to be somewhat less self-effacing.
The committee's report is based on more than 70 interviews with Carnegie Mellon's "stakeholders," including funders; community, government and business leaders; and university faculty, staff, administrators, students and alumni. Campus leaders echo the report's recommendation that the president choose areas in which the university stands out and bring them to an even higher level of excellence. "Universities are judged in the pecking order of prestige by some peaks," says John L. Anderson, the dean of Carnegie Institute of Technology.
Alumni interviewed by the committee universally thought Cohon was doing "a great job in terms of continuing to build the reputation of Carnegie Mellon and directing a strategic plan for the university that we believe will ensure its preeminence in the future," co-chair Pollock says.
Emeritus life trustee Maxwell H. Connan (E'39) has known all of Carnegie Mellon's presidents except the first one and has watched each build on his predecessor's accomplishments. Cohon "has added tremendously to the stature of the university," Connan says. Not only does Cohon play an active role in the Pittsburgh community, he has greatly enhanced the university's international reputation as a strong research university, Connan says. "In his own way, he's low-key, he's modest, but he's extremely effective and has a great deal of ability administratively and technically." The increased standing of the university is a source of pride to alumni around the country, Connan says.
Cohon connects with faculty
Every year Cohon meets with each of the 30 departments at Carnegie Mellon. He takes the opportunity to give the faculty an update on what's going on at the university and remind it of the priorities in the university's strategic plan. It is his chance, too, to listen to comments and complaints.
About 25 professors sit around a conference table, crowd a back row of chairs lining the walls and listen while enjoying the chocolate cream eggs Cohon distributed from his sack.
"Just very quickly, our first priority is broadening the education experience of our students," Cohon says.
"Take off the hat; the ears are getting to me," M. Granger Morgan, head of the Engineering and Public Policy Department, suggests. His floppy ears removed, Cohon begins again.
In an interview with Carnegie Mellon Magazine earlier that day, Cohon had said that of all his duties, the one he believes he's done best is promoting the university both internally and externally. "The internal representation is to reinforce for the campus community what Carnegie Mellon is about and how good Carnegie Mellon is," he said. "This is something Carnegie Mellon people often need reminding of, maybe because we're too busy keeping our heads down working hard.... I don't think we've traditionally celebrated our successes as much as we should."
His upbeat remarks to the Engineering and Public Policy professors are a remedy to that. He praises the department's policy of offering joint degrees with the university's five traditional engineering departments and with computer science; about 80 students are pursuing such double majors. "It's a great example of what this university can do, and we want to do more of that but with even more disparate collections, so I'm going to see students roam more freely across campus. And this is from everywhere to everywhere." One of the president's recurrent themes is that Carnegie Mellon should be training students not just to become educated professionals prepared to meet the demands of employers but to be the future leaders in government, nonprofit corporations and business. It's "great that we produce graduates who are ready to work...but we think we can do a lot more in the way of broadening their educational experience without detracting seriously from the very solid training that we give them," Cohon told the Engineering and Public Policy professors.
The university encourages breadth with special funding for multidisciplinary courses and a change in the student body. Two years ago the undergraduate admissions process had a shift in emphasis, Cohon says. Instead of putting almost all the weight on SAT scores and grade point averages, a third of the weight is now based on other less traditional criteria, such as leadership potential and extracurricular activities. For freshmen enrolling this August, the weight on those other criteria increased to 50 percent. Faculty members have commented that freshmen and sophomores admitted under the new criteria are different from the upperclassmen, Cohon says. They're more talkative and engaged, and students are participating in more activities on campus.
The downside of greater student engagement "is that it creates a lot more work for the central administration," Cohon says. "I've gotten two petitions in the last few months and a lot more students who come to see me to complain about things, and it's great. I love it, actually."
Cohon discusses strategic priorities
Cohon went on to talk about Carnegie Mellon's other goals, as laid out in the strategic plan approved by the university's board of trustees in 1998. The university intends to build its strength in four main areas: information and communication technology, biotechnology, environmental science and practices, and the blend of fine arts and humanities.
Given that one of the Engineering and Public Policy Department's key research subjects is the environment, Cohon concentrates on that emphasis, disclosing that the board of trustees has recently formed a special committee to create a bolder vision for the university's environmental research and education programs. Robert W. Dunlap, president and CEO of ThermoRetec Corporation, chairs the committee.
Cohon is closely associated with one of the university's strategic priorities, diversity. "We created a Diversity Advisory Council in the fall of 1999, which I chair, and I do so because of my personal commitment and because I believe it's important for the president to be actively involved in this in order for the university to make progress," Cohon says. He lauds some of the achievements, including the most visible dramatic success, an increase of women in computer science from 8 percent of the freshman class to 40 percent over a five-year period. Enthusiasm for the change is so great that an organization to support the majors, Women@SCS, is drawing a growing number of men. "There's a lesson here. Basically, in working to make the program more diverse, it was made better," Cohon says. Progress elsewhere on campus is slow, he cautions. The number of African-American faculty, in the past year, "went from an extremely low number to a less extremely low number," rising from 13 to 20. That's out of a total of 550 tenured or tenure-track faculty. The increases occurred primarily in the colleges of Humanities and Social Sciences, and Fine Arts.
On another goal, commitment to the economic development of Pittsburgh and Southwestern Pennsylvania, Cohon mentions just a few of the job creation projects that Carnegie Mellon has undertaken in collaboration with other academic institutions and industry. In January, the University of Pittsburgh and Carnegie Mellon hired one person, Donald F. Smith Jr., to do economic development for both. Carnegie Mellon expected to break ground this summer on another joint effort. In partnership with the Carnegie Museums of Pittsburgh, the university plans to put up a 120,000-square-foot, four-story office building in Junction Hollow, a steep, undeveloped area between the two institutions. "Intel is very likely to be a tenant. We hope Rand [a nonprofit policy research institution] will be, and other companies that are not now in Pittsburgh," Cohon says.
His last prepared remarks to the Engineering and Public Policy faculty are on a subject that most worries the faculty: the university's overall economic standing and next year's budget, which would be tight. Like universities across the country, Carnegie Mellon was hurt by stock market losses and the downturn in the economy last year. To Cohon it is small consolation that Carnegie Mellon was not hit as hard as others were because of the relatively small size of its $756.9 million endowment, as of June 30, 2001. If Carnegie Mellon is spared making the Draconian budget measures other universities are adopting this year, it's because endowment income represents a relatively small portion of its annual budget, 8 percent in 2001. Sponsored research is the largest source of operating revenue, covering 38 percent of costs last year.
Speaking on the subject earlier that day, Cohon had said, "At the moment, I'd gladly give up this one year where we're not hurting as much as they [well-endowed universities] are for the19 out of 20 years where they're flying high because of their big endowments." The market value of Carnegie Mellon's endowment per student stood at $108,000 in 2001, far below the average of $369,000 per student for 11 competing universities of comparable standing, and far below the more than $1 million per student enjoyed by Princeton. But Carnegie Mellon is a young institution, just over a century old, which did not become a university until 1967. And it prides itself on the fact that it can compete with its older brethren for the top students in the nation and the world.
Cohon faces the tough questions, varied suggestions
Then begins the part of the meeting that faculty were still e-mailing each other about weeks later. "Pointed" is how Cohon described it in the aftermath. Engineering and Public Policy professors raise issues of a type faced by many departments. How would they come up with the financial resources to make the best use of their intellectual capital? How could they remain a cohesive department when they are scattered among nine buildings, and the only way to get space in the next five years seems to be to exile part of the staff to the former Carnegie Mellon Research Institute on the Monongahela River? With Carnegie Mellon's seven deans each going off in his own direction, trying to maximize the benefits to his own school, how can the administration do a better job of addressing the university needs that fall between the cracks?
As one faculty member after another offers suggestions as to how the president can do his job better, Cohon listens carefully. If he takes offense, he doesn't let on, although he jokes at the end, "I'm so glad this outfit really lightened the mood here."
Intel cofounder Gordon Moore's record-setting $600 million gift to the California Institute of Technology in October had left some Carnegie Mellon faculty disheartened. "When you see gifts to institutions we're competing with that are comparable to our whole endowment, it says, I think, we as a university have a resource problem more than we have a lack of intellectual [vigor]," says Francis C. McMichael, the Walter J. Blenko professor of environmental engineering.
The president is sympathetic. Fundraising is the university's biggest challenge and his own highest personal priority, he says. In fact, he plans to devote at least half his time to it in the next five years. "But, Fran, we basically have a choice," he says. "We can sit around and wring our hands over the fact that we're competing with universities with much more money, or we can say, 'Let's do the best with what we have.' And that means being as strategic as we possibly can. And also it means creating the most exciting vision we can for the future."
McMichael isn't the only faculty member Cohon addresses as a familiar. "When he goes to a department meeting, people are shocked. He knows their names," says Provost Mark S. Kamlet. "I don't know how.... It's a preternatural skill."
Before coming to Carnegie Mellon, Cohon was dean of the School of Forestry and Environmental Studies at Yale University. His background in civil engineering is apparent not only in the issues he gravitates toward—environment, the regional sewer system, disposal of nuclear waste—but in the way he interacts with people. Because civil engineers work on public facilities like the water supply or transportation system, they are accustomed to involving the public in their decisions, Cohon notes. They're also trained to take the broad view. For instance, a civil engineer overseeing a water treatment plant is concerned not just with how the plant works but with how people and the natural environment interact with that plant. When Cohon talks, he seeks to inspire his listeners by sharing his vision for a great university, but just as often he's pragmatic, analyzing the problem and explaining what process to follow to resolve it.
Dealing with short-term issues—such as allotment of space—is a matter for the dean of the Carnegie Institute of Technology, of which Engineering and Public Policy is a part, not the president, he tells the faculty. He will, however, address the longer-term issue of creating space; he expects a fraction of the funds he raises to go toward new buildings. After faculty members urge him to strengthen multidisciplinary education by handling some academic appointments at a university level, Cohon replies, "That's an excellent problem statement for the Dunlap committee."
"Are we bellyached out?" Morgan asks at last, knowing Cohon has to strap his ears back on and head out to The Fence for a photo session with students.
"I want to make sure that I don't leave this on a down note," Cohon says. If letters about huge gifts to other universities distress faculty, "trust me, they eat at me even more. But we will get ours," he predicts. Based on what he's learned about prospects from the head of University Advancement Robbee Baker Kosak, he forecasts a phenomenally successful fundraising campaign in the coming years.
Cohon leads through persuasion
Heading a university is not like being the chief executive officer of a corporation. Faculty members are more autonomous than typical employees, and academic freedom is highly valued.
"The intellectual diversity of the place comes from allowing faculty to have their own say," says Indira Nair, vice provost for education and an Engineering and Public Policy professor. Because Cohon tries to understand the various perspectives before he acts, "people might see him as slow to act or not acting. But...he's truly listening and understanding what is the best that Carnegie Mellon's community will do and how they want to do it rather than just imposing his way on them."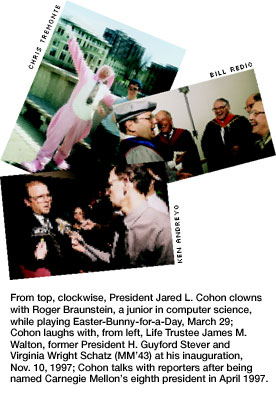 If he has a weakness as a leader, she says, it's almost the same as his strength. "Sometimes you think if you listen to everybody and try not to offend anybody, you don't get things done. But I think his way will prevail. I don't think he can, by being dictatorial, achieve anything."
Taking to heart the assessment panel's criticism that he should be less self-effacing, Cohon says he's thinking of becoming more assertive "in terms of moving the university along toward its goals, [or] put another way, getting in people's face more, on issues, [saying,] 'Why aren't you doing this?' or 'Do this.'"
But he expects to rely on persuasion more than authority. "I can't order people," he says. "I can, but it wouldn't do any good." If he told a department to hire a certain person to meet a diversity goal, for instance, he would expect his action to backfire. Instead he sees his role as deepening people's understanding so they view diversity as a good thing, not just socially but academically. "The fact that Jerry doesn't come across as an egomaniac in settings wears well," Kamlet says. "The evaluation committee is kind of saying, 'Well, the guy's too nice.' You can't be too nice because in the long run it's going to work a lot better that way." On the other hand, "when there are hard decisions to be made, he makes them.... There's no hesitancy to pull the trigger when things have to be done. He's just not trigger-happy."
Cohon's ability to take a strong position was noted in the Jan. 31 edition of the Las Vegas Sun, which covered a meeting of the Nuclear Waste Technical Review Board in Nevada. Cohon, a Clinton appointee, has been the board's chairman since 1997. His appointment ends in September. At the meeting, Cohon took Department of Energy experts to task for their research on the suitability of using Nevada's Yucca Mountain as a nuclear waste repository. Threatening to cut the meeting short, he castigated scientists for failing to provide specific information on the level of radiation that would be released from the site if a volcano erupted, the Sun reported.
Cohon and Pitt's Nordenberg form a dynamic duo
Again and again, the media has been portraying Cohon as half of a forward-thinking duo. The other half is University of Pittsburgh Chancellor Mark A. Nordenberg. Both appeared on the January cover of Pittsburgh Magazine as Pittsburghers of the Year. In March, they made the cover of Pittsburgh Technology Council's T.E.Q. Magazine, along with Pittsburgh Life Sciences Greenhouse CEO Dennis Yablonsky. In April, the Pittsburgh Post-Gazette paired them again, ranking them both number 6 in its list of the region's top 50 business leaders.
The two have built a relationship that plays on each university's strengths—the University of Pittsburgh's in medicine and Carnegie Mellon's in engineering and computer science. They co-chair the board of the Pittsburgh Digital Greenhouse, a consortium of private and public organizations trying to make the region an industry leader in advanced chip design. And they co-chair the Pittsburgh Life Sciences Greenhouse Board, which aims to make Pittsburgh one of the dominant research areas in the promising field of biotechnology, thus creating thousands of jobs.
Nordenberg, who also worked collaboratively with Cohon's predecessor, Robert Mehrabian, initiated the relationship with Cohon by sending him flowers as soon as he learned of his appointment in April 1997. "In purely human terms," Nordenberg says, "these are big, tough, lonely jobs, and one might say I was looking for a friend."
Not only do the universities have complementary strengths, so do the men who lead them. Nordenberg's training is in law. "When we're talking about technology transfer, for example, there is a reservoir of scientific experiences that he [Cohon] brings to bear on the project, and on the other hand, there are probably insights I can bring to the structure of these initiatives," Nordenberg says.
Given that their friendship began with a bouquet, it's fitting that they sound a bit sentimental when they speak of each other. "I can't say what he sees in me," Cohon says of his counterpart down the street. "But what I see in him, I guess the first word that occurs to me is honesty." Nordenberg is a "very honest, decent person.... Neither partner has to worry about being deceived or misled by the other."
Asked why he likes Cohon, Nordenberg says, "He's very smart. He's hard-working. He's committed to quality and, beyond that, he's fun to be with. So there's a complete package of qualities that make him a good partner professionally and personally."
A stop at The Fence
After his meeting with Engineering and Public Policy faculty, Cohon heads toward The Fence with Mortar Board photographer Christopher M. Tremonte (CS'02) trailing him. Tremonte asks two students bent over their books if they want their picture taken with the president. The two, David Salinas, a junior in psychology, and Tamika Perry, a sophomore in civil engineering, are at first reluctant because they're busy studying, but they take a minute to stand next to Cohon. More people wander over, including a student celebrating her birthday and another student's father. Then Cohon and his photographer head over to the University Center, where the president poses with people eating lunch, is introduced to a visiting professor from New Zealand, and has an earnest conversation with a little girl who is trying to figure out if he is the real Easter Bunny. Then he goes back into Warner Hall to shed his rabbit skin and reemerge as the university president within.


Just the facts
Jared L. Cohon, President
Carnegie Mellon University
Age: 54
Birthplace: Cleveland, Ohio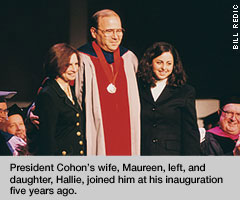 Education: bachelor of science in civil engineering, University of Pennsylvania, 1969; master's in civil engineering, Massachusetts Institute of Technology, 1972; Ph.D. in civil engineering, Massachusetts Institute of Technology, 1973

Academic career: assistant, associate and full professor, Department of Geography and Environmental Engineering; assistant and associate dean of engineering; vice provost for research, Johns Hopkins University, 1973-1992; dean of the School of Forestry and Environmental Studies; professor of environmental systems analysis, Yale University, 1992-1997; president of Carnegie Mellon University since July 1, 1997

Major appointments: chairman, Nuclear Waste Technical Review Board; member, Homeland Security Advisory Council

Major awards: Joan Hodges Queneau Medal for outstanding engineering achievement in environmental conservation from American Association of Engineering Societies and National Audubon Society, 1996; Edgeworth-Pareto Award from International Society on Multiple Criteria Decision Making, 1998

Family: Maureen, an attorney; daughter, Hallie Cohon Donner (HNZ'00), a drama teacher and producer of children's theater in Pittsburgh; son- in-law, Josh Donner (HS'99, HNZ'00), a policy analyst at the Pennsylvania Economy League in Pittsburgh
---
> Back to the top
> Back to Carnegie Mellon Magazine Home