Nobel prize winner Herbert Simon saw this former institute of technology as the innovative university of the future.
Twenty-five Carnegie Mellon faculty members from as many different disciplines and callings describe, in separately framed chapters, the contribution of their own lives and fields to a common university culture of invention and application. Each author offers a vision of renewal and design that is unique among leading research universities.
Great universities require outstanding faculties, but they also demand a supportive culture, the right kind of organizational structure and leadership, and inquiring habits of mind. Andrew Carnegie, the university's founder, set the mold for that supportive culture and institutional leadership, encouraging problem-solving, hands-on work, and attention to the needs of the world. The capacity for invention and the willingness to take risks to pursue a vision of the possible have marked Carnegie Mellon since its founding days as a set of technical schools a little over a century ago. No American university has reached so high, from such humble beginnings, as this creation of America's model philanthropist, Andrew Carnegie.
---
The Innovative University is co-edited by Professors Daniel P. Resnick and Dana S. Scott. Resnick is Professor Emeritus of History at Carnegie Mellon, and is Director of the Center For History of the Research University. Scott is the Emeritus Hillman University Professor Emeritus of Computer Science, Philosophy, and Mathematical Logic at Carnegie Mellon.
Read selections from The Innovative University's chapters! Find out how drama, biology, the humanities, ethics, public policy, and more come together as Carnegie Mellon's faculty tell compelling stories about a university where so much is possible.
---
Prof. Resnick writes: "It has taken America's top universities seventy-five or more years to reach their current pinnacle. We ask: When did these institutions emerge? Why? And how are they sustained?" Read the article
---

Authors featured in panel discussion: An evening of stories from the innovators (2005).
Faculty, students, and alumni shared their cool projects and why Carnegie Mellon is special to them.
The Innovative University is now available online at the Carnegie Mellon Bookstore and Amazon.com.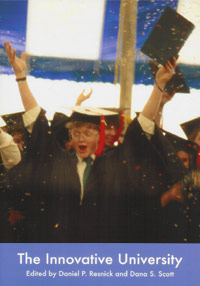 "Carnegie Mellon is a jewel among the world's universities. It radiates powerful teaching, interdisciplinary research, public service, and a persistent curiosity about all things."
- Dr. Marshall S. Smith, Former Under Secretary of the U.S. Department of Education.