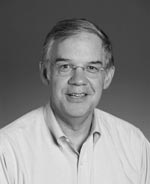 William E. Brown
William Brown is Professor of Biological Sciences and former Head of the Department of Biological Sciences at Carnegie Mellon University. His research interests span a wide range of disciplines, but a primary focus is on understanding the relationship between structure and function, with a particular emphasis on the role of proteins. He is a recent recipient of an award for excellence in teaching from the Mellon College of Science. Professor Brown received his Ph.D. from the University of Minnesota in 1971, and has been at Carnegie Mellon for 30 years.
Chapter 11, selection: Computers in Biology: Then to Now
William E. Brown
Where is computing taking the biological sciences at Carnegie Mellon? It is three decades since the new biological sciences department was formed within the Mellon College of Science at Carnegie Mellon, and I have been here almost all of those years. Biology had been taught in Margaret Morrison Carnegie College prior to the existence of the Mellon College of Science, but it was a different biology. Bob Rice, on the Carnegie Mellon faculty 1954-79, led the effort to create a new biology department, focused on molecular biology, cell biology, genetics, biochemistry and biophysics. The new biology has flourished, and made a major contribution to the university's strategic thrust in the basic sciences and biotechnology. Central to this success was the creation and use of new tools, dependent on computers. This chapter will provide a personal perspective on the transforming effect of computers on research and education in the new biology at Carnegie Mellon over the past three decades.

When I arrived at Carnegie Mellon in 1973, after a post-doctoral fellowship at Yale, sophisticated equipment comprised things like a rotating anode for x-ray generation that collected data on film to determine the three dimensional structure of a protein; an ultracentrifuge that was used to measure the mass and shape of molecules and biological complexes; or a Cary spectrophotometer for measuring the changes in spectral properties of proteins and DNA. These were manual devices that provided excellent data that then required manipulation, analysis, and interpretation, which was done by hand or using a mainframe computer.

At that time, mainframe computers were used to analyze large sets of data. Jobs were submitted to a central facility on punch cards, and you crossed your fingers that the cards were in the right order and that the instructions had been punched correctly. For many of us in research, one of the great revolutions in computing came with the availability of the Digital PDP series of computers, which allowed us to do our processing in our own laboratories.