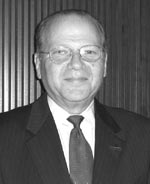 Jared L. Cohon
Dr. Cohon earned a B.S. degree in civil engineering from the University of Pennsylvania, and M.S. and Ph.D. degrees in civil engineering from MIT. He began his teaching career at The Johns Hopkins University, where he was a faculty member in the Departmeľnt of Geography and Environmental Engineering, eventually serving as Vice Provost for Research. In 1992, he became dean of the School of Forestry and Environmental Studies and professor of environmental systems analysis at Yale University. Carnegie Mellon University welcomed Cohon as its eighth president in 1997.
Foreword, selection
Jared L. Cohon
President Jared. L. Cohon, in his foreword to this volume, underlines the power of history, culture, and founding vision to shape the character of Carnegie Mellon over the past century. Even as we have become a powerful research university, we have never left behind our sense of delight in making things, collaborating, discovering, and sharing with students the sense of reward that comes from finding workable solutions to real problems.
As a way of commemorating the centennial of this university, founded in 1900, the faculty at Carnegie Mellon, through its Senate, conceived the idea of a set of lectures about our history, culture, and collaborative style. The lectures were soon replaced by a project of chapter-length essays, designed to share our experience with colleagues at other universities, parents of college-age students, scholars who follow closely what is happening in higher education, and our own alumni.
The twenty-five faculty authors and co-authors who have contributed the twenty chapters in The Innovative University have worked at Carnegie Mellon for periods of time that range from five years to more than fifty—on average, for more than fifteen years. Although not all of our more than thirty disciplines have a place in this volume, every one of our seven colleges is represented. Readers will find that there are contributions in the fine arts and the sciences, the humanities and the social sciences, engineering and computer science, business, and public policy. The authors include department heads and former heads, university professors, division heads, directors of programs, winners of prizes for teaching, distinguished researchers—anchored all in different disciplines, but innovators in teaching, research, and real-world applications.
The stories that my colleagues tell in this volume offer insight into an unusual institution that stands out among its peers. It is a small research university, with only 5,000 undergraduate and 4,000 graduate students. On a campus of one hundred ten acres, teaching and research are conducted in more than thirty different fields of the arts, the humanities, engineering, the sciences, social science, management, and public policy. Students and faculty in these areas are in daily contact with one another, pursuing interdisciplinary projects, redefining fields of knowledge, pursuing their own visions of the possible, and contributing to the world around them.