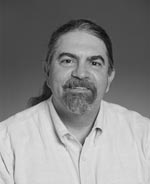 Donald Marinelli
Donald Marinelli is Professor of Drama and Arts Management at Carnegie Mellon Uniersity. His current work deals with digital media, and with co-directing the Entertainment Technology Center, a joint initiative between the College of Fine Arts and the School of Computer Science. At the Center, students study a wide variety of immersive entertainment experiences: virtual reality, location-based, and internet-based. Professor Marinelli received his Ph.D. from the University of Pittsburgh, and has been at Carnegie Mellon for the past 22 years.
Chapter 4, selection: Drama and the New Media
Donald Marinelli
Describing the relationship between Drama and New Media is complicated for many reasons. In the course of such an examination, connections will surface that run the gamut from dependent and/or causal to symbiotic, and all points in-between. Consequently, one of the main challenges confronting us in an endeavor of this magnitude is in defining the terms to be used throughout this essay. It is taxing enough to consider the influence, impact, and relationship between Drama and technology in general, but focusing on the influence Drama will have on the myriad entertainment technologies existing or now germinating is especially daunting.

There are terms I will use interchangeably in this essay, and I need to identify and explain them first and foremost. The term "New Media" refers both to existing media (namely, theatre, film, and television) that have been augmented by computer technology, and new forms of expression made possible by digital technology. Computer technology applied to existing media usually results in the replacement of the original analog technology with new digital technology. The introduction of digital technology most often results in greater efficiency over analog technology, as well as a significant expansion of the technology's original functionality. The rightful presumption is that digital technology (be it with "Old" or "New" Media) endows the system with new capabilities and functionalities.

Digital technology changes how the medium's content is conceived, created, captured, and compiled into stories or experiences. For example, digital video cameras and digital video editing have radically altered the entire scope of cinematic post-production possibilities. The Internet, a completely digital medium, has introduced an entirely new way of engaging in business (i.e., e-commerce), interpersonal communication (e-mail and instant chat), and myriad leisure time activities. Since the constant in everything cited above is the impact of digital technology, I will frequently interchange the terms "New Media" and "Digital Technology."