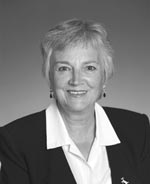 Peggy Knapp
Peggy Knapp is Professor of English at Carnegie Mellon University. Her major research interests are in medieval and renaissance studies and literary theory. Professor Knapp received her Ph.D. from the University of Pittsburgh in 1965, and has been at Carnegie Mellon for 33 years. In 2003, Professor Knapp was awarded the William H. and Frances S. Ryan Teaching award, the University's highest form of recognition for excellence in teaching.
Chapter 3, selection: Rethinking the Humanities
Peggy Knapp
"Humanities" is a fraught term, etymologically connected with "humanism," "humanitarianism," "humane," and "human." It elicits great respect from some people and resentment and scorn from others. When it is linked with its cousin "humanism," it seems to marginalize the sacred by focusing on what people have done, written and created images of. The humanists of the late Middle Ages, though by no means atheists, were castigated for making human endeavors so central to their inquiries, and some powerful cultural/political groups today are repeating that gesture by objecting to the "humanistic" (read "secular") bias of American education. In a completely different kind of critique, people who link "The Humanities" with "humanitarianism," and "humane" find the current practices and studies not benevolent enough. I've heard it asked why, after all these years of (some people) studying great authors and thinkers, there is still war and cruelty in the world. For still other critics of the term, "humanities" seems to claim an especially "human" quality for those who practice it, at the expense of those who study other aspects of nature or thought.

I'm not particularly interested in saving the term itself from such critiques, but I would like to suggest some ways the humanities at Carnegie Mellon ought not to be taxed with them. On the first point, it's true that we touch on "the sacred" in terms of the textual record rather than dogma, but this is the right course of action in a multicultural university setting. On the second: study in the humanities does not automatically lead to benevolence or "moral improvement." We do not teach particular values (except those of universities in general: freedom of inquiry, accuracy, respect for persons, integrity, and the like), we investigate the written and enacted record in order to discuss and consider values as our own and earlier generations have represented them. Instead of claiming that the humanities makes, or ought to aim at making, people nice, we argue that it acquaints them with a larger number of alternative models for ethical thought and enables them to use a larger array of perspectives on human affairs than they otherwise would.

The third issue is a reason I myself am a bit uncomfortable with the term: mathematical and scientific investigations are as deeply human in their impulses as the study of language, philosophy, or culture. I don't like to seem to be claiming some sort of high ground just by mentioning my area of study. Nonetheless, for thinking about such study, we do need a name. The humanities at Carnegie Mellon do participate in different discourses and are responsible for different modes of evidence than, say, physics or economics, on the one hand, or the production of art, say, painting, on the other. Our common effort might better be called language-based and interpretive, but I'll use "humanities" as a shorthand during the rest of this essay.