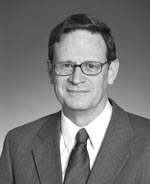 M. Granger Morgan
M. Granger Morgan is Professor and Head of the Department of Engineering and Public Policy at Carnegie Mellon, where he is also Lord Chair Professor in Engineering. He also has appointments in the Department of Electrical and Computer Engineering and the Heinz School of Public Policy and Management. His research addresses problems in science, technology, and public policy, and especially the development and demonstration of methods to characterize and treat uncertainty in quantitative policy analysis. He received his Ph.D. from the University of California-San Diego in 1969, and has been at Carnegie Mellon for 29 years.
Chapter 14, selection: Technology and Public Policy
M. Granger Morgan
Over the past four decades a number of technically-based academic programs have been created to address problems in public policy in which matters of science and engineering are of central importance. This chapter begins with a general discussion of the growth of such programs. It then discusses a number of key obstacles that have complicated such growth, and prevented the creation of programs at many universities. The chapter concludes with a description of the Department of Engineering and Public Policy (EPP), an unusual department in the College of Engineering (CIT) at Carnegie Mellon University. The history of the department is outlined, the institutional arrangements which allow it to function are described, and the academic and research program are briefly summarized. The focus is on what makes our Department distinctive and innovative.

Like business schools, professional schools of public policy have become commonplace. Leading examples include the Lyndon B. Johnson School of Public Affairs at the University of Texas, Austin; the Goldman School of Public Policy at the University of California at Berkeley; the John F. Kennedy School of Government at Harvard University; and the H. John Heinz III School of Public Policy and Management at Carnegie Mellon University. Business schools and policy schools are built on the proposition that there is a core of analytical and management skills that provide graduates with the foundations to succeed across a wide range of positions in their field.

While it is true that an MBA is good preparation for many management jobs, it is also true that success in a number of management jobs in highly technical industrial sectors requires a deep knowledge of the core technologies of the industry. It is not an accident that Raytheon, Hewlett Packard, Microsoft, and Qualcomm were founded and built by first-rate technical people. The same holds true in public policy. There are many policy problems that can be readily addressed by treating the technical dimensions, if any, as a "black box." Indeed, such a strategy can be beneficial because it minimizes the risk of getting bogged down in irrelevant technical detail. However, as in business, there is an important subset of public policy problems in which reasonable solutions can only be developed if one understands and deals in detail with the technical substance of the problem. As the world becomes more and more dependent on technology, the portion of policy problems that fall in this latter category continues to grow.