Hilltop Community Conversation
In conjunction with the Coro Center for Civic Leadership, Carnegie Mellon's Program for Deliberative Democracy developed the first ever multi-neighborhood Community Conversation based upon Deliberative Polling techniques. We hope that this event will serve as a model for other neighborhoods and districts in the city and around the country.
Throughout the Winter and Spring of 2005-6, Pittsburgh's City Council District 3 brought together diverse communities in South Pittsburgh for the purpose of applying for a Federal Weed and Seed program. A 35-member Steering Committee identified common needs and opportunities facing the neighborhoods of Allentown, Arlington, Arlington Heights, Beltzhoover, Carrick, Knoxville, Mt. Oliver, Mt. Oliver Borough, and St. Clair. 
During the Fall and Winter of 2006-7, teams from Coro and the SW PA Program attended meetings and block watches in order to produce a background document and survey to be used in the Community Conversation. In May and June of 2007 Coro spearheaded a program that identified and contacted a random sample of the targeted populations, invited them to attend a July Community Conversation and asked them to fill out a survey. Over 140 citizens responded and approximately 65 members of this group will attend the event on July 21st (from 9am – 4pm at the Potters House Ministries). They were joined by a broad range of representatives from local organizations as well as individuals from the private and public sector. 
The goal of this Community Conversation is not only to augment the Weed and Seed application process in order to create a highly competitive proposal, but also to create a new cohesiveness amongst the participating citizens and communities—thus moving the initiative above and beyond the particulars of a Weed and Seed program.
The Background Materials, Moving Forward Together, capture the surveys, discussions and insights of over 60 Community Meetings and over 30 interviews.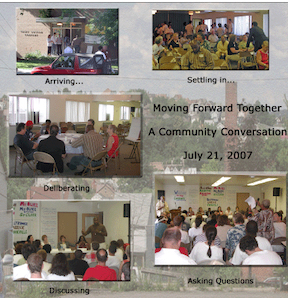 As a follow-up to the July 21st event, a Unity Festival was held on Saturday, August 18th at the Arlington Recreation Center and Field. A second Unity Festival, held on July 19, 2008, brought the community back together for a progress report and a celebration of "moving forward…" For a view of the double-sided flyer prepared for this event, select page 1  and page 2.
One result of this initiative was the desire of participants to create an umbrella organization with a dedicated staff. This goal was realized in 2009 with the formation of the Hilltop Alliance .
For a more detailed analysis of this project, see Gregory J. Crowley "Building Trust Through Inclusion: Reflections on the Practice of Deliberative Democracy" from Robert Cavalier's Approaching Deliberative Democracy: Theory and Practice (Carnegie Mellon University Press, 2011).