Success Stories - Case Studies
CMU Spinoff Duolingo Translates Successful Language Learning with a Commitment to the Pittsburgh Region
Duolingo, a Carnegie Mellon spinoff, is among the few Pittsburgh-based tech startup to be valued at more than $1 billion.  The company, which makes the process of acquiring one or more new languages accessible and fun, has been gaining popularity since it was spun out of CMU in 2011.  Its language app has over 500 million downloads and 37 million active users (statistics refer to the end of 2020), and Duolingo provides courses in 40 languages including Chinese, Korean, Hindi and Arabic, endangered ones such as Navajo and Hawaiian, and even a few fictional ones!
Duolingo, through its free mobile app or the web, provides language education that focuses not only on making lessons playful, but also delivered in bite sizes, through quizzes, images and phrases. The app sends friendly reminders to users to keep them engaged and to hit stated goals. It also provides online communities with other users who have similar interests.
How it started - early days of crowdsourcing
Prior to the work that would eventually form the Duolingo platform, CMU alumnus and faculty member Luis von Ahn had successfully built an application based on crowd-sourcing- CAPTCHA. A CAPTCHA is a program that can tell whether its user is a human or a computer.  reCAPTCHA was formed to commercialize this and  provided services that help to digitize books, newspapers and vintage radio shows.
Moving the CAPTCHA project to a company was a straightforward process, as Luis describes to Guy Raz in a fascinating episode of "How I Built This". The Center for Technology Transfer and Enterprise Creation (CTTEC) standard startup licensing deal streamlined the facile transfer into a successful company.  reCAPTCHA was acquired by Google in September 2009. 
How it's going - democratized language learning for all
Duolingo was co-founded by von Ahn, who still currently serves as CEO, and one of his doctoral students, Severin Hacker, who received his Ph.D. from CMU in 2014 and now serves as the company's Chief Technology Officer.
In 2009, von Ahn and Hacker started working on a project that was the foundation for Duolingo under CMU's Project Olympus, which provides advice, incubator space and investor connections to help faculty and students explore the commercial potential of their ideas. Project Olympus is now part of the Swartz Center for Entrepreneurship, which along with CTTEC, helps to facilitate and accelerate the movement of research and technology out of the university and into the global marketplace.  The tried-and-true model of CTTEC's standardized and transparent licensing of CMU's technology was employed again by von Ahn, and they were once again on a pathway to success.
Duolingo set out as a way to translate the internet into different languages.  As the company grew and shifted its business model, it pivoted to focus more on its educational mission to provide free, fun and accessible language education. The company hit its stride in 2013 when Apple named Duolingo the iPhone App of the Year and Google selected it as the Best of the Best for Android. Investors at that point included Union Square Ventures, New Enterprise Associates and Kleiner Perkins Caufield & Byers, as well as entrepreneur, author and podcaster Tim Ferriss and actor Ashton Kutcher.
A Pittsburgh success story and commitment to our region
Duolingo's revenue, which topped $160 million for 2020, comes from ads shown after brief lessons, as well as a paid ad-free subscription service.  The language app has become the top-grossing app in the Education category on both Google Play and the Apple App Store while importantly providing free content.  The company also offers a low-cost test it developed in 2014 to certify English skills of college and job applicants, demonstrating an accessible alternative for an expanded pool of diverse candidates.  Today, more than 3,000 higher education institutions use the test results as part of their admissions process.
In mid 2021 the company had grown to over 400 employees, many of which are located in Duolingo's headquarters Pittsburgh PA.  They have grown to establish offices in New York, Seattle, and Beijing. The path to building a strong and successful future here in Pittsburgh culminated in Duolingo becoming a publicly traded company July 28, 2021, trading on Nasdaq under the symbol DUOL.
While accessible education is a core tenet of Duolingo's mission, the company is equally committed as a strong community partner. Their headquarters remain in Pittsburgh, Duolingo recently appointed Kendra Ross as Head of Social Impact with an initial focus on local impact in the community.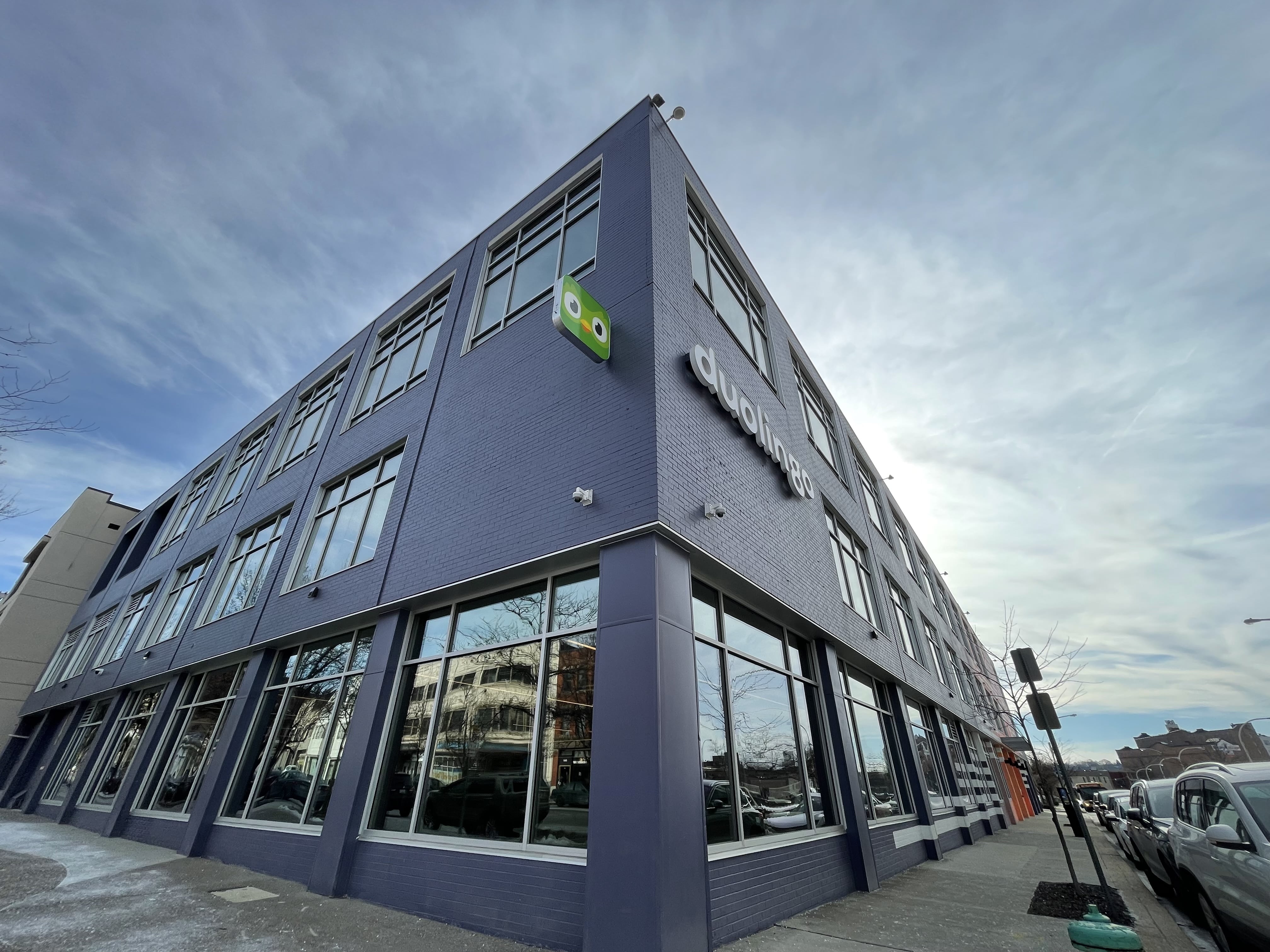 Duolingo continues community engagement efforts such as supporting community arts and other local organizations.