A century ago, the plot of land where Jeremy Kubica sits in his office was Pittsburgh's version of an industrial Silicon Valley. The neighborhood — now called East Liberty — used to be known as East Liberty Valley, home to oil refineries and the center of the city's industry and commerce.
Fast forward to today, and it still plays a key role in Pittsburgh's commerce, though in a different manner. The area is now the home of Google Pittsburgh, where Kubica, a Carnegie Mellon University alumnus, is a principal engineer and co-director of the office that employs nearly 500 techies.
"What brought Google [to Pittsburgh] was the incredible talent in the city already," said Kubica, who in 2003 earned his master's degree and in 2005 his Ph.D. in robotics from CMU's School of Computer Science. "The city has been reinventing itself as this engine of innovation, and Google moved here in part because of that challenge.
"The company is benefiting from the renaissance that Pittsburgh is seeing. The best way to sum it up is this great work ethic of people actually producing things — a tale of Pittsburgh going way back to the steel industry," he said.
Kubica remembers well the work ethic from his CMU days.
"Some in the tech industry develop the technology first and try to find the problem to fit. One main thing I took with me from my time at Carnegie Mellon was to find the problem first and then figure out how to solve it," he said.
His mindset of using technology as the tool, rather than the solution, served as the ideal preparation for his work at Google.
"We have all these hard problems and we have to develop new techniques and state-of-the-art technology to solve them; not the other way around. I really credit CMU for teaching me that," he said.
CMU has been tied to Google Pittsburgh's growth from the start. In 2006, the company recruited Andrew Moore, a CMU professor, to launch the Pittsburgh office. At the start of the 2014-2015 school year, Moore returned to CMU as dean of the School of Computer Science.
Kubica, Moore's successor, describes his leadership style as simply recruiting individuals who love tackling problems and producing technologies as solutions.
He said he loves the real-life application of computer science. It's why he not only is shaping the most influential search engine's future out of the company's Steel City office, but also penned, "CS Detective: An Algorithmic Tale of Crime, Conspiracy and Corruption" (No Starch Press; Aug. 30, 2016), a book that he hopes will bring coding screens to life.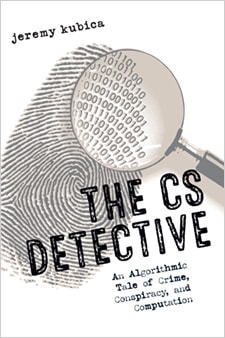 "I started writing stories online that tried to take computational concepts and say 'Here's why it's interesting.' It eventually evolved into a project of how I would describe computer science to someone who might be interested in the real life portion of it, but [may be bogged down by its conceptuality]," Kubica said.
"When I was looking at how computer science was being taught, it started off going very deep and formally into a lot of the concepts. Not a lot of material out there was showing students why computer science is really interesting and exciting. So I asked myself, how do I think about [computer science] at a more practical level?" he continued.
Kubica believes that his stories might bridge this gap in computer science education. The Wall Street Journal agrees, having named Kubica's book among the "Three Books Every Geek Should Read This Summer."