Google VP Named CMU Dean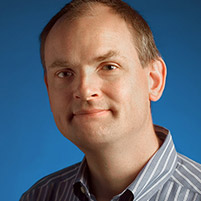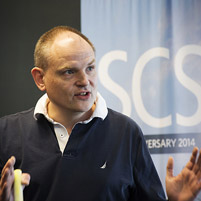 Andrew Moore, newly named dean of CMU's School of Computer Science, is ready to "build the technology for the future."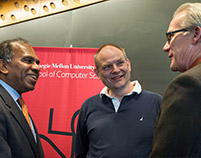 President Subra Suresh and current dean Randal Bryant welcome Andrew Moore (center) back to CMU.
Google Vice President Andrew W. Moore has been selected as the new dean of the renowned School of Computer Science (SCS) at Carnegie Mellon University, effective this August.
Moore, a distinguished computer scientist with expertise in machine learning and robotics, served as a professor of computer science and robotics at CMU before being named founding director of Google's Pittsburgh engineering office in 2006.
"Ever since college I have been inspired by the world-changing ideas and technologies that come out of CMU. I'm privileged to return to the School of Computer Science in this new role," Moore said.
Moore's appointment adds further momentum to Carnegie Mellon President Subra Suresh's initiatives aimed at enhancing the connections among CMU's world-renowned research, its innovative and entrepreneurial culture, and expanding interactions with industry and government.
"Andrew Moore combines an expansive vision, scientific expertise and leadership strength that make him extraordinarily well-suited to be dean of the School of Computer Science," President Suresh said.
"As computing grows ever more critical to our global society, the scope of SCS and its importance to the world will continue to expand, and its impact on the human condition will be more evident. Andrew is particularly well positioned to lead the School at this time."
Celebrating its 25th anniversary this year, SCS's graduate program has been ranked by U.S. News and World Report as No. 1 since 2011, and is widely regarded as one of the best computer science programs in the world. CMU scholars Alan Perlis, Allen Newell and Nobel Prize winner Herbert Simon were among the founding fathers of the discipline of computer science. Moreover, CMU is home to 12 winners of the Turing Award, the highest honor in computer science research.
Google opened its Pittsburgh office on CMU's campus in 2006 to gain proximity to SCS's faculty and students.
Eric Schmidt, executive chairman of Google Inc., a former member of the CMU Board of Trustees and the keynote speaker at President Suresh's inauguration, noted, "Andrew Moore has been a respected contributor to Google and the Pittsburgh community since he helped start the office there in 2006."
"Some of Google's strongest talent has come out of CMU, and we look forward to continuing our relationship with the university. I know Andrew will help inspire the next generation of innovators."
Moore remarked, "I have had a wonderful eight years at Google Pittsburgh: a place which I believe has the most creative and driven gang of computer scientists in the world. We plan to remain great friends within the broader context of growing Pittsburgh's leadership in science and technology."
Moore's research ranges from improving manufacturing methods and finding distant asteroids in space to early detection of bioterrorism using data on over-the-counter medication purchases. His CMU-based research group, the Auton Lab, collaborates closely with other scientists, government agencies and technology companies. Auton Lab algorithms are now in use in dozens of commercial, university and government applications.
He received a doctorate from the University of Cambridge in 1991 and joined the CMU faculty in 1993 following two years of post-doctoral research. In 2005, he was elected a fellow of the American Association for Artificial Intelligence. Andrew lives in Pittsburgh with his wife, Mary, and two children, William and Lucy.
Moore succeeds Randal Bryant, who will return to the CMU faculty after serving as dean since 2004.
Related Links: School of Computer Science | Google Pittsburgh | CMU in DC Event Video | Read Press Release
---