The stress was palpable for the six men and women huddled in a room crunching numbers as they rapidly compile election predictions. When it became clear their gubernatorial candidate was going to win, there's no time to cheer. Their attention shifted to other races.
"Yeah, there's no rest for our analytics team," said Carnegie Mellon University alumnus Christopher Wegrzyn. He's a co-founder of BlueLabs, a consulting firm "looking to make an impact for social good" — helping campaigns, nonprofits and others effectively reach their audiences.
Wegrzyn learned about the potential of big data during his time at CMU, where applications for analyzing massive chunks of information continue to be developed and applied.
Wegrzyn has been in this game for a decade and has been instrumental in changing the political landscape. He works with data — big data, to be specific. And as the ability to plumb information from massive data sets has flourished, the impact of information has become pervasive.
Everything we do today generates data — with and without our knowledge. Smartphone apps silently collect location information, while online searches log users' tastes. The treasure trove grows through documentation of life via Facebook posts and tweets. At the same time, computing has advanced and become increasingly affordable, and mathematical tools available have developed along with it. It all adds up to powerful new possibilities.
Big data also has come into its own in the political arena.
In 2012 the Obama campaign was credited with its use of analytics to drill down and target not just demographics, but individuals.
How did the presidential campaign accomplish this? First, a massive master data system merged widely disparate databases — from public voter files to field contacts, email addresses, survey responses and more. Campaign workers contacted thousands of individuals to create aggregate profiles from real-time behavior and personal characteristics. Then a team of analysts used the information to create profiles to rank the most persuadable voters, target willing donors and determine where to spend ad money. Experiments ran constantly to evaluate the effectiveness of varying strategies, which could then be rapidly deployed.
Wegrzyn spearheaded the project.
As chief data architect, he and his team constructed the system, which allowed data scientists to do their job.
"There was a lot of infrastructure that got built up pretty quickly, and Chris was one of the chief folks responsible for making that happen," recalled Andrew Brown, director of technology for the Democratic National Committee (DNC). "Really, it was a key piece of the campaign. Other solutions that were tried were dead ends, whereas the stuff Chris built is still the core of what we're using today."
Brown described Wegrzyn as a "very focused, incredibly talented" young man, down-to-earth and personable, yet not one for wasting time on small talk when an important job needs to be accomplished.
"He has an ability to get straight to the heart of a problem and figure out how to fix that in a way that's kind of amazing," Brown said. "It speaks to his depth of understanding both in terms of what is technologically possible and also from the business use side. There are people who can do one or the other, but what makes Chris really spectacular is that he can do both."
CMU Beginnings
Wegrzyn came to CMU in 2002 from a small town near Boston. The math and science whiz, son of two engineers, chose the university for its breadth of possibility. Not only the strong sciences and technology attracted him, but also the arts, music, the promise of varied experience. And lasting connections. The best man at Wegrzyn's recent wedding was the classmate he sat next to the first week of freshman math. And the groomsman? Another Tartan.
Wegrzyn majored in math and physics in CMU's Mellon College of Science and history in the Dietrich College of Humanities and Social Sciences. His physics adviser, Kunal Ghosh, encouraged his varied interests. His coding skills weren't yet front and center, but Wegrzyn was in the right place to learn about the power of big data.
The Tepper School of Business, the H. John Heinz III College,  the School of Computer Science, the Mellon College of Science, and the Dietrich College of Humanities and Social Sciences are just a few of the places where researchers are sharing techniques from machine learning (computer programs that grow with new data), economics, statistics, mathematics and other disciplines.
"It's a Carnegie Mellon thing, a manifestation of this cross-campus, collaborative, no-boundaries environment you hear touted," said Bryan Routledge, a Tepper associate professor of finance whose research includes demonstrating Twitter's ability to track public opinion. "We have experts in machine learning here at Tepper, in Heinz, obviously in computer science, in statistics and more."
This prevalence of big data across intellectual disciplines reflects the way that it impacts daily life.
Big Data, Big Impact
"If we list all the ways big data might improve our lives, it's a really long conversation," laughed Daniel Neill (CS 2006), the Dean's Career Development Professor and Associate Professor of Information Systems at Heinz.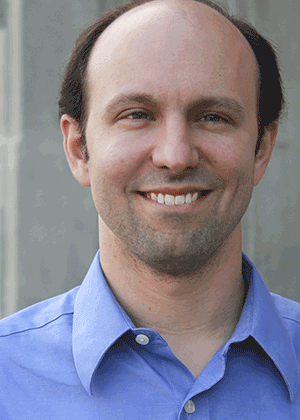 Neill, who has appointments in machine learning and robotics, researches ways to leverage big data for the social good. One of the courses he teaches at Carnegie Mellon is Large Scale Data Analysis for Public Policy. His work encompasses everything from early detection of rare disease outbreaks to predictions of civil unrest and crime spikes.
"Just in the public sector, we're seeing huge adoption of these methods from cities, counties and organizations like police and hospitals," Neill said. "The idea that big data can improve the operations of all of these different groups, and through that the public good, is really powerful.
"CMU is absolutely playing a leading role. We have a huge number of faculty members innovating in very creative, very different ways. Each of these individual innovations is really substantial, and their sum total is amazing."
Politically Speaking
CMU's connection to the use of big data with respect to politics has an extensive history. Two Tepper faculty members were pioneers in the field, which reflects the school's emphasis on data-driven decision-making.
"We invented big data in politics," Routledge said. "Keith Poole and Howard Rosenthal's 1980s analysis of congressional voting data is still one of the standards in quantitative political science. Today, you wouldn't call this big data, but then, it was a serious big-data exercise."
This rich environment rubbed off on Wegrzyn. Following his 2006 graduation and a brief stint at a financial company discovering "the exact opposite of what I wanted to do," he found himself intrigued by the escalating presidential primaries. He connected with an acquaintance on the Obama campaign's media team and volunteered to help.
"Well," came the answer, "we're looking for programmers."
Wegrzyn took his programming and math skills, along with his CMU-developed analytic ability, and built the campaign one of the first Facebook apps. He quickly transitioned to the staff.
"That's the point when it became clear that their biggest problem was data, and I started to learn more," he said.
Coming out of the 2008 election, Wegrzyn and the others began preparing for the 2012 election. By 2010, he had moved over to the DNC with a mandate to figure out how to look across different data sets to make decisions.
A team of 10 helped him realize that goal. It was a big change from the first time, when he was one of very few software engineers. That scrappy experience proved advantageous as they set to build something innovative.
"We were focused on biting off the smallest problems that we could solve effectively and delivering something the team could quickly make use of," he said. "It was just so fast moving that you couldn't get anything done unless you were prepared to figure out a way to get partial solutions out the door as soon as possible."
His laser focus didn't hurt, either.
Brown recalled a time when he and his team had discovered a serious systems problem and needed new code ASAP. Wegrzyn, on a train back to town, was looped in on the issue. Back at the office, it was getting late. Because it would take a week to fix, they decided to meet in the morning to strategize. Early the next day, Brown arrived to learn that Wegrzyn wrote all the code needed during his ride.
The Next Step
Following the 2012 election, Wegrzyn and five colleagues considered their next move. They wanted to keep their work moving forward and spread their knowledge to smaller campaigns and other organizations wrestling with the same challenges.
"We felt we had a unique, very pragmatic way of approaching the problem of becoming successful in this data-driven world," he said. "We were forced into it because of the quick nature of the political timeline. That kind of discipline and ability to make small wins quickly is what was lacking from the way organizations were approaching big data and analytics — and something we bring to the table."
They bootstrapped their way, opening shop as BlueLabs in a tiny one-room office above a CrossFit gym on E Street in Washington, D.C. When the weights would drop downstairs, the computers would rattle. Crammed together, some took to area coffee shops. The growing team's next move was to a larger, yet still-cramped space in a crumbling townhouse nearby.
In 2013, they were hired by Virginia gubernatorial candidate Terry McAuliffe. Could the tools and techniques of a billion-dollar presidential campaign scale to a race with, for example, fewer staff, volunteers and media dollars? BlueLabs bet yes.
"We had to do more with less," Wegrzyn recalled. "But that also meant the opportunity for using analytics was greater. The more resource-constrained you are, the more important it is to be as efficient as possible."
Their hunch was right. McAuliffe was elected. Since then, BlueLabs' clients have included several political campaigns, and the company has helped candidates make data-driven decisions to maximize everything from getting the vote out to reaching donors. In addition, a variety of organizations such as the Human Rights Campaign and Camden Coalition of Healthcare Providers are also among BlueLabs's clients. In Camden, N.J., for example, Wegrzyn's team developed a pipeline to move data from hospitals into a web format where users can visualize the state of our health in real time.
The profitable company now employs 40 people happily ensconced in new 12,000-square-foot digs that boast arcade games, an on-site gym and "plenty of snacks in the kitchen."
So with the 2016 election in full swing, has data-savvy expertise become a campaign requirement?
"It's getting to the point where campaigns that don't take advantage of it are going to be left behind," Brown said.
Wegrzyn concurred.
"This is an incredible time to be working in the data and analytics space," he said.
Lead image: Christopher Wegrzyn, co-founder of BlueLabs consulting firm.