Thanksgiving break during her sophomore year at Carnegie Mellon, Abby Botnick sits in a movie theater with her younger sister. And she's furious. She's watching "Step Up Revolution," a movie about a dance troupe that is protesting the commercialization of Miami by dancing on its buildings.
"I love the dancing, but I hate the acting and I hate the plot. It makes me so frustrated. I don't understand why there isn't a movie that just tells the plot through dance," Botnick says to her sister.
"Well, then do it," her sister replies.
The seed was planted.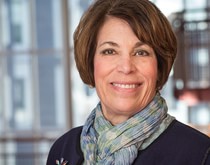 Stephanie Wallach, assistant vice provost for undergraduate education, loves these moments. She has an entire system in place, in fact, for these very ideas. Her office offers grants and fellowships to keep CMU undergraduates moving forward in their research and bringing their ideas to life—allowing them to showcase their original work alongside many of their brightest and most creative peers at Meeting of the Minds, a university-wide research symposium. This year's May 6 finale marks the 20th anniversary of Meeting of the Minds, which has mushroomed from its initial 157 presenters in 1995 to 506 participants last year.
Botnick isn't thinking about her idea for a dance movie making it all the way to the Meeting of the Minds when she mentions it to Necia Werner, her English professor during the spring 2014 semester. Werner likes what she hears. "You can do this, and you will do this," she tells her student.
Werner assigns Botnick her class project—write the script as part of a research grant. Botnick thinks she's ready for the challenge, but with a dearth of choreography-only movie blockbusters, she has no roadmap for guidance. Where should she begin? For starters, she realizes, she needs to figure out what the plot will be. After some reflection, it comes to her: "I wanted a human story that people could latch onto. I picked a love story because it's something I had been dealing with at the time so it was very visceral to me."
She lays out her scenes, detailing the emotional journey for the audience during each section, as well as the setting and feeling she needs from her dancers.
"In the first scene a young woman sits on her bed, staring at her phone in the dark. Her dance should have a feeling of remorse, regret, and sadness. The dance takes place entirely on her bed. The feeling is to be trapped, trapped in a cage that she created for herself."
As the script progresses, Werner, impressed, nudges Botnick to apply for a Summer Undergraduate Research Fellowship (SURF), which provides $3,500 to undergraduates to work fulltime on projects they propose. Botnick submits her script, and it finds its way to Wallach's office.
A committee assembles to read all of the submitted proposals. There might be as many as 200 students competing for SURFs, and last year only 48 projects received funding. Wallach says the committee has a simple criterion—reward students who wish to delve deeper into their expertise or, conversely, explore outside their comfort zone. "We focus not on the outcome but on the process," she says.
As the committee reads Botnick's research proposal, they see both qualities represented. Botnick points to her experience at CMU—she started as a scene and costume designer, but then, as she says, "I wanted to study everything." She took enough classes in dance that she deems she has a "fake minor" (as no minor is offered), and she entered the university's BXA Intercollege Degree Program, in her case for drama and professional writing. She also helped run a school dance troupe, Infra, and worked with community dance groups.
Wallach is certainly swayed with Botnick's application: "She gave a really good contextual framework, pointing to examples of dance films in existence now and where they may have fallen short. She had really done her homework in terms of understanding what was new about what she was proposing and convincing the committee that she is really making a contribution."
Botnick is awarded the $3,500 fellowship so she can work fulltime on her dance film during the summer. Elated, she can now hire dancers through her contacts in the Pittsburgh dance scene, and she visits Pittsburgh Filmmakers, where she pitches her idea to a class of graduate students. She gives such an impassioned presentation that two students volunteer on the spot to work without pay. (Botnick offers them a stipend anyway.)
In early July, the team begins filming in the house of one of Botnick's friends, who is letting them use his bedroom for a scene. "We ripped apart his bedroom, put our props on the set, and just started dancing in the space," she says.
The project enables her to expand on her choreography style. Her experience is with a set choreography, where steps and movement are lined out, but she's now exploring improvisation. She augments the improvised atmosphere by playing music she feels fits the mood; telling her actors the objective for the scene, along with some body shapes she has in mind; and, after that, simply saying: "Action."
Her goal is to finish shooting all of the scenes before the 2014 fall semester starts, but it creates a fast pace for the filming schedule. The cast meets every day during the first week, filming for five to eight hours at a time.
Botnick and her team tear around town, from friends' houses to Schenley Park to the fountains outside the Pittsburgh Botanic Garden, making costumes from their own wardrobes and learning new dances every week. Despite her careful planning and budgeting, Botnick learns that she will have to improvise on her overall plans, too.
"When you do a film, everything changes on a daily basis," she says. When she realizes that the fellowship money isn't going to cover all of the film's expenses, she creates a crowd-funding campaign on IndieGogo to raise more money, most of which is needed to rent camera equipment and pay her team. She raises more than $3,000. And when that money runs out, the team seeks out helping hands. At one point, the assistant director of photography asks a friend to stand on a roof holding lighting equipment to achieve a certain look for a moonlit bedroom scene. It must be a good friend because he does so for three solid hours without complaining.
Botnick's obstacles are exactly what Wallach and her team anticipate for all of their SURF awardees. They make it a point to visit all of the students during the summer, watching their progress, meeting with their SURF faculty mentors and talking through any problems.
"Their proposal states what they think is going to happen, but—lo and behold—there are all kinds of obstacles," Wallach says. "The best laid plans are usually ones that have to shift rather significantly."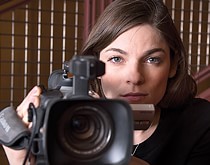 Throughout the summer, Botnick meets with a group of other arts and humanities students who also received a SURF, and they share their works' progress and challenges. Botnick gets the attention of Wallach by the way she approaches her problems: "She wasn't afraid to change course when necessary or adapt to a particular situation."
Wallach reaffirms with the students that she is more interested in the process than the product—she knows Botnick wants to learn more about being a director, and Wallach sees this as a terrific way to experiment without much consequence. However, for results-driven students like Botnick and the other SURF awardees, this can be hard to learn.
"Too frequently students are worried that they didn't get to the place where they thought they were going to be. And we say, 'Good!' That's what we want to hear. If everything went according to plan, we'd be worried," Wallach says.
Wallach's team also offers Small Undergraduate Research Grants (SURGs), which provide $500–$1,000 to undergraduate students for materials and supplies, and SURG Crosswalk (SURG/CW), which provide additional funding to students who collaborate across departments and create truly interdisciplinary research projects. All SURG and SURF recipients, as well as many other undergraduates, present at Meeting of the Minds, which happens annually at the end of the spring semester.
One of the funders for undergraduate research is Don Stitzenberg (S'63, Life Trustee) and his wife, Peggy. Stitzenberg became friends with the late Barbara Lazarus, who founded the undergraduate research program at Carnegie Mellon. The couple was enthused with her efforts and directed their funding to help her and her team.
Since then, the Stitzenbergs have received many thank-you notes from SURG and SURF students in all fields supported through funds from their endowed account. Peggy insists on saving all of the notes, because she's convinced that some of these students will become famous. She's not far off—in 2009, PigPen Theatre received a SURG grant and presented at Meeting of the Minds about their idea of creating a theater experience that integrates lighting effects, audience interaction, and live music. Since then, they regularly tour the country, have produced their plays Off-Broadway, and have even given a TedX talk. The New Yorker has reviewed the troupe, stating that "it's like watching child geniuses at play."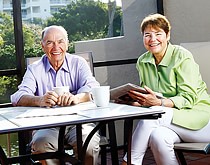 The Stitzenbergs visited Meeting of the Minds a few years ago. Peggy listened with interest as a student launched into a description of her research. Neither of the Stitzenbergs had any idea what the student was talking about—but they didn't mind, they were just excited by her passion. "The fact that we didn't understand anything didn't bother her at all; she was enthusiastic and continued to explain her work," recalls Don.
The diversity of undergraduate research that Wallach's office oversees represents everything from psychology to engineering to the arts. There are scientific poster sessions, plans for robotic wheelchairs, PowerPoint presentations, poetry readings, and short films side by side.
"What's ideal about this particular kind of research symposium," says Wallach, "is that you get a peek into Carnegie Mellon's living room. There are so many nooks and crannies and wonderful things happening across campus, but there isn't a map that lets you get there easily. This allows you an up close and personal look—an insider's view—into our campus and its creativity that you can't get anywhere else."
For Botnick, the race to finish is on. Last fall and winter, she had to edit the scenes that would bring her script to life. The soundtrack also needed to be added. Before filming began, she had commissioned Alex Petti (CMU'15) to compose the music. The two had discussed her script—she described each scene, the movements of the choreography, and sometimes she demonstrated moves. He sent her samples based on her input, and she was thrilled with what he created. During filming, they used tracks created by Petti on his computer. For the final edits, though, a group of CMU music students had recorded Petti's compositions, which had to be added to the film's final version.
Somehow everything got done, and Botnick joins her peers at the Meeting of the Minds on May 6th, presenting "Still Burning," her finished dance narrative film. Viewers see Girl, the female lead, capture the heart of Ethan, the male lead. Throughout the film, as they move into deeper stages of their relationship, Girl struggles to truly love Ethan.
"It explores themes of love, fear, human fragility, and strength," Botnick says. After the film's May 6 premiere at the Meeting of the Minds symposium in the Cohon University Center, she plans to submit her work to a few film festivals and perhaps upload it online for potential viewing by an international audience.
The process didn't just bring a dream to life for her—it showed her the career path that she wants to be on. She's applying for graduate school at CMU's Heinz College for an MA in Entertainment Industry Management, as she ultimately wants to move to Los Angeles and continue working on dance narrative films, making them more commercially viable.
"Dance films are definitely the dream," she says.
Photo: Edward Linsmier Photography