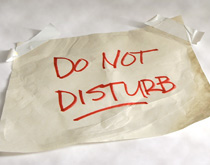 Swati Varshney has taken every precaution. The Carnegie Mellon senior has purged her schedule, warned her friends against texting her, calling her, or stopping by her room in Morewood Gardens. She has even taped a Do Not Disturb sign to her door. What if the important call she's waiting for doesn't come for a couple more hours? So what. She's prepared.
Whenever the call does come, she'll be speaking with Peter Patrikis, head of the Churchill Foundation in New York, which is the grantor of the intensely competitive Churchill Scholarship, awarded to only 14 students nationwide each year. The scholarship funds three terms of study at the University of Cambridge in England, resulting in a master's degree in the biological or physical sciences, engineering, or mathematics. The average GPA of the applicant pool is 3.8. And the average of the winners? A GPA of 3.986. The initial applications include a research project proposal and are reviewed by a committee consisting entirely of past Churchill winners—a true "peer review." Varshney started out as just one applicant from more than 100 colleges and universities. But today, on the second day of spring semester, she is one of the 24 finalists selected to be interviewed via telephone by Patrikis.
Nervous? Not really. Varshney, a senior chemistry major with an option in materials science, has made good use of her nearly four years at Carnegie Mellon, starting practically from the first day. Although it's typical for students in the Mellon College of Science to enter their freshman year primarily interested in science, they often need a few semesters to settle on a particular major. Not Varshney. She declared her major as soon as she could. She can't pinpoint the moment when she first knew what she wanted to study, but it probably has something to do with her inquisitive makeup. Her parents told her that practically as soon as she learned to speak, she was always asking, "Why?"
At Carnegie Mellon, she has been a well-decorated student.
Recipient of the Goldwater Scholarship, established by Congress in 1986 for tomorrow's "scientists, mathematicians, and engineers";
Member of Phi Beta Kappa, one of the nation's oldest academic honor societies;
Member of Phi Kappa Phi, another exclusive academic honor society;
Recipient of the Andrew Carnegie Scholarship, awarded to the "best and the brightest" as selected by the university's deans and department heads;
Participant in the Science and Humanities Scholars honors program, in which the university provides students with professional experiences through independent studies or research with distinguished faculty members;
Vice president of the Women's Leadership Institute, which focuses on women's rights and global women's advocacy issues;
Highland Ambassador, a select group of students who host university guests and participate in a wide array of university and alumni events;
Chemistry Student Advisory Council member.
No wonder she isn't too nervous. But she is impatient. She's ready for the interview now, so she wants to do it now. She didn't become a Churchill finalist by sitting around and watching the clock. Varshney is a student motivated by pushing the limits, says Rick McCullough, vice president of research at Carnegie Mellon and Varshney's research advisor. And he's not just talking about her skydiving hobby. "She wants to set herself apart from everybody else, and that's what I think drives her," he says. "She has to have those extreme challenges."
Varshney has worked in McCullough's research group for nearly three years. McCullough himself is an accomplished researcher, co-founding Plextronics Inc., a Carnegie Mellon spin-off company that specializes in the technology behind next-generation light, power, and circuitry products. Because McCullough is the company's chief scientist and also a professor, administrator, and researcher, he doesn't have the luxury of handholding when it comes to integrating undergraduates into his lab, so he looks for students who are self-motivated. Over the years, Karen Stump—a chemistry professor, Director of Undergraduate Studies and Laboratories, and Varshney's academic advisor—has realized that it takes a special student to hack it in McCullough's lab. On Stump's recommendation, McCullough interviewed Varshney and quickly put her to work on some existing projects. She soon acclimated enough to be assigned a project of her own.
She didn't know it then, but her path to her interview with the Churchill Foundation began with that research in McCullough's lab, where she works with conducting organic polymers—to replace inorganic semiconductors like silicon—for use in electronics, transistors, and solar cells.
In other words, she synthesizes plastics that conduct electricity to make essentially what would be printable electronics. With conductive ink, circuits could be printed on ultra-thin, flexible, reusable materials much in the same way computer text files can be printed on paper. Circuits could even be printed on stretchable materials like rubber. Imagine a laptop or cell phone with ultra-light hardware that, at the end of its usable life, could be disassembled and reused. This has the potential to make modern electronics even more portable while minimizing waste. Organic polymers are nearing commercial status but lag a little in efficiency compared to their silicon counterparts.
Appropriately, the specific program Varshney applied to at Cambridge, through the Churchill Foundation, was Micro- and Nanotechnology Enterprise, a relatively new master's program offered by the university that was founded in 1209. In Varshney's scholarship application, she detailed her interest, personally and professionally, in researching the key ingredient to printable electronics—conductive ink.
It turns out that Varshney had a knowledgeable source to interview. Her grandfather was the owner of Premier Enamel Works, a sign-printing factory in India. He oversaw the manufacturing process of inks and signs, including refining new techniques, such as experimenting to find optimal temperatures to process the inks from raw material, streamlining the printing and annealing process, and deducing which substrates are best chemically for different color dye. During family visits to India throughout Varshney's childhood, she would talk with him about his business, which led her to believe she could draw on that knowledge in creating her own business.
As a result, some of those conversations became part of her Churchill Scholarship application, and it stood out to the Churchill selection committee for its substance and for its compassion. "She really wrote very movingly about her grandfather," Patrikis recalls. "Her intended course of study, in a sense, is a kind of tribute to her grandfather."
Varshney's grandfather wasn't her only familial influence; her father, Subhash Varshney, also played a formative role. Subhash Varshney came to the United States in the 1970s to complete his graduate studies in electrical engineering with his wife, Aruna, a radiologist. His little girl who kept asking "Why?" had very few questions go unanswered. "My father could always tell me why things worked," Varshney recalls. But Subhash remembers that his daughter didn't need his help for long. After seventh or eighth grade, he says, she no longer needed any assistance to complete her schoolwork. "Now, she can teach me things!" he remarks proudly.
As his daughter waits for the Churchill interview in her room in Morewood Gardens, the self-imposed exile has made her afternoon eerily quiet. It's only the second day of the spring semester, and with no logjam of homework to catch up on, the waiting seems even more interminable. Normally with a lull in her busy schedule, Varshney would be hanging out with her friends. But even her roommate, Lauren Walch (CIT'10), and her close friend Ashley Kilp (S'10) have been barred from the premises. It's not often that they're separated at Carnegie Mellon, considering they met on the first day of freshman orientation.
Like most college students, Kilp's perspectives have changed over the past four years, thanks in no small part, she says, to her friendship with Varshney. From their first days in Stever House, the girls delved into topics ranging from their tastes in music to more sticky subjects like politics and religion. Sharing their worldviews—which sometimes differed—provided more than a few educational moments outside the classroom and reinforced, rather than weakened, their friendship.
On a more fun-loving whim, Varshney and Kilp got involved in the Chemistry Department Murder Mystery Dinner their freshman year. Kilp had theater experience in high school, but performing was new to Varshney. When the young women showed up for auditions, Varshney was intimidated. Here she was, she thought, a freshman, with no acting experience at all! What business did she have auditioning for a play? But she went through the audition—and she managed to land the role of the murderer. Since then, Varshney has almost always played the wackiest character in the annual show, which is sometimes a published script and sometimes written by the chemistry students themselves. She's portrayed everything from a love-struck researcher to a lonely mad scientist who builds a robot to be her boyfriend.
The Murder Mystery Dinner auditions weren't Varshney's only whim outside her comfort range. Not too long ago, she reconnected with a high school friend from Massachusetts who is a paratrooper. He convinced her to jump out of an airplane. Once the novice skydiver landed safely, with the adrenaline rush still in full force, she was ready to go again.
As she awaits the Churchill interview, Varshney admits to feeling a bit of that adrenaline rush. Suddenly, the phone rings. It doesn't have to ring twice.
"Hello," she says.
The voice of Churchill Foundation Executive Director Peter Patrikis greets her on the other end. The interview is on. First, the obligatory small talk. How is her day? What classes is she taking this semester? Soon, it's down to business.
"You're the first application we've had in Micro- and Nanotechnology Enterprise," he informs her. "Let's see..."
Varshney listens on the other end of the line as Patrikis tries to navigate the confusing Cambridge Web site to find a description of the three-term program, which consists of one term of science courses, one term of business courses, and then a one-term research or business project of the student's design.
"When we give you the Churchill, you'll have to do the science project rather than the business project," Patrikis tells her.
"Oh, of course!" replies Varshney, and without taking a breath begins to go into detail about her plans, hoping she can impress him with her answer. She recounts her proposal to work under Henning Sirringhause, a professor in the physics department of Cambridge, whose research aligns closely with her own. She had been in contact with him in the months leading up to her Churchill application in order to confirm a project she could complete in his department.
After about a minute and a half of Varshney's pitch, Patrikis interrupts her explanation. "Did you hear what I just said?" he asks her.
"No," she says, slightly taken aback by the comment. She thinks for another second or two before continuing. "Wait, maybe." She replays the conversation in her head. Did she hear what she thinks she just heard? "When we give you the Churchill...."
"Did you just give me the Churchill?" she asks.
"Congratulations," says Patrikis. Later he laughingly confides, "I love doing that."
Although all 24 finalists are granted an interview, Patrikis admits that the foundation already has its top picks in mind. After speaking to Varshney for only a few minutes, he knew that the committee had made a smart choice.
Varshney is overwhelmed. "What do I do now?" she asks, preparing herself for paperwork or other arrangements.
"Nothing," says Patrikis. "Bask in your glory and enjoy all the people who are going to want to interview you and take pictures of you."

The moment the call ends, more calls begin. One to her parents in Boston. One to Karen Stump. One to Rick McCullough's office. She texts Walch and Kilp. Then, she takes her Do Not Disturb sign off the door.