In the Pursuit of Science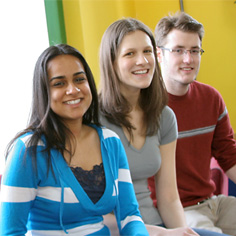 Three Carnegie Mellon University students — Carmeline Dsilva (E'10), Timothy Helbig (CMU'10) and Swati Varshney (CMU'10) — have received the prestigious and nationally competitive Barry M. Goldwater Scholarship to support their pursuit of careers in the field of science.
Dsilva is a chemical engineering major from Lansdale, Pa. While at Carnegie Mellon, she has worked with engineering faculty to study the properties of catalysts used with methanol fuel cells in an effort to make the catalytic process more efficient. She is currently investigating the adsorption behavior of oxygen on a gold-palladium surface.
Dsilva hopes to continue her education and research in engineering, focusing on developing large-scale computer models to predict long-term effects of carbon dioxide sequestration methods.
A biological sciences major from Thorofare, N.J., Helbig plans to study plant metabolic engineering, a field of study aimed at optimizing the biochemical processes of plants. Research in this area has implications for environmental sustainability.
Helbig was a Howard Hughes Medical Institute Research Intern and research assistant at Carnegie Mellon's Molecular Biosensors and Imaging Center, where he isolated and studied single-chain variable fragments used in biosensors. He is now working with biologists at the University of Pittsburgh studying thermal tolerance in plants.
Varshney, a chemistry major from Burlington, Mass., will continue her research and studies of polymeric materials. During the school year, she worked with Carnegie Mellon chemists to create and optimize conductive and emissive polymers used for printable electronics.
In the summers, Varshney interned at Genzyme Corporation, assisting with the research and development of polymeric drugs for the treatment of rare genetic diseases.
"We are pleased that three of our nominees were selected this year because it shows how well everything is working together in terms of academic, research and extra-curricular activities," said Materials Science and Engineering Professor Tony Rollett, who worked with the students on their applications. The students were among 278 sophomores and juniors nationwide chosen from more than 1,000 nominations.
Rollet continued, "All three hope to pursue a career in research and teaching at the university level, citing undergraduate research experiences while at Carnegie Mellon as a factor in their career choice. We are proud of these students and all they have accomplished."
Goldwater Scholars receive one- and two-year scholarships up to a maximum of $7,500 per year for tuition, fees, books, and room and board. The scholarships are considered a stepping-stone for future support for their research careers, according to the foundation. Past Goldwater Scholars have garnered prestigious post-graduate fellowships, including the Rhodes Scholarship, Marshall Award and numerous other distinguished honors.
The Barry M. Goldwater Scholarship and Excellence in Education Foundation was created to encourage outstanding students to pursue careers in mathematics, the natural sciences or engineering and to foster excellence in those fields. It was authorized by the U.S. Congress in 1986 to honor Senator Barry M. Goldwater.
Photo (from left to right): Swati Varshney, Carmeline Dsilva and Timothy Helbig.
Related Links: About the Goldwater Scholarship  |  Fellowships & Scholarships Office  |  Mellon College of Science  |  College of Engineering
---