Brings Expertise to New Position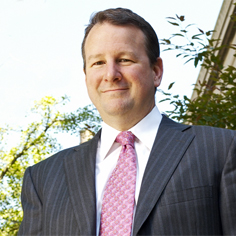 Rick McCullough, dean of the Mellon College of Science (MCS), has been named as Carnegie Mellon University's new vice president of research.
In this new senior leadership position, McCullough will nurture interdisciplinary research initiatives at one of the nation's leading research institutions. He'll also be overseeing sponsored research, technology commercialization and a number of cross-college research centers. And McCullough will work to obtain funding from foundations and corporations for research activities.
"Rick's extensive background as both a researcher and an entrepreneur makes him the perfect person for this position," said Carnegie Mellon President Jared L. Cohon. "He has done an excellent job as dean of the Mellon College of Science, and we know he'll bring the same expertise and energy as our vice president of research."
McCullough will begin his new position on Sept. 1.
Since McCullough became dean in 2001, MCS has experienced record enrollment in many of its programs and seen a steady increase in research initiatives college-wide.
A professor of chemistry, McCullough was the principal investigator in recent research showing that attaching "grease" to electronic plastics makes them vastly better electrical conductors. This finding stands to influence the production of the next generation of printable electronic devices – such as tiny switches for transistors in radio frequency identification tags, flexible screen displays, and debit or key cards.
In addition to his research expertise, McCullough founded Plextronics, the world leader in developing active layer technology for printed electronics devices. Since its inception in 2002, the Pittsburgh company has grown to more than 40 employees and received numerous honors, among them being named the 2006 Start-up of the Year by the Organic Semiconductors Industry and inclusion in the Red Herring 100 this past May.
"Our focus has always been on purposeful research that helps provide solutions to complex, real-world problems," said Carnegie Mellon Provost and Senior Vice President Mark Kamlet. "Rick's research abilities and his experience in bringing research applications to market will strengthen this focus and benefit Carnegie Mellon greatly in the future."
"I am deeply honored and excited to be chosen for this opportunity," McCullough said. "Research plays a vital role in the life of this university, and I look forward to working with our administration, faculty, staff and students to foster research and technology that impact both the university and society at large."
Related Links: Mellon College of Science  |  Research  |  Chemists Advance Organic Semiconductor Processing
---