As a high school student, Michael Rondinelli had a love for science, and he even had a story written about his prodigy-like prowess in his city's daily newspaper, the Pittsburgh Post-Gazette. That article caught the attention of Carnegie Mellon faculty member, John Bares, who offered the student an internship in robotics. A few years later, in 1997, it was no surprise that Rondinelli chose to enroll in CMU to study software design and robotics.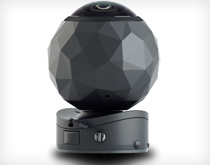 During his undergraduate years, he collaborated with a faculty team who had the task of building and testing a robotic rover for exploration of the planet Mars. In particular, he worked on developing panoramic technology that would translate visual images captured by the rover and transmit them back to NASA scientists on Earth. The end result—through a melding of mechanical and electrical engineering, software design, and artificial intelligence—was a visual system that incorporated 360-degree viewing.
The creation of a multi-million-dollar project destined for another planet gave Rondinelli an idea: Why not use the technology to build affordable, easy-to-use panoramic camera devices for those of us on Earth? "I've always been a visual thinker," he says simply.
Today, he holds the position of chief technology officer of the company 360fly, which formed while he was earning his degree and launched from the CMU Robotics Institute. With an unassuming location on the outskirts of Pittsburgh, the company, since its inception, has developed Rondinelli's idea. This year will mark the widespread release of its two compact, lightweight, 360º, high-definition lifestyle products:
360fly, which is a panoramic camera that is smaller than a baseball, is waterproof, and needs no protective case. It can be mounted on practically anything—from surfboards to skateboards—and during its two-hour battery life it records everything. Think of watching a downhill ski run as if you were along for the ride and could turn your head in any direction to see what's happening. Through the camera's application interface, you can choose whatever angle you wish to view.
360Microfly, which is a camera lens that attaches to smartphones and, like the 360fly, captures a panoramic view. If placed in the middle of a round table at birthday party, the camera records everybody at the same time, leaving it up to the viewer to decide who to look at.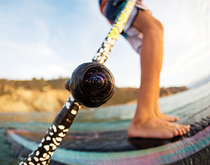 in the company's most recent funding round last year, it raised nearly $18 million to help with the product launch.
Rondinelli says he is excited to see what happens when the lifestyle video cameras are widespread in the marketplace: "There is always something that creative people come up with when you give them this kind of technology."
Among the earliest product testers have been those with boundless imaginations—children; more specifically, Rondinelli's niece and nephew, who he says have used it to help them dream up "fascinating" visual stories. "Like any technology, it's the kids who are the pioneers," he says. Much like Rondinelli himself when he was star of that newspaper article nearly three decades ago.